This is a sweet, sticky, and smokey fall of the bone pork ribs dinner that will be greeting you when you come home from a long day. The best part is your slow cooker (home cooks personal chef) cooks the meal for you while you are at work. A hot melt in your mouth hearty meal is all ready for you for an easy dinner!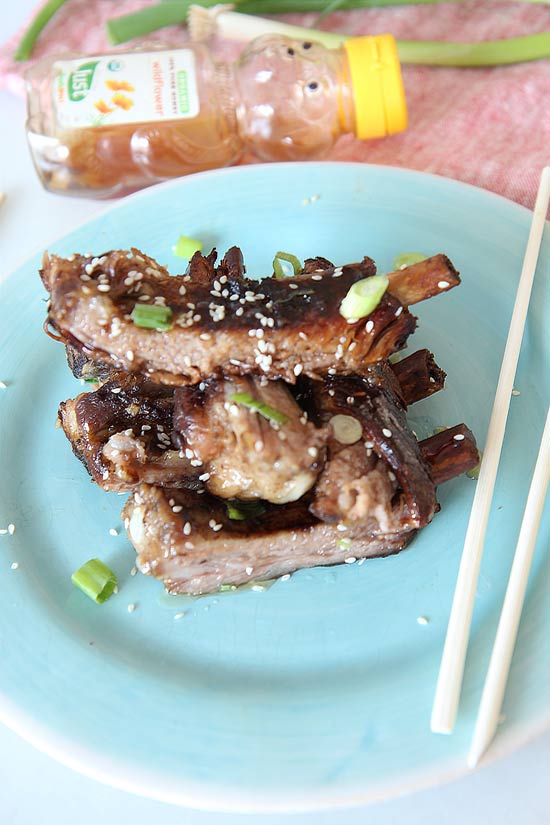 First of all, this brings back such happy Sunday dinner memories growing up. Every Sunday for dinner my mom and dad would get takeout Chinese food. It made Sunday night feel so warm and comforting. Every once in awhile as a special treat, we would get the pork ribs. This was like getting 2 presents on your birthday. Every time I eat ribs I immediately get transformed back to those times in NJ around the table with my family. Here is my version of these fall off the bone porky ribs.
Now, with the craziness of life here in NYC I needed to find a quick and easy version that will not take a long time. The slow cooker was my answer. Also, I wanted a sauce that did not involve me buying a tons of ingredients  and that I would only use once. So I made it simple with soy sauce, honey, and garlic.  Finally, I hope you love this recipe and watch the video above to see how I place the ribs in the slow cooker to make them extra good.
Slow Cooker Tip:
Prepare everything in the slow cooker the night before.
When you wake up take out of the refrigerator and turn on before leave for work ( I put a sticky note by my keys so I don't forget to turn the slow cooker on)
 Come home after along day to a hot meal waiting for you thanks to your personal chef, the slow cooker!
Slow Cooker Sticky Takeout Ribs Recipe
Ingredients
3 pounds St. Louis cut style ribs
5 tablespoons Chinese five spice
1/4 cup soy sauce
1/4 cup honey (plus more for the end)
1 clove garlic (grated or finely chopped)
2 scallions (chopped)
1 tablespoon sesame seeds
Instructions
First, make the stick sauce by combining 1/4 cup of soy sauce, 1/4 cup honey, and garlic in a bowl.

Next, sprinkle the Chinese five spice powder all over both sides of the rib and rub it in.

Now, place ribs in the slow cooker leaning up against the side of the slow cooker (see the video for example).

Pour the sticky sauce all over the ribs.

Next close the lid and either place in the fridge overnight or turn on low for 8 hours.

Finally, take the ribs out of the slow cooker and cut them. Pour honey all over them. Now, sprinkle sesame seeds and scallions on top.
For more easy, happy comfort food recipes, check out our Pinterest Page
More Slow Cooker  Recipes:
I can't wait for you to try this recipe!!! Cheers to easy comfort food.  Happy Cooking!
QUICK NO BAKE DESSERT  FOOD RECIPE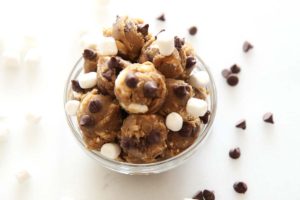 Your Dash Of Gratitude:
                                                                                                                                   
ANY QUESTIONS OR COMMENTS? COMMENT BELOW 🙂
With a grateful heart and an amazing tummy – Jay
This book changed my life and it is how I elevated my home cooking:

(Visited 1,690 times, 1 visits today)
Subscribe for tasty, free recipes!