I love sausage and peppers pizza so thought replace the dough with a sausage crust and the result was awesome.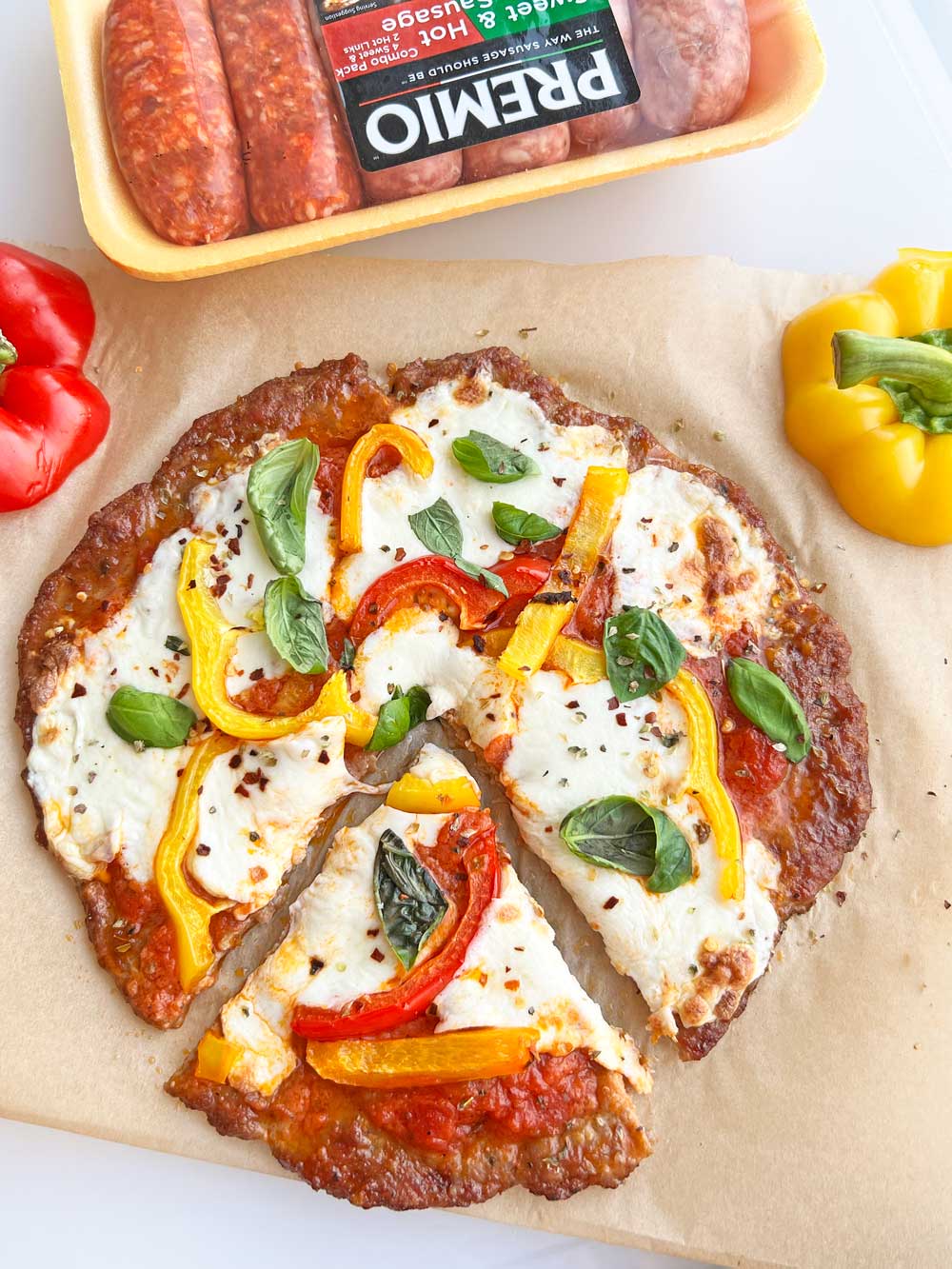 Comfort food is more then just about being decadent its also a foodie hug for you to let you know you are special. My mom would always celebrate us with something decadent for fun small wins. This would help us remember that even small victories are important and sometimes even more important than the big wins. You should find any excuse to celebrate you! Any reason to remember how much you have overcome. Finally, just celebrate you now because you are a win!
Not only does a sausage crust make cooking easier but also makes it taste flavorful every bite. You can swap pork sausage for chicken, vegetarian sausage or even beef. This is also great for your friends who are on keto diet or a fun pizza night twist. Happy cooking and I hope this makes life easier for you in the kitchen.
Sausage and Pepper Pizza (with sausage crust)
Ingredients
1 pound Italian sausage (castings removed)
1/2 cup marinara sauce
1/2 pound mozzarella cheese (cut in chunks)
1 pepper (sliced or chopped)
5 basil (hand torn)
Instructions
First, form the sausage into pizza crust shape on a tinfoil lined sheet pan. Make the pizza crust as large as can because will shrink as cooks.

Next, place on middle rack in a preheat oven at 400 degrees for 20 minutes.

Now, take sausage out and top with marinara, then chunks of cheese, then peppers.

Next, place on top rack of oven for 5-10 minutes to melt the cheese.

Finally, take out and add basil and enjoy!
Easy Dinner Recipes For a Busy Day:
With a grateful heart and an amazing carbonara tummy – Jay
This book changed my life and it is how I elevated my home cooking:

(Visited 180 times, 1 visits today)
Subscribe for tasty, free recipes!