Thank you Castello Cheese for sponsoring this post. Enjoy this delicious recipe with your favorite Castello Cheese products today!
Buttery, crunchy and Havarti cheesy grilled cheese hugging juicy plump shrimp dinner idea! I love grilled cheese!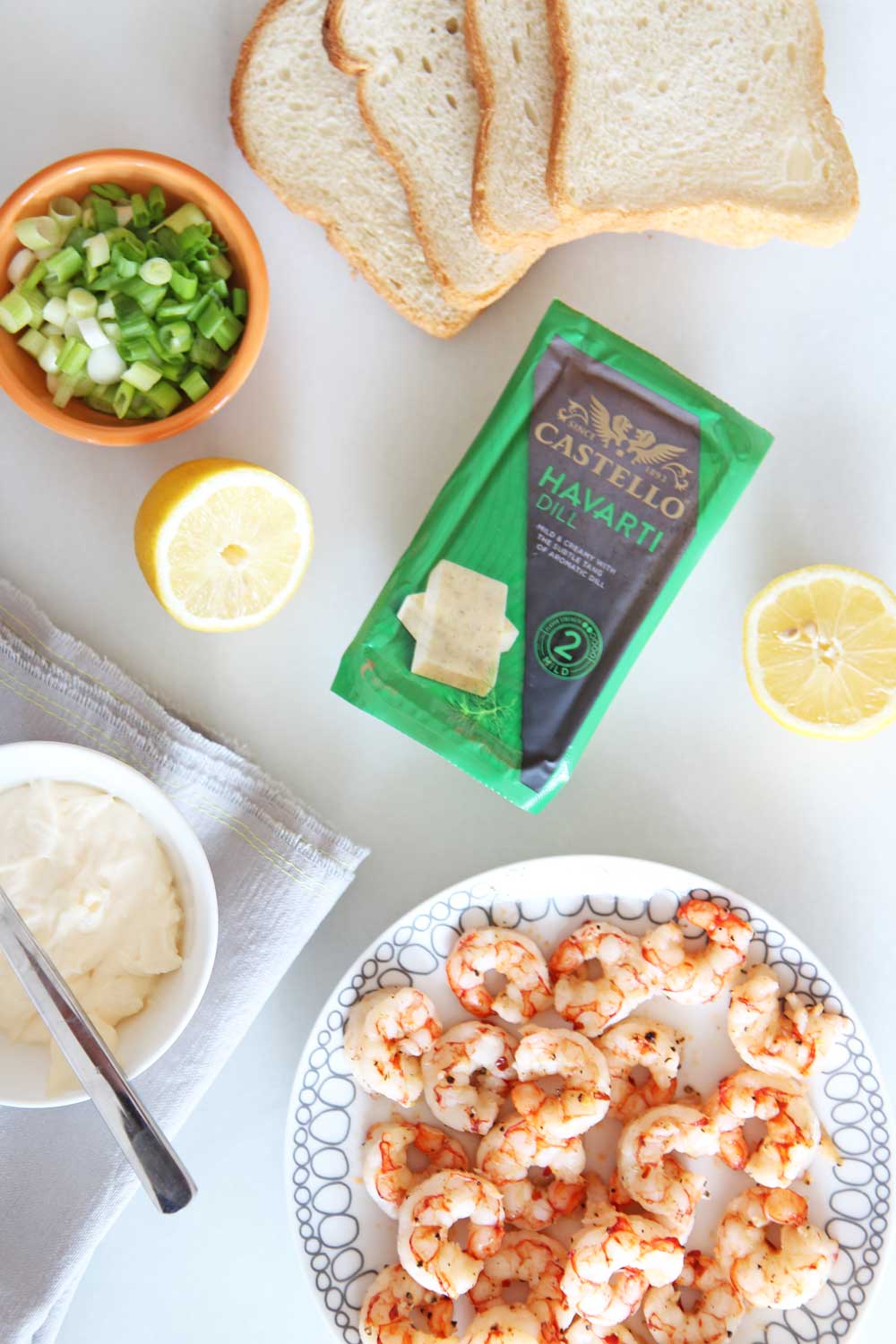 If you are what you eat, I am a grilled cheese sandwich lol! This sandwich is super special because it reminds me of an ocean breeze on a calm sunny day of relaxation. I call it my summer grilled cheese. The key is the perfect cheese to complement the juicy shrimp. I used Castello Dill Havarti. Castello Dill
Havarti
is a mild cheese, with just a hint of happy tanginess. The only problem is you should buy two packets because I find myself eating more cheese than I am putting on the bread for the recipe.
Castello Dill Havarti
is my favorite because it is a creamy, buttery and mild cheese with a subtle and incredibly fresh flavor that's perfect for grilled cheese. Also, the small aromatic green shoots of dill are distributed throughout the cheese, harmonizing perfectly to create a slightly tangy taste. Get ready for juicy plump shrimp and cheese to dance together in a carb house.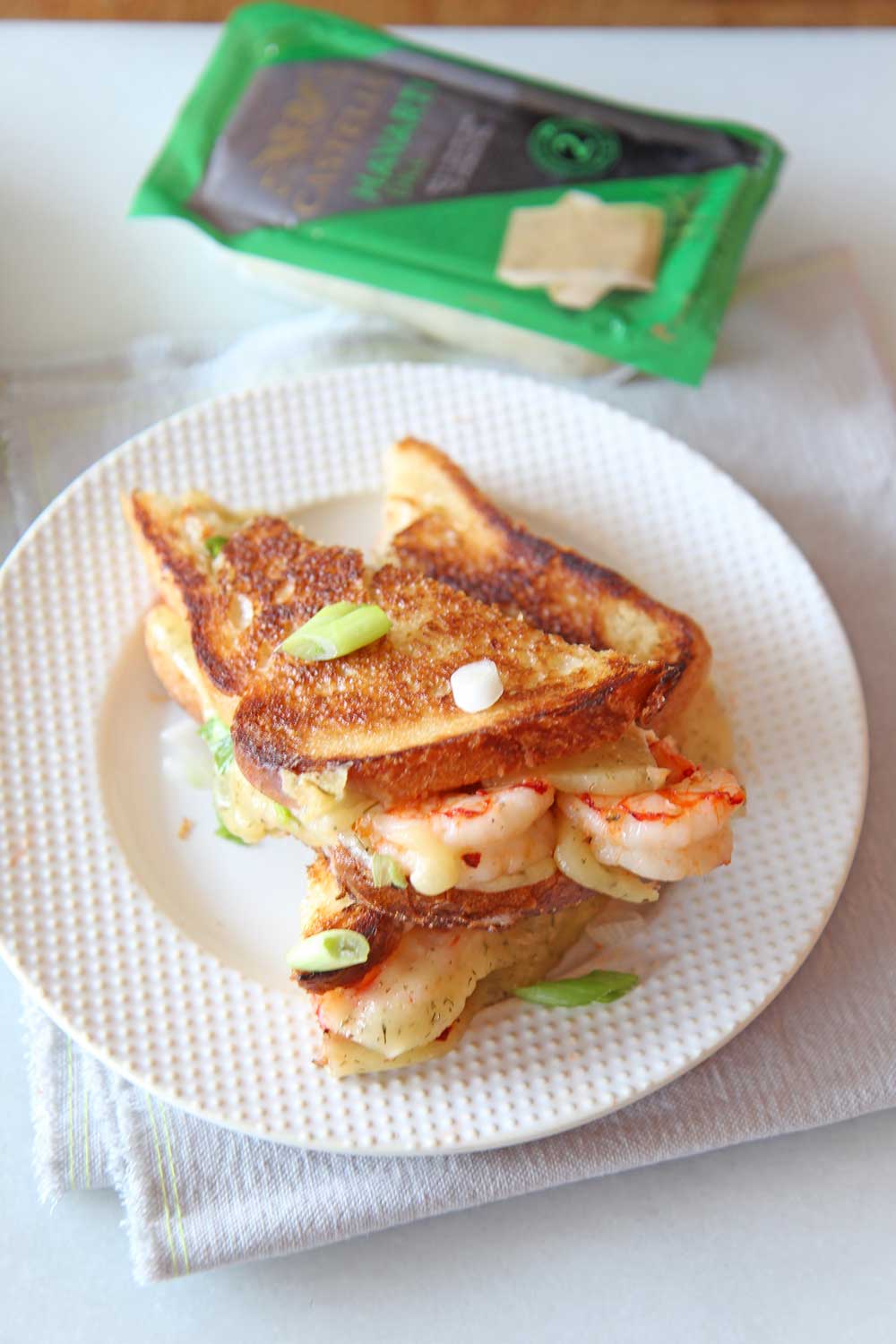 Growing up, we would eat grilled cheese all the time. Mama Goldstein would make them in the toaster oven. Bread, butter and American cheese! It felt like we were having a royal feast. Also, growing up in NJ, the diners had the most crunchy grilled cheese. The diners had a simple secret why they are so good. Mayo is the key. No more butter, just smear mayo all over the outside of the bread. This adds the perfect even golden crust that is crunchy yum. Now, the perfect timing and temperature is key. Medium heat on the pan and two minutes per side makes the perfect cheesy gooey inside and crispy crunchy exterior. With these tips, the grilled cheese possibilities are endless.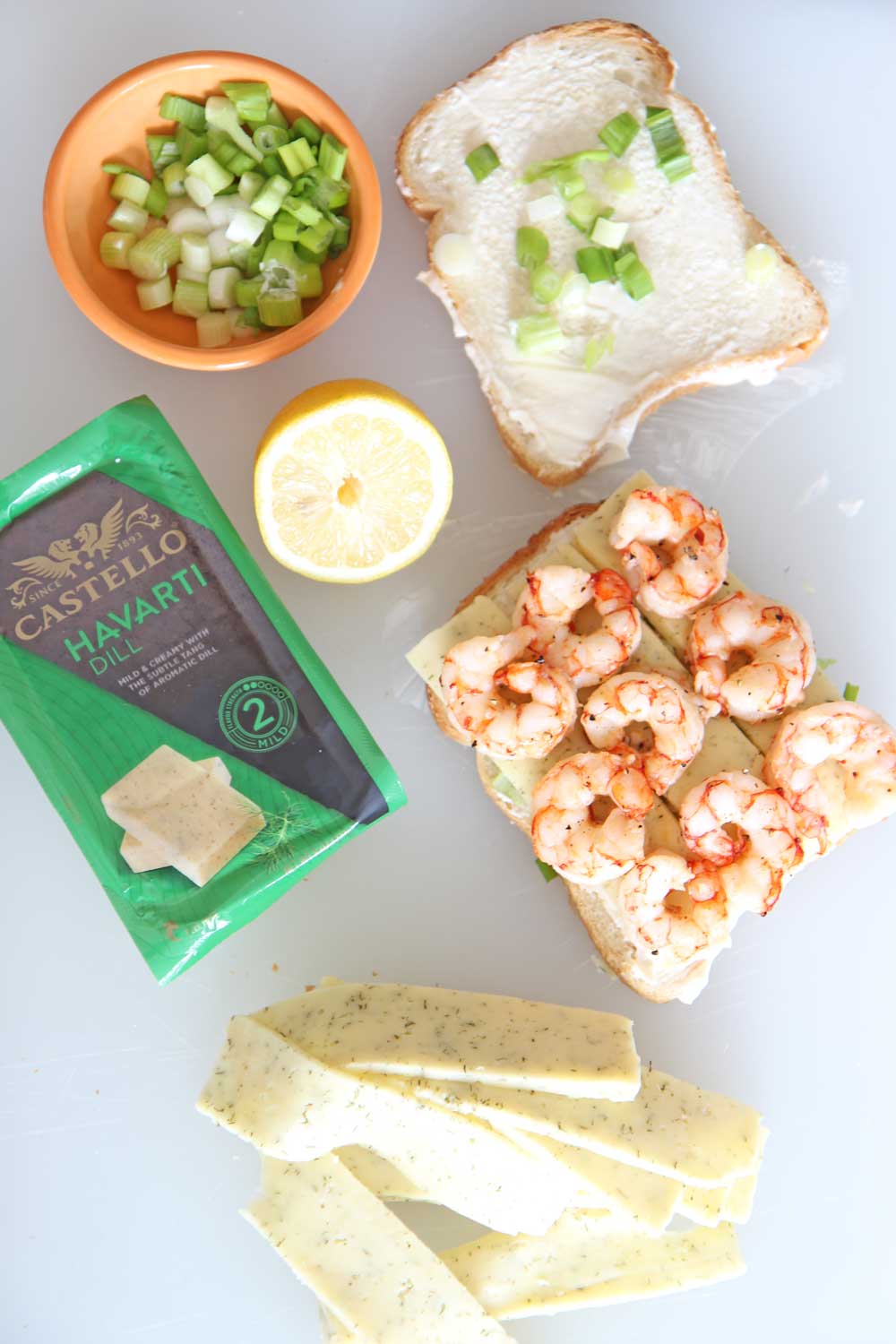 Recipe Hack / Cooking Tips:
Key to perfect crispy bread: Use mayonnaise instead of butter. This is a NJ diner trick. Smear all over the bread and you will get an even buttery crust.
Perfect juicy shrimp hack: Roast the shrimp in the oven. Mix shrimp with olive oil and seasonings. Then, spread out on a sheet pan. Cook at 400°F  for 10 minutes. This will give you juicy plump sweet shrimp every time.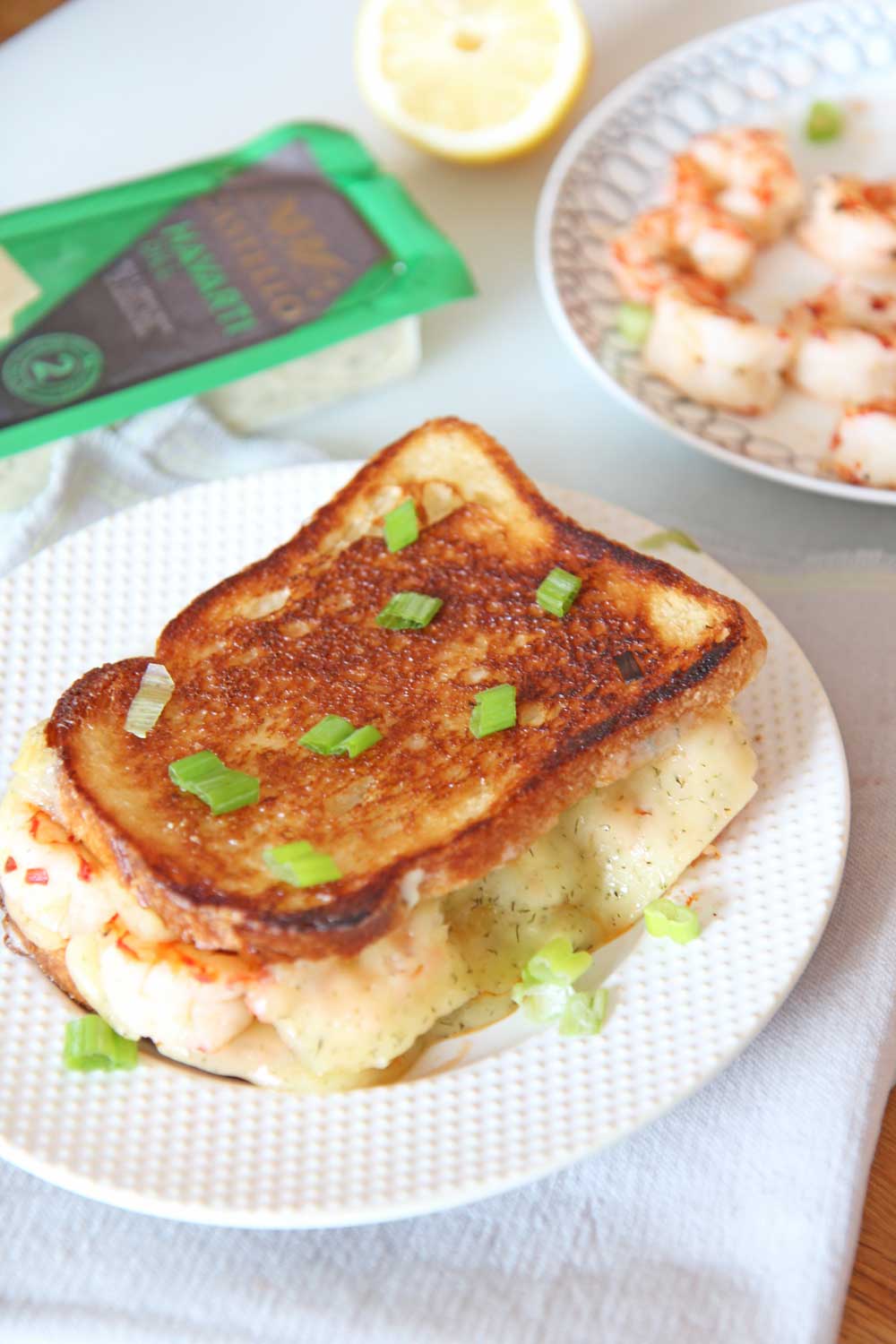 Watch This Video On How To Make This:
Shrimp And Dill Havarti Dill Grilled Cheese
Ingredients
1 package Castello Dill Havarti (sliced)
8 bread slices
1/2 cup mayo
3 scallions (chopped)
1 pound shrimp
2 tablespoons olive oil
1 teaspoon salt and pepper
1 teaspoon garlic powder
1/2 teaspoon red pepper flakes
1/2 lemon (juice)
Instructions
First, mix shrimp, oil, salt, pepper, garlic powder, and red pepper flakes together in a bowl. Then, spread the shrimp out on a sheet pan and place in a 400 degrees fahrenheit oven foir 10 minutes.

Next, spread mayo on all sides of the bread, sprinkle scallions, and squeeze a little lemon on the inside slices of bread.

Now, layer Castello Dill Havarti on the bread, then shrimp slices, and lastely more Castello Dill Havarti on top. Close the sandwich with the top piece of bread.

Next, in a pan set to medium heat, cook the grilled cheese 2 minutes per side.

Finally, enjoy the grilled cheese and cheers to happy bites.
Other Easy Dinner Recipes:
Any question comment below or email! I love helping change the recipe!
With a grateful heart and an amazing tummy – Jay
(Visited 673 times, 1 visits today)
Subscribe for tasty, free recipes!