Juicy garlicky shrimp scampi pizza is an easy 10 minute one pan dinner.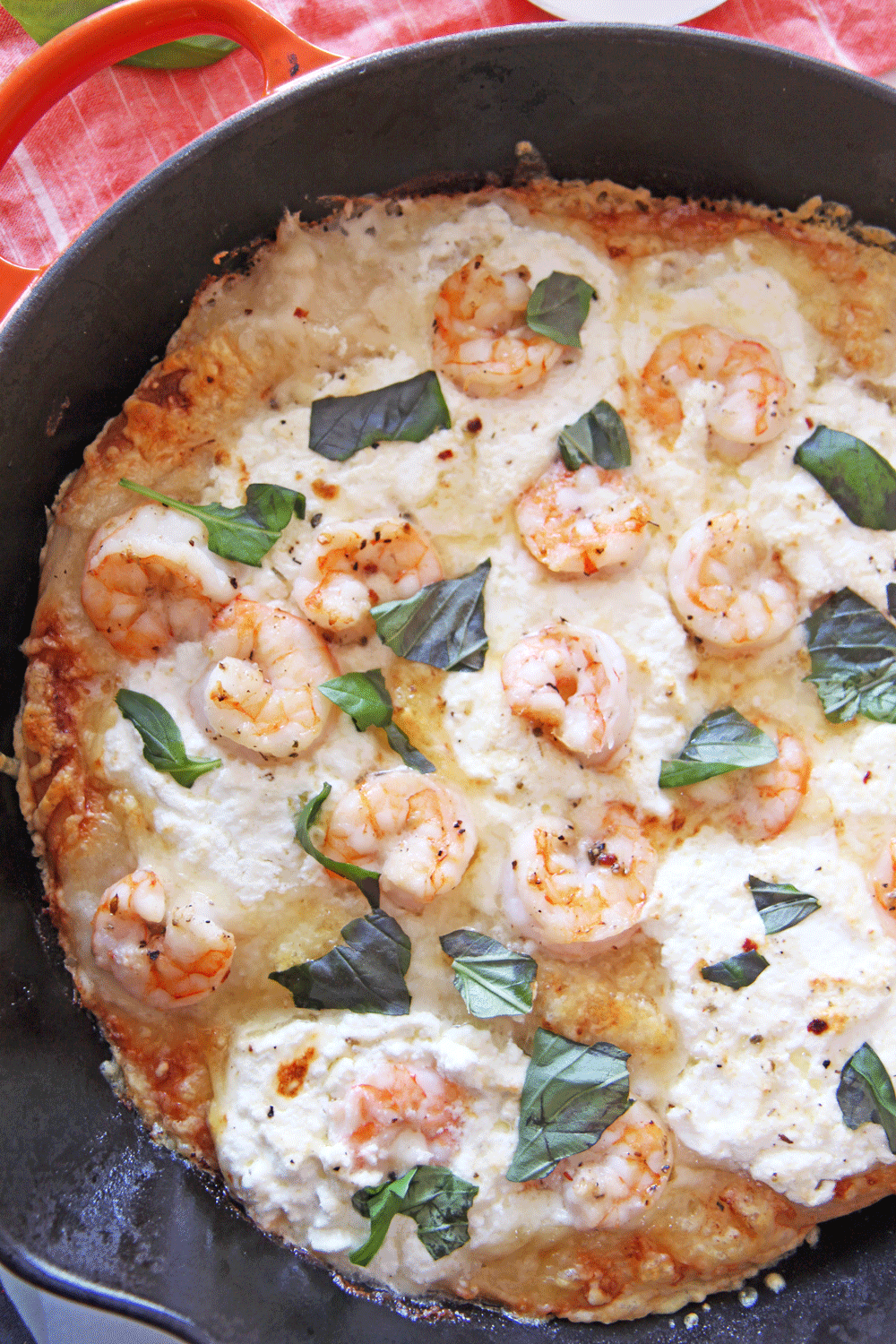 Growing up no matter what restaurant I would go to, I would order shrimp scampi. Its seemed like fancy buttery pasta happiness for me. The juicy shrimp doused in garlic butter dancing with carb happy pasta is a my carb happy land! The funny thing is Tom always orders some type of garlic shrimp dish when we go out too. Guess I married a man after my culinary heart! As good as shrimp scampi is, it is allot of work to make it correctly. After working all day I want to make dinner happy but fast. So I made this shrimp scampi pizza recipe because it takes 10 minutes, everything cooks together, and only one pan to clean up! This is my NJ childhood on a pizza! Happy cooking and cheers to recipe that celebrate you with a dash of gratitude!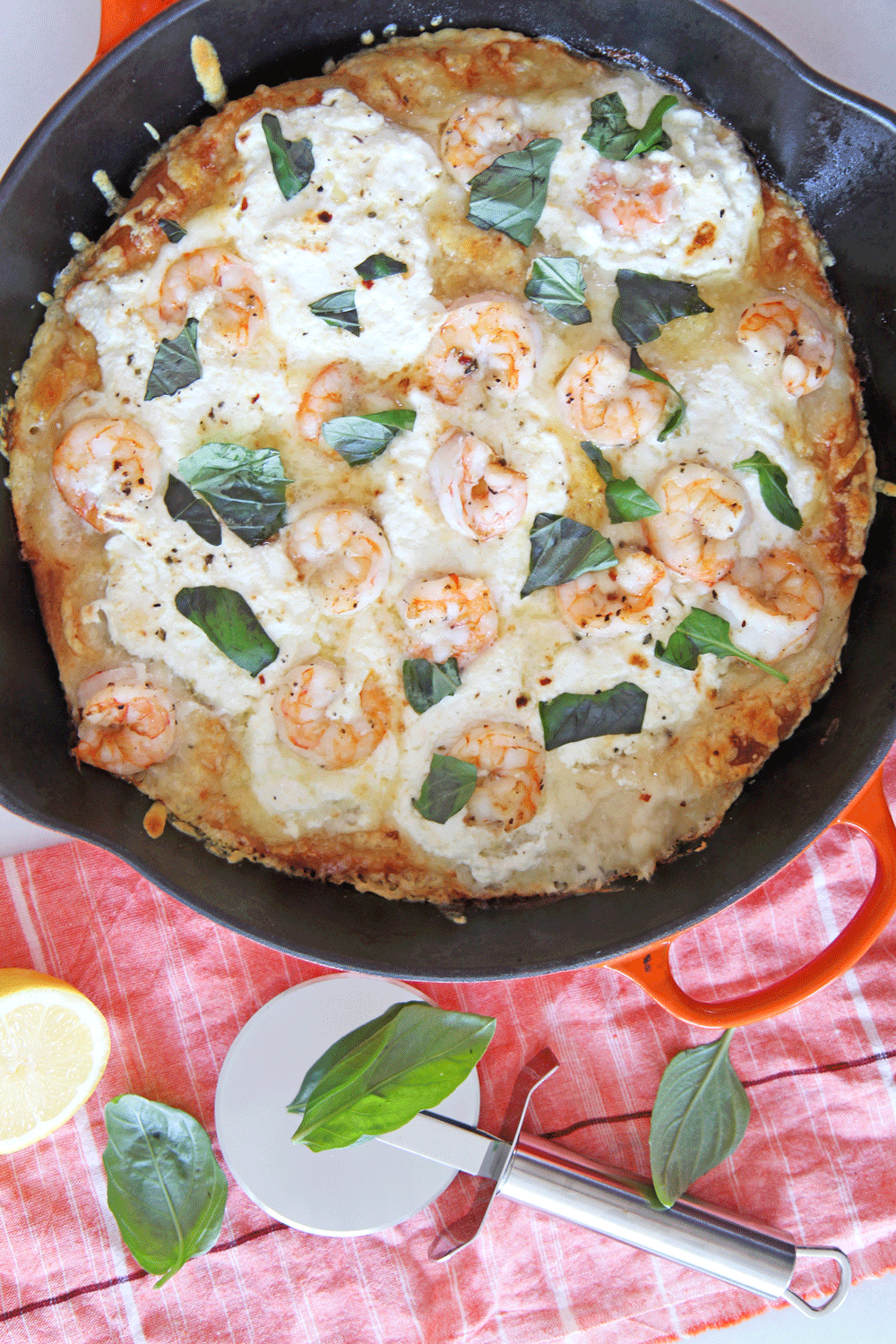 My mission with Chop Happy is to create easy recipe for busy people with a dash of gratitude! Since we all have to be in the kitchen at some point in our day lets use that time to zen out and gain more gratitude.
This is the book from the video above. It is filled with amazing quotes and sayings to add sunshine to your life!  The perfect book to read to learn more about finding calmness, your dreams and making your wishes a reality is
Allways Be Yourself Unless You Can Be A Unicorn!
Read some pages while the house fills with pizza joy. Hope this helps you find joy in a crazy day and I am so grateful for you!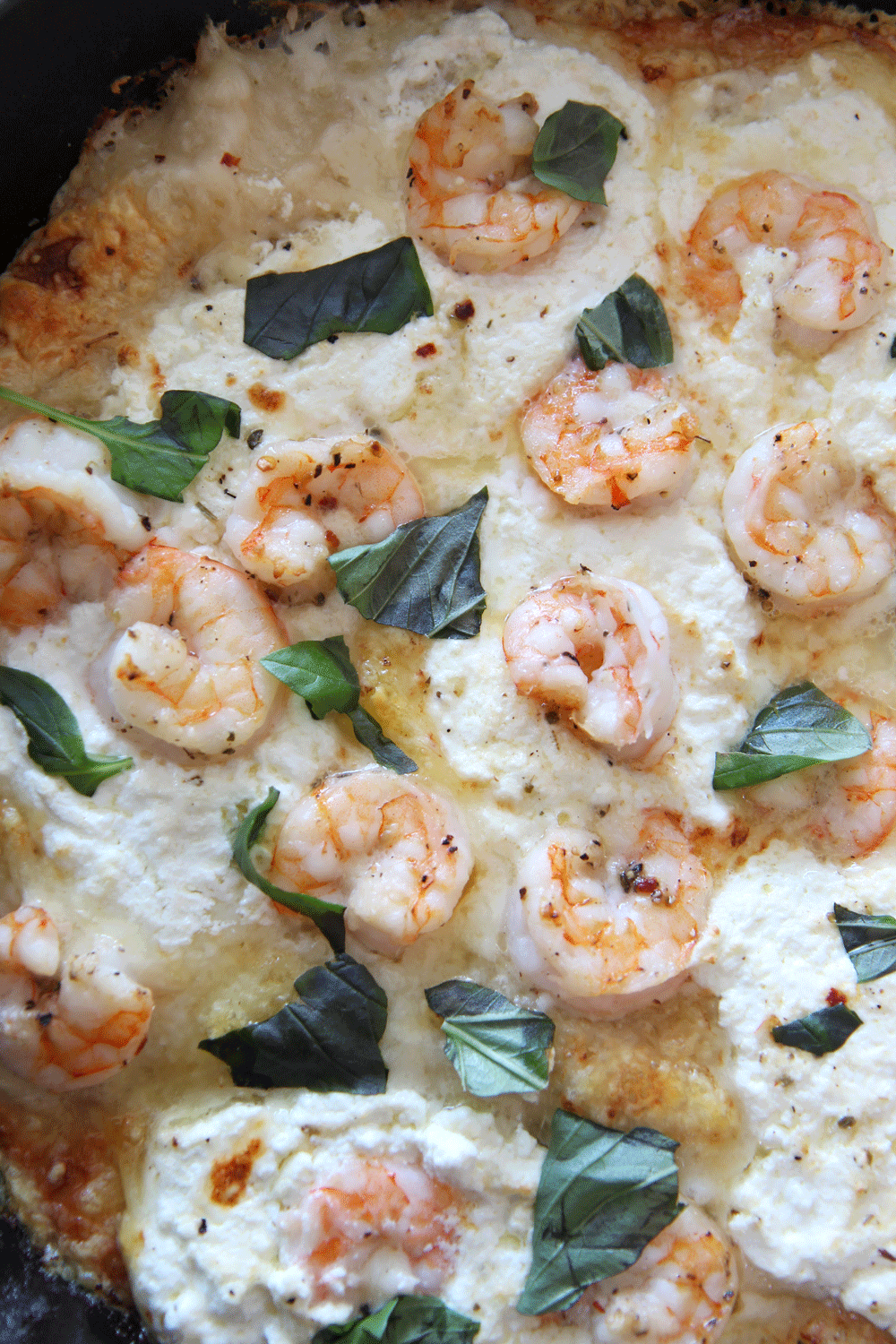 Recipe Hack / Cooking Tips:
How Long Should You Marinate Shrimp: If there is any type of acid like vinegar, lemon, or lime no more than 15 minutes. The acid will cook the shrimp after 15 minutes and make the texture mushy instead of plump and juicy. 
Where to Get the Best Pizza Dough: Go to your favorite pizza restaurant to get raw dough. Every pizza place will happily sell it to you. This way you know you will love the crust and it makes your life easy!
Gratitude While Stirring: Use the kitchen as a place for self care. As you stir or chop say what you are grateful for. I do this all the time so that cooking can be a time to recharge.
Watch How To Make Shrimp Scampi Pizza:
Shrimp Scampi Pizza in a Cast Iron Pan
Ingredients
Scampi Butter Ingredients:
1/2 stick butter (melted)
1 teaspoon garlic powder
1 teaspoon oregano (dried)
1 teaspoon salt/pepper
1/4 teaspoon red pepper flakes
1/2 lemon
PIzza Ingredients:
1 pizza dough
1 pounds shrimp
1 teaspoon salt / pepper
1 pound swiss cheese (grated)
1 cup ricotta cheese
10 basil leaves (hand torn)
Instructions
Preheat the the oven at 500 degrees. Also, let the pizza dough sit out on the counter for 30 minutes so the glutens can rest so the dough will strech out easier.

First, mix all the scampi butter ingredients in a bowl. You will use the butter 3x in the recipe: for the dough, the shrimp, and the ricotta.

Next, press the dough from the center out to and then stretch with hands in the air. Make the dough is slightly bigger than the cast iron pan (see video above on how to do this).

Now, add oil to the pan and place the dough in the pan. Press to fit the whole pan.

Next, brush the scampi butter all over the pizza dough.

Now, add 1 teaspoon salt, pepper, and 2 tablespoons of the scampi butter mixture to the shrimp. Mix to combine.

Next, add the swiss cheese all over the buttery dough.

Now, add lots of dolops of riccotta on top of the swiss cheese. Brush extra scampi butter on the ricotta.

Next, spread the shrimp in a single layer all over the pizza.

Now, cook on the middle rack for 10 minutes.

Finally, when done add basil and enjoy!
Other Easy Recipes:
Any question comment below or email! I love helping change the recipe!
(Visited 598 times, 1 visits today)
Subscribe for tasty, free recipes!