Slow Cooker Kimchi Soup is a warm bowl of easy comfort food hugs. It is spicy and sweet mixed with a spoonful of love. This is my easy recipe for a weeknight warm up.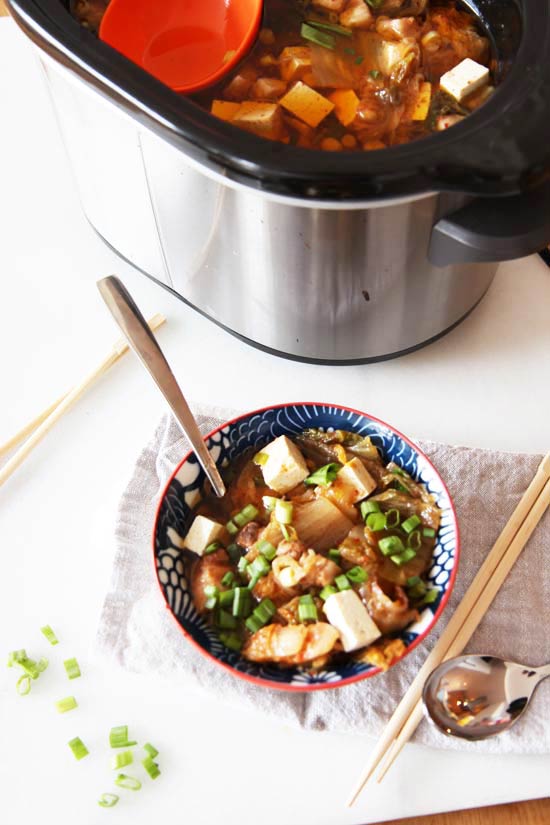 This recipe holds a special place in my heart. The first time I tried kimchi ever, was the first time Tom and I hung out. We went to Korean BBQ in NYC's Koreatown. The kimchi came in a small bowl at the beginning of our meal. I immediately fell in love. The ruby red cabbage tastes like Sriracha and honey dancing together. It is sooooo flavorful and I use it in as many recipes as possible.
Two of my other favorite ways to use kimchi is my:
NOTE: If you want to make this vegetarian just leave out the pork belly and use vegetable stock. It makes an amazing meatless Monday Dinner. 
I really hope you love this as much as we do. The best part of the dish is how easy it is. Drop all the ingredients in the slow cooker, go to work, and come home to a hot happy comfort food dinner. Happy eating and I am always so grateful to cook with you!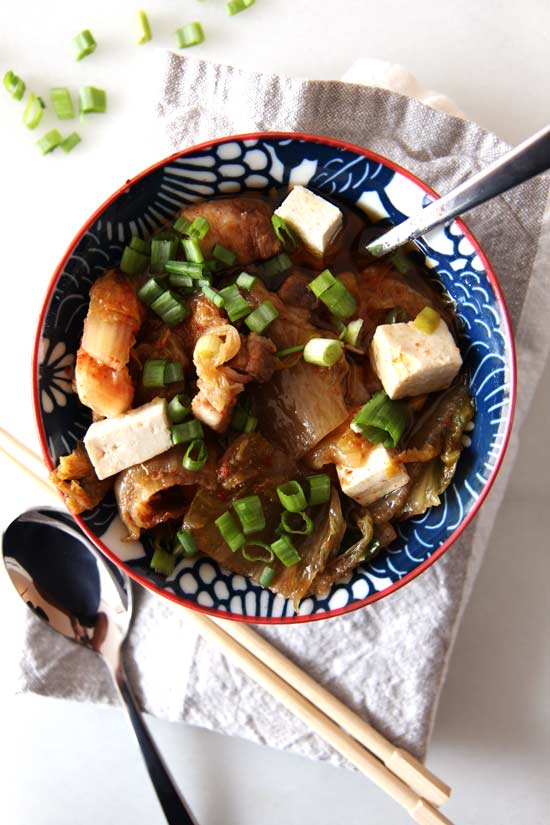 Slow Cooker Kimchi Soup
Ingredients
1/4 lb pork belly (cut in small chunks) or 5 strips bacon
1 tsp sesame oil
1 tsp soy sauce
2 bottles cabbage kimchi
4 cups chicken stock
6 scallions (chopped)
1 package tofu (cut in chunks)
1 tbs Sriracha or Gochujang (optional)
Instructions
Place pork belly in slow cooker and mix with the soy sauce and sesame oil.

Now add all the kimchi and its juices in the slow cooker.

Next pour in the chicken stock.

Cover and cook on low for 8 hours.

Next add scallions and tofu and mix to combine.

Optional: add more soy sauce and Sriracha (or Gochujang).

Cheers to easy slow cooker comfort food.
Here is an awesome recommendation for a Slow Cooker: Click Here
What is Kimchi:
It is fermented Korean cabbage. It tastes like Sriracha and honey danced together. Sweet and spicy yumminess.
It is good for stomach health. Since it is fermented it helps digestive health.
When in NYC Korea Town you can try it at BBQ restaurant. It comes with other veggies for free on the side.
Your Dash Of Gratitude:

ANY QUESTIONS OR COMMENTS? COMMENT BELOW 🙂
With a grateful heart and an amazing tummy – Jay
(Visited 5,447 times, 1 visits today)
Subscribe for tasty, free recipes!