I throw all the cheesy queso ingredients in the slow cooker before I go to work. Then after a fun day cracking (I am a chiropractor) I come home to hot carb happy cheesy dinner waiting for me. This is the perfect happy busy persons dinner solution to a long day!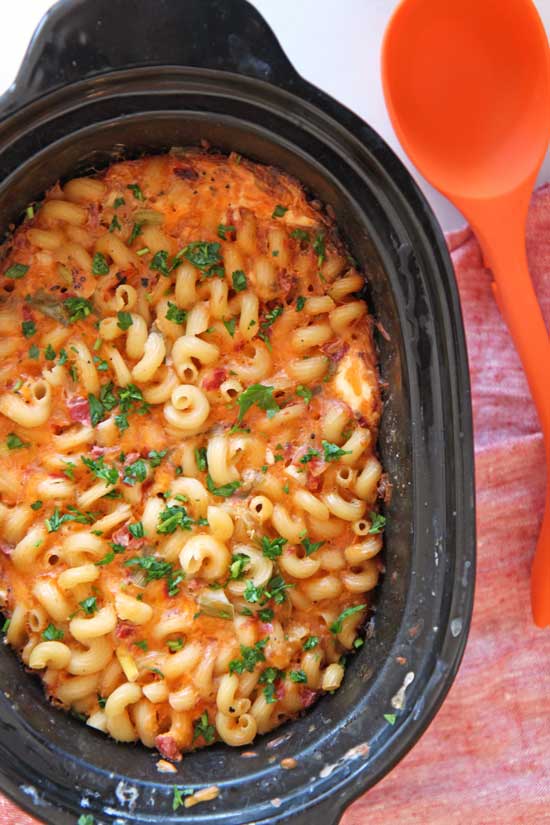 There is only one dinner that Tom does not complain, "where is the meat!" That is mac and cheese! I think the creamy lava of sharp goodness makes up for not having meat. He always sees me wake up and drop ingredients in the slow cooker before work. He says the sound of the pasta dropping into the slow cooker is the happiest alarm. This recipe is inspired by my family. If you were to come to my house growing up (even for a second), my Mom would have appetizers and food out. Cheese was always a staple and I thought why not make it dinner instead of an appetizer. Also I was inspired by my
Jalapeno Mac and Cheese in the slow cooker
recipe. This is one of my most popular recipes on Chop Happy so I decided to transform my childhood fave appetizer into mac and cheese! So here is a crazy easy dinner that you can let cook while you at work and no cooking when you get home.
3 Tips to Busy Week Dinners:
1. This recipe is enough for 10 super hungry people. Divide the mac and cheese in half. Freeze 1/2 for a crazy week and eat half this week.
2. I always prepare slow cooker meals the night before or that morning before work. Right before you leave turn it on so you come home to a hot meal.
3. Make slow cooker dinners on Sunday and save it to eat through out the busy week. Now you don't need to figure out what to eat!
Check this out!! You get Paid to Shop: 
Watch how to make this simple dinner: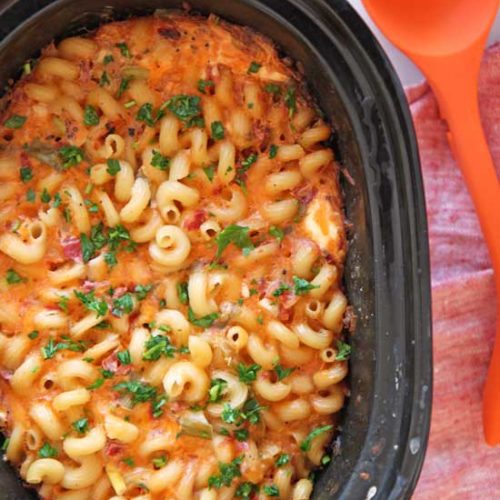 Slow Cooker Queso Mac and Cheese
Ingredients
8 oz cream cheese
8 oz sour cream
1 teaspoon garlic powder
2 cans evaporated milk
1 14 ounces canned fire roasted diced tomatoes
1 4.5 ounce canned green chilies
3 scallions chopped
4 cups grated sharp cheddar cheese
1 pound cavatappi pasta (or macaroni) uncooked
2 teaspoons salt
1 teaspoon pepper
Instructions
First, add cream cheese, sour cream, garlic powder, salt and pepper in slow cooker. Mix to combine.

Next, add the evaporated milk, scallions, tomatoes, green chile, cheese, and pasta in the slow cooker. Mix to combine well.

Now turn slow cooker on for 3 hours on low.

Finally, enjoy this cheesy carb smile!
This is a awesome cheese grater:
Two of my other favorite Mac and Cheese dinners:
This book changed my life and it is how I elevated my home cooking:


I can't wait for you to try this recipe!!! Cheers to easy comfort food.  Happy Cooking!
QUICK NO BAKE DESSERT  FOOD RECIPE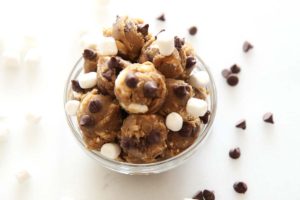 Your Dash Of Gratitude:
                                                                                                                                   
ANY QUESTIONS OR COMMENTS? COMMENT BELOW 🙂
With a grateful heart and an amazing tummy – Jay

(Visited 3,466 times, 1 visits today)
Subscribe for tasty, free recipes!