A big beefy burger dripping with garlicky herbaceous cream cheese stuffing. Each bite will melt all your cares away. This is your burger award for you working hard this week and for being awesome!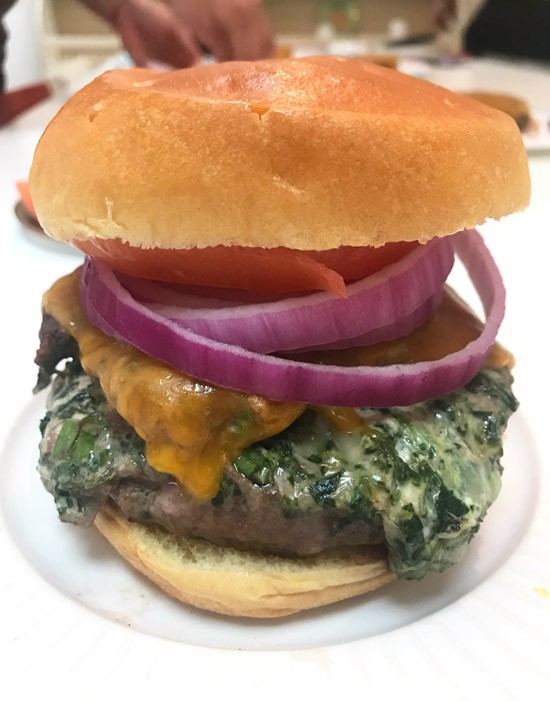 The way to my husband Toms heart is beef, beef, and more beef. He is my official taste tester and this one is Tom approved! In true Chop Happy style I wanted a recipe that when I come home after working all day I can indulge in comfort food quickly (so that we can binge out on the couch and look at Instagram)!
A fun burger trick to make a crazy week easier: 
I buy double the ingredients.
Assemble the patties (no cooking).
Wrap all of them up in saran wrap.
Divide 1/2 them and put in the freezer for another week when things are crazy.
Other half in the fridge to cook that week.
I hope this burger recipe makes you smile. When your in the kitchen dance to the sizzle of the burger sing to the excitement of the cheese. Life is crazy grab the french fries by the handful and live life like the most delicious day is today
Spinach and Artichoke Dip Stuffed Burger
Ingredients
Burger Ingredients:
2 pounds ground beef
2 teaspoons salt
2 teaspoons pepper
4 slices cheddar cheese
4 burger buns
4 slices tomatoes
4 slices onion
ketchup
Spinach and Artichoke Dip Ingredients:
1 cup frozen spinach (defrosted)
1 can artichoke hearts (drained and rough chop)
8 oz cream cheese
1 teaspoon salt
1 teaspoon pepper
1 teaspoon garlic powder
1/4 teaspoon red pepper flakes
1/2 cup sour cream
1 cup Monterey jack cheese (grated)
1 cup Parm Cheese
1 handful cilantro (chopped)
3 scallions (chopped)
Instructions
First, mix all the spinach and artichoke Dip ingredients together and set aside.

Next, in a separate bowl, mix the ground beef with the salt and pepper.

Now, dived into 4 patties.

Now with one of the 4 patties dived that in 1/2 and flatten both out.

Place 2 tablespoons cheese on the patty and top the other patty on top. Seal the edges to form stuffed burger. Repeat for other three burgers.

Next, salt and pepper the burgers and place on a hot grill 3 minutes per side. Do not touch during the 3 minutes so it develops a crust on the burger.

Now, add a slice of cheese and cook additional 1 minute.

Finally, assemble burger (put on a bun, tomato, onion, and ketchup) and cheers to happy comfort food eating!
For more easy, happy comfort food recipes, check out our Pinterest Page
More Burger  Recipes:
I can't wait for you to try this recipe!!! Cheers to easy comfort food.  Happy Cooking!
QUICK NO BAKE DESSERT  FOOD RECIPE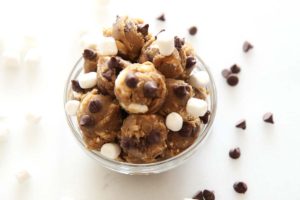 Your Dash Of Gratitude:
                                                                                                                                   
ANY QUESTIONS OR COMMENTS? COMMENT BELOW 🙂
With a grateful heart and an amazing tummy – Jay
(Visited 1,077 times, 1 visits today)
Subscribe for tasty, free recipes!