Here is an easy way to make the best crispy potatoes on a sheet tray! The secret is some super easy cooking hacks and tips.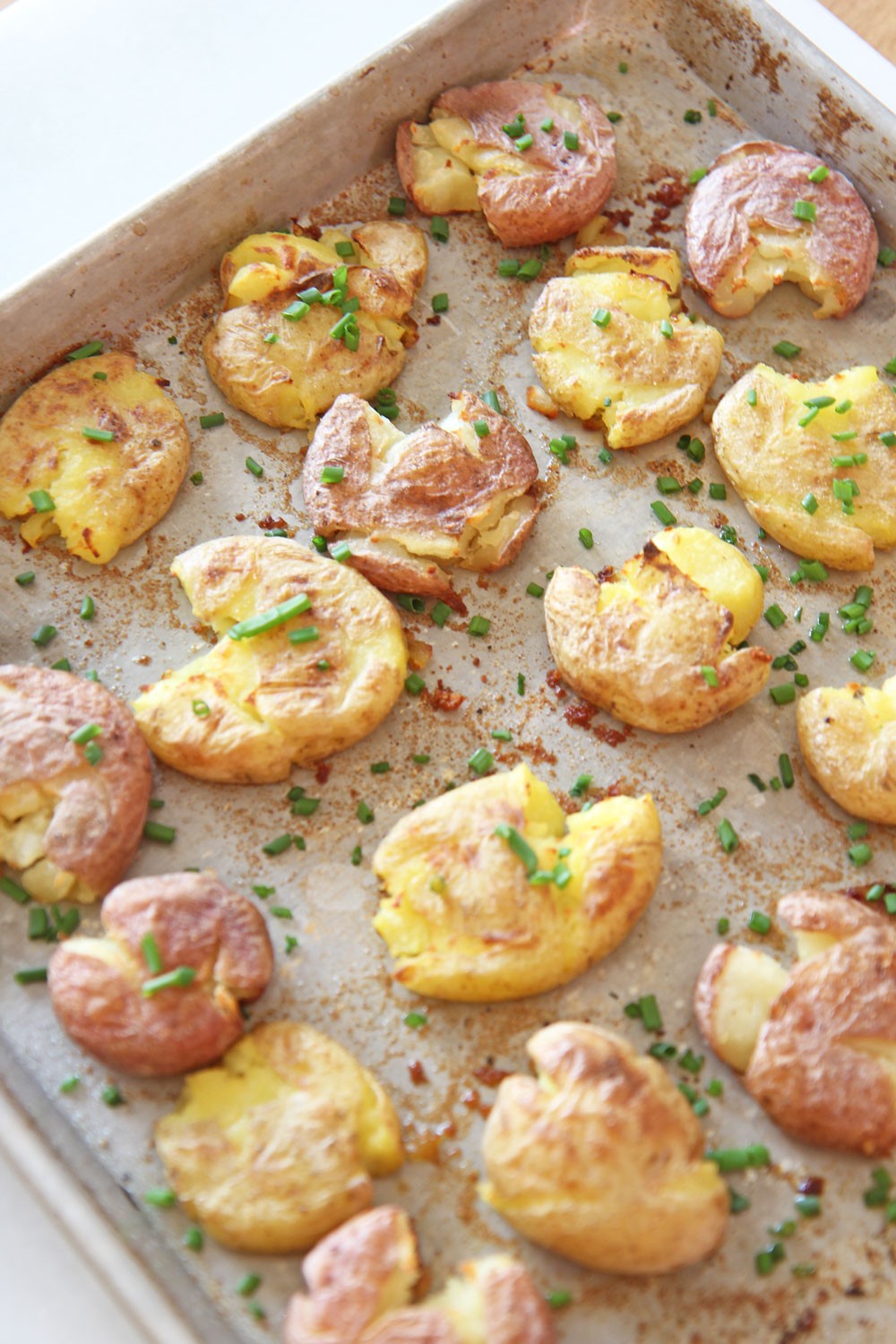 When you have a crazy day nothing is more satisfying then smashing a potato to give you culinary therapy. Also the crunch of the crispy spud will make you smile! I think cooking can be your temple of peace and centering. Little things like string the sauce can be used to say what your grateful for. Smashing potatoes gets out stress. Also, just cooking can be an act of culinary self care because it gives you a moment to be in the now. What is the most stress free part of cooking for you? What recipe makes you joyful to cook.
This recipe and my
meatballs
are my favorite recipes because it make Tom so happy! When I make this crispy potato recipe I also add steak to the sheet tray with is the ultimate I love you to him. Also the meatball recipe brings pure joy because its the first recipe I created before had the blog and it went viral on my 
Pinterest Page
! Also, since I am an on the go New Yorker! Anytime I am in the kitchen is a moment to pause and do something that brings me joy! The act of creating dinner bring me such gratitude!
Hope this recipe makes you smile and cheers to recipes that celebrate you!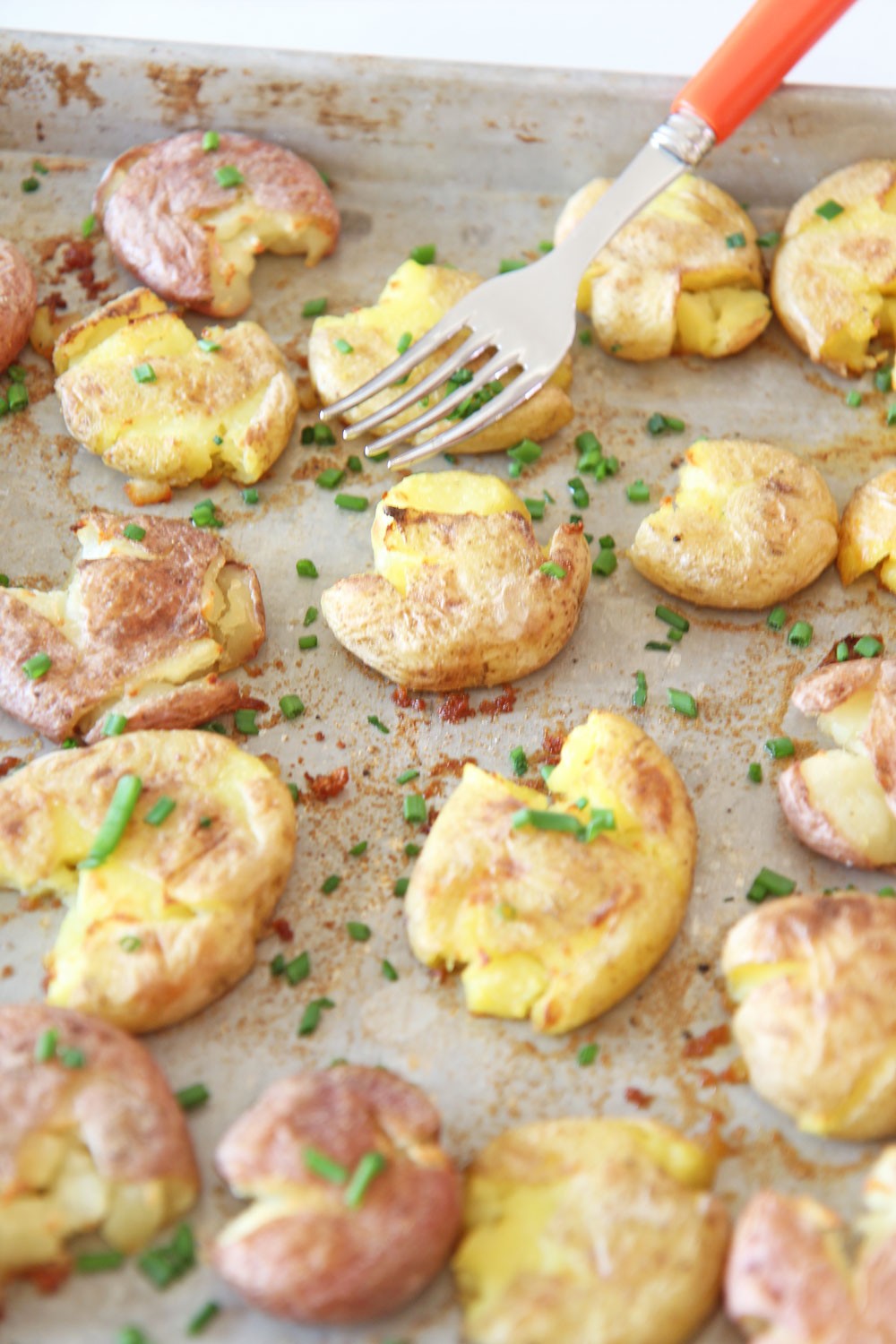 Hope you love this crispy potatoes as much as me and Tom do! Happy cooking!
Recipe Hack / Cooking Tips:
Buy small potatoes: The smaller the potato the faster it cooks. This make dinner happen faster and also makes sure potato is fully cooked.
Season the sheet tray: Spread oil, salt and pepper on bottom of tray. This will help make sure the food that touches sheet pan is properly seasoned.
Vegan or Vegetarian: Use vegetable stock for the potatoes.


Things you will need:
Watch how to make this easy recipe: 
How to Make The Best Crispy Potatoes in the oven
Ingredients
2 pounds small Yukon gold potatoes
4 cups chicken broth (low sodium)
2 tablespoons salt
3 tablespoons extra virgin olive oil
1 teaspoon garlic powder
1 teaspoon  salt and pepper
Instructions
Preheat the oven to 500 degrees.

First, place the whole potatoes, chicken broth and 2 tablespoons salt in a pot. Turn to high and when the chicken broth comes to boil start timer for 11 minutes.

While the potatoes cook, pour 2 tablespoons of olive oil, a teaspoon salt and teaspoon pepper on the sheet tray. Smear all over the sheet pan so the bottom of potatoes season well.

Now, drain and place the hot potatoes on sheet tray. With the back of a cup or potato masher, lightly smash potatoes so flat but still intact.

Next, drizzle more olive oil, salt and pepper on top of the potatoes. Also, add 1 teaspoon of garlic powder to the top of the potatoes.

Finally, place sheet tray on top rack 8 minutes. Cheers to easy recipes that celebrate you!
Other Easy Sheet Pan Recipes:
Any question comment below or email! I love helping change the recipe!
My Favorite Ways To Add More Gratitude In My Life: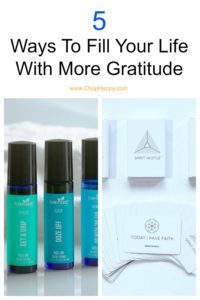 Totally Recommend This Food Processor:
Check Out This book! It changed my life and keeps me centered:
ANY QUESTIONS OR COMMENTS? COMMENT BELOW 🙂
With a grateful heart and an amazing tummy – Jay
(Visited 994 times, 1 visits today)
Subscribe for tasty, free recipes!