A new fabulous stuffing recipe that combines my obsession with crunchy oozing with flavor croutons and glorious carby sides! This is a tornado of deep rich flavor that gets a head start because we use garlic croutons as the bread. Seriously, I even called my Mom I was so excited on how this turned out lol!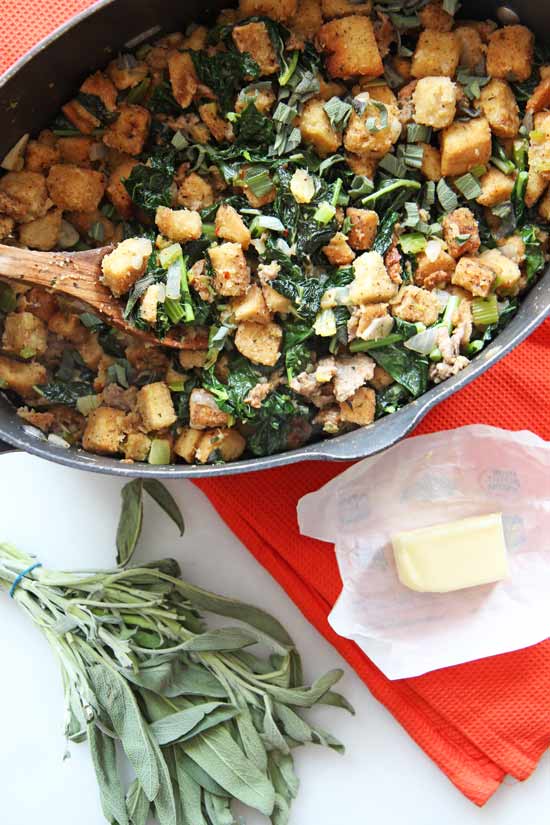 The secret to the bold flavor is the croutons themselves. Croutons are packed with juicy garlic flavor so they can stand up on their own while the stuffing mixes are dry with little seasoning. Also for more yum factor I add an extra egg to the mix so it has a slightly softer souffle' feel. This will be an amazing side for chicken or turkey. All the fun holidays like Thanksgiving, Christmas, Easter or the fun Sunday dinner with the fam! I hope you love this as much as I do and cheers to your new fave side!
Crouton Sausage and Kale Stuffing Recipe
Ingredients
3 bags garlic cruotons
1/2 pound sweet Italian sausage
1/2 pound spicy Italian sausage
4 celery stalks (chopped)
1 onion (chopped)
5 cloves garlic (chopped)
1 bunch kale (steamed and chopped)
2 cups chicken stalk
2 tablespoons butter
1 teaspoon salt
1 teaspoon pepper
4 grates nutmeg (or 1/8th teaspoon ground)
1 tablespoons apple cider vinegar
4 sage leaves chopped
Instructions
First, place both sausages (in large pot) on high heat with 3 tablespoon of extra virgin olive oil.

Break up sausage and spread out. Cook sausage on one side two minutes (without string) so it gets brown and caramel color.

Next, add onion to the sausage and mix and cook two more minutes. Then lower the heat to medium.

Now, add the garlic, kale, and the salt and pepper. Also, grate the nutmeg on the kale.

Mix for 1 minute until kale wilts.

Now add the croutons butter and chicken stalk. Mix until to combine and the stock absorbs in the croutons (approximately a minute.

Finally add sage mix and enjoy!
Two More Easy Fast Stuffing Recipe:
What is your favorite side? Let us know in the comment section!

With a grateful heart and a flavor-tastic stuffing tummy – Jay
(Visited 876 times, 1 visits today)
Subscribe for tasty, free recipes!