This is the ultimate biscuit ham egg and cheese leftover sandwich!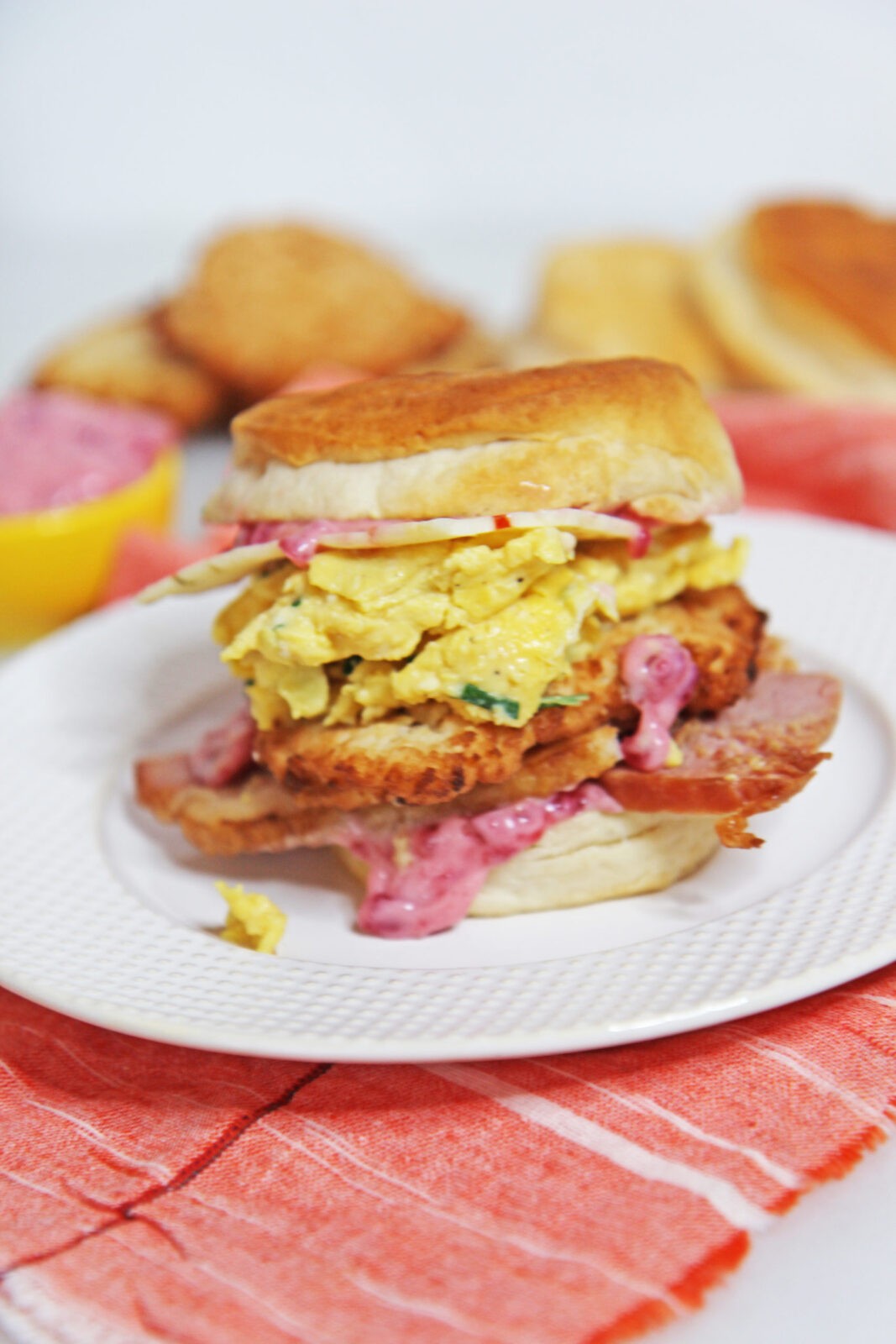 I love leftovers! This sandwich reminds me of my college days at Quinnipiac University! Every weekend we would get Dunkin Doughnuts egg and cheese sandwiches and a large iced coffee! It was a ritual of the weekend beginning. The carb on carb with cheesy happiness, and sweet and salty ham on top made it brunch bliss. Those were such happy memories and I am still friends with most of the people who went on the D&D breakfast runs. I also love this sandwich because the hash brown is leftover mashed potatoes. The potato pancake happily goes in the sandwich so its all in one. So grab your leftovers and lets make an epic brunch sandwich!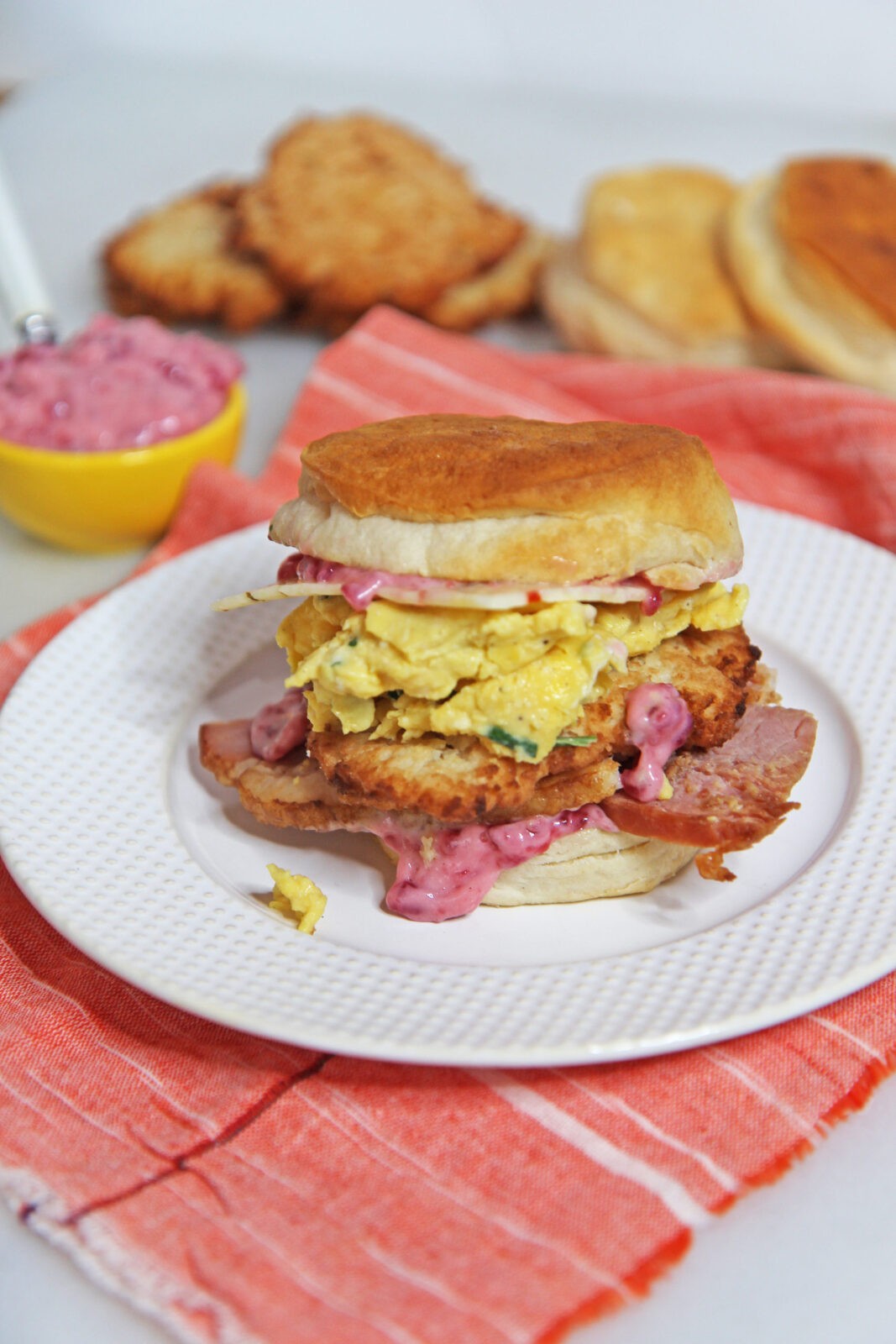 Gratitude Tip While You Cook:
My mission with Chop Happy is to create easy recipe for busy people with a dash of gratitude! Since we all have to be in the kitchen at some point in our day lets use that time to zen out and gain more gratitude.
For the time the turkey cooks visualize your dreams as if it is already here. Working on you does not have to be a long drawn out process. It can be as simple as a couple of pages of a motivational book. The perfect book to read to learn more about finding calmness, your dreams and making your wishes a reality is
The Secret!
Recipe Hack / Cooking Tips:
Perfect Eggs: Low and slow. Cook the eggs on low heat with no salt or pepper. The salt causes the proteins to tighten and you get rubbery eggs. Stop cooking when wet curds appear. Then take off the heat. The eggs will continue to cook to perfection. At the end add salt/pepper, and sour cream for tang! 
Gratitude While Stirring: Use the kitchen as a place for self care. As you stir or chop say what you are grateful for. I do this all the time so that cooking can be a time to recharge.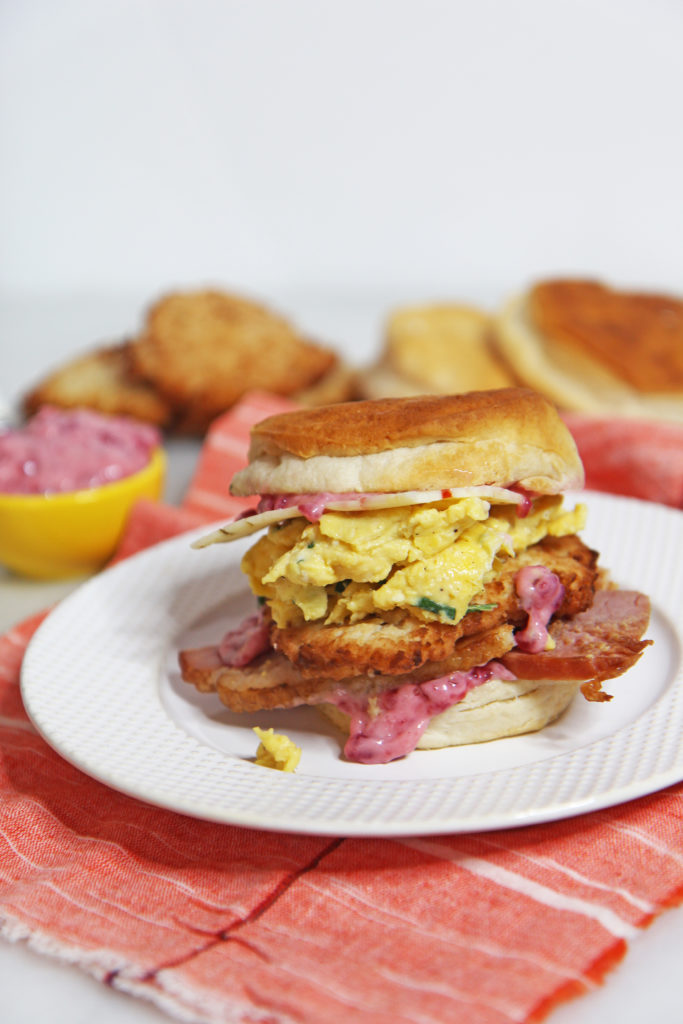 Watch How To Make This Leftover Sandwich:
Leftover Biscuit Ham Egg and Cheese
Ingredients
4 biscuits
4 slices Ham
4 slices pepper jack cheese
Potato Pancake Ingredients
3 cups leftover mashed potatoes
3 scallions (chopped)
3 tablespoons vegatable oil
Egg Ingredients:
8 eggs
2 tablespoons butter
1 teaspoon salt/pepper
1 tablespoon chives
Leftover Cranberry Mayo
1/2 cup mayo
2 tablespoons cranberry sauce
1 teaspoon apple cider vinegar
Instructions
First, make potato pancakes by mixing scallions and leftover mashed potatoes. Then divide into four patties (I do this as putting away the potatoes and leave in the firdge. Fry in a pan on medium high for 2 minutes per side. Set aside pancakes.

Next, fry ham 2 minutes per side to reheat in a pan with oil on medium high. Tip: I use same pan as potato pancakes just carefully clean pan with paper towels first.

Now, combine all carnberry mao ingredients.

Next, make the eggs. Add eggs, and butter in a low heat pan. Mix until forms soft wet curds. Then shut the heat off and add the rest of the egg ingredients.

Finally, lets assemble the sandwich. Spread the mayo on each half of the biscuits. Then add ham, then potato pancake, and top with eggs. Now add cheese ontop.

Cheers to fun leftovers becoming an epic brunch sandwich!
Other Easy Recipes:
Any question comment below or email! I love helping change the recipe!
(Visited 570 times, 1 visits today)
Subscribe for tasty, free recipes!