Presenting the easiest (no machine needed) ice cream bars!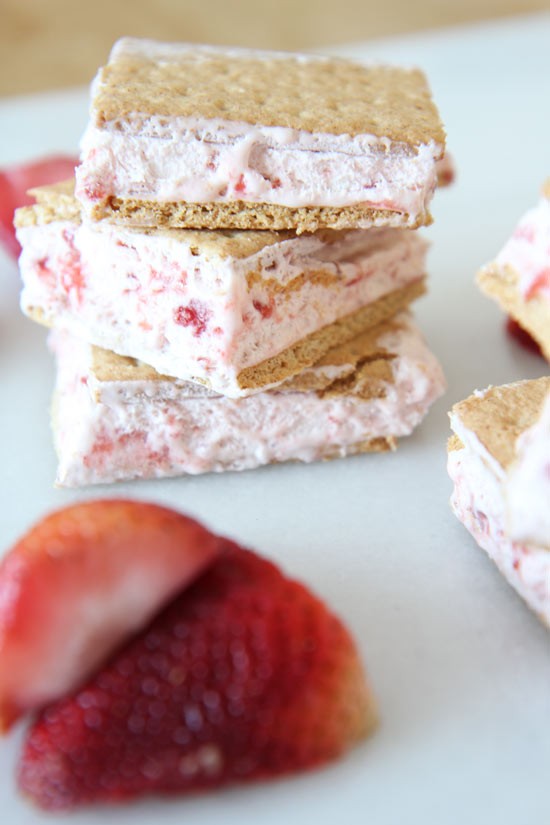 Before I met Tom (my husband), I would have chosen a fried cheesy appetizer any day over dessert. But after over 11 years together and his crazy sweet tooth, I crave dessert. Now, we sit on the couch with our French bull dog Charlie and eat dessert almost every night. But, the only problem is baking is not my thing. So I need to come up with easy desserts that are prepared in a NY minute. I work during the day as a Chiropractor and blog at night so I do not have allot of time to measure and frost! This is my answer to this. This takes less then 5 minutes to prepare.
I hope this makes your life sweeter and filled with joy! I am always grateful to cook with you!
Finally, remember to grab the ice cream sandwiches  by the handful and live life to the fullest!
3 Ingredient Strawberry Ice Cream (No Churn) Recipe
Ingredients
8 ounces Whipped Cream
5 tablespoons Strawberry Jam
14-17 Graham Crackers
Instructions
First, place the whipped cream and the strawberry jam in the bowl.

Now, gently fold (see video) the two together until turns light pink color.

Next, place saran wrap in an 9x9 pan. With the saran wrap edges longer then the pan to cover the top.

Next, place graham cracker cookies evenly all along the bottom.

Now, pour all the whipped cream mixture on top of the graham crackers. Spread out all over to cover all the graham crackers.

Top with an even layer of graham crackers and cover the top with saran wrap.

Place in freezer 8 hours.

Finally cut into squares (see video) and enjoy this creamy sweet and fruity treat.
For more easy, happy comfort food recipes, check out our Pinterest Page
More Dessert Recipes:
I can't wait for you to try this recipe!!! Cheers to easy comfort food.  Happy Cooking!
QUICK NO BAKE DESSERT  FOOD RECIPE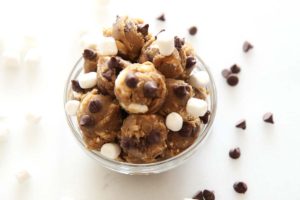 Your Dash Of Gratitude:
                                                                                                                                   
ANY QUESTIONS OR COMMENTS? COMMENT BELOW 🙂
With a grateful heart and an amazing tummy – Jay
(Visited 1,665 times, 1 visits today)
Subscribe for tasty, free recipes!