All you need is 5 ingredients to make a fast, saucy, and cheesy lasagna.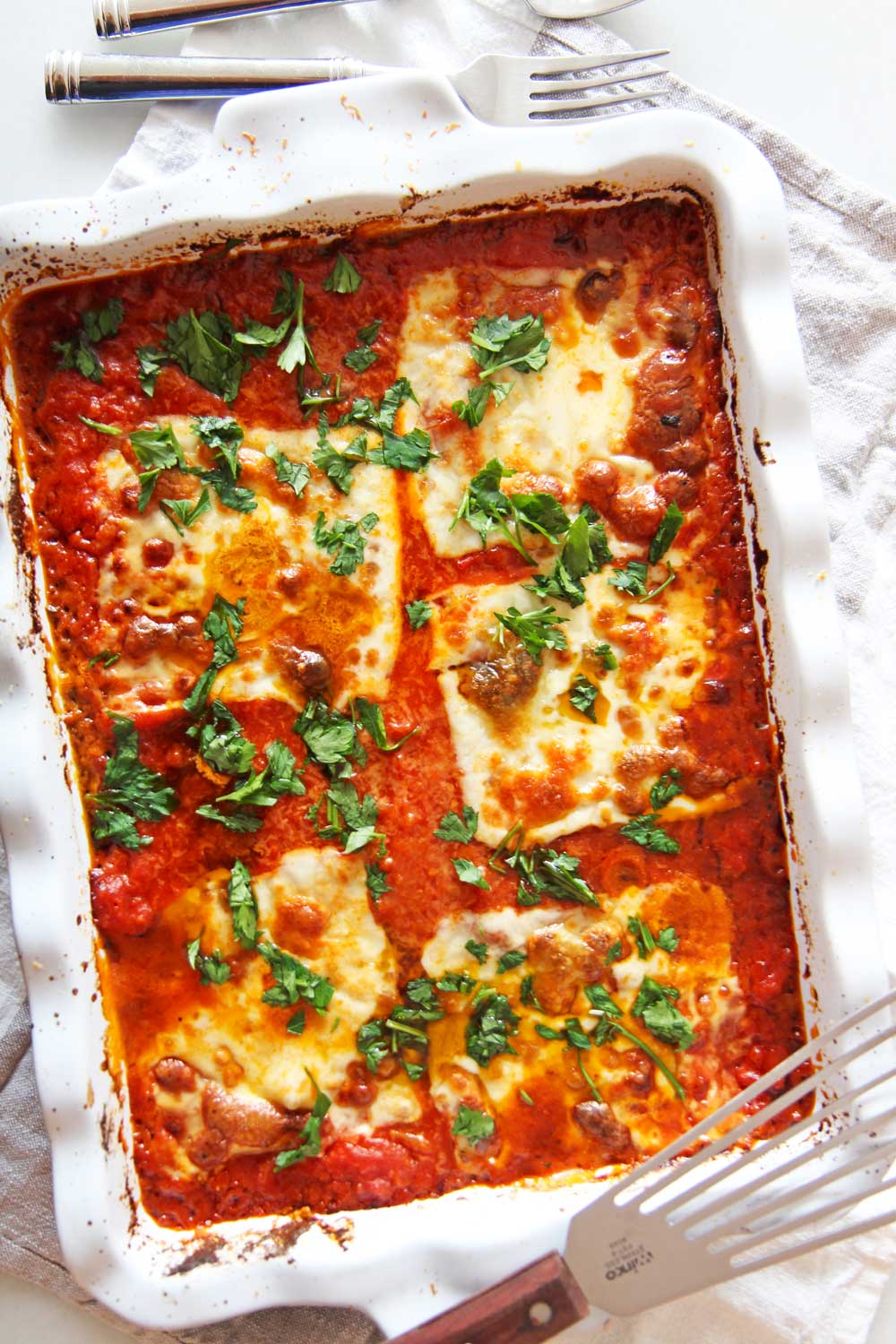 I crave lasagna daily but don't always have the time to chop and prepare all the ingredients on a busy work day! So with ricotta cheese, mozzarella, jarred marinara, pesto, and frozen ravioli lasagna is totally possible on a super busy week night! This 5 ingredient cheesy lasgana pasta recipe has allot of fun cooking hacks to get dinner on the table faster. First problem solved not having to chop lots of ingredients. On a long day all we want to do is chill, regroup, and relax. So no more washing/chopping fresh herbs, and grating garlic.
Pesto
is our magic time saver solution. Pesto is ready made chopped sweet basil, grassy parsley, fabulous garlic, and salty Parm cheese. So the work is done for you! Mix your favorite pesto with ricotta and you save so much time.  Next the marinara! I have 2 solutions. The fastest way to lasagna is use your favorite store bought
marinara
! But if you are on team "no store bought" then try my super fast
5 Ingredient Pantry Marinara
. I love both but on a busy day I am team store bought sauce. Finally, no need to watch water boil. Frozen ravioli go straight from the freezer to the casserole pan. Frozen ravioli steams and cooks with the rest of the lasagna in the oven so no need to watch water boil for 15 minutes. All of these fun hacks makes such a difference in getting dinner on the table fast! Also, if you make 2 and freeze one that makes dinner even easier on another day! Hope these cooking hacks and this recipe make you have more time for you! Grateful to share this recipe with you!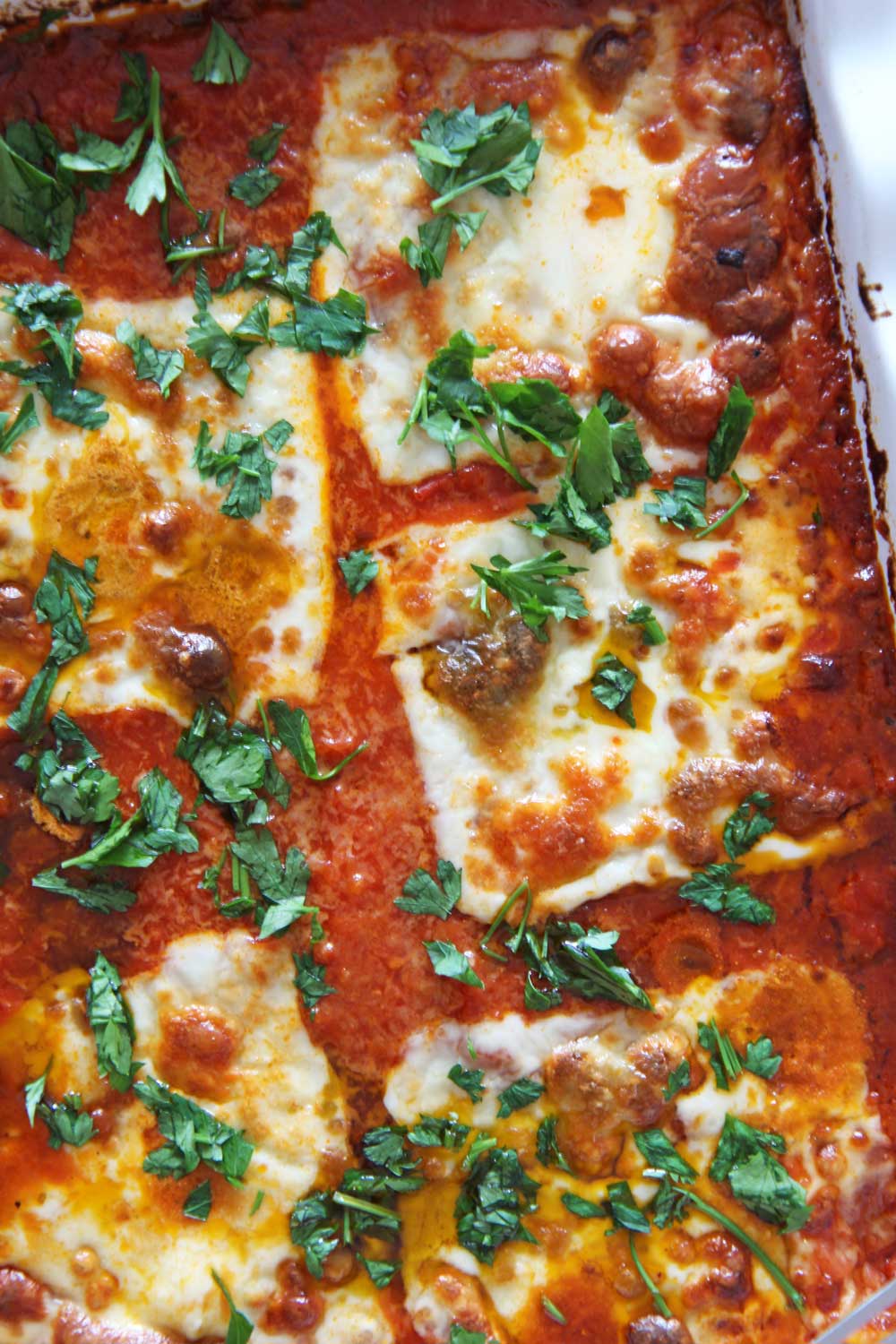 Growing up we would eat Italian food on a weekly basis. Mama Goldstein would take us to one of the fabulous local Italian places in NJ and we could pick whatever cheesy carb happy dinner we wanted. I always cherish those times because simple amazing food felt like a celebration. Every time I eat a cheesy bite of this lasagna I try to remember that its all about the simple moments in life. Trust me I love holidays and my birthday, but focusing on the moments in between as a gift makes everyday feel like a holiday. When the day is not going well for me, I will make this lasagna and as I eat it, I will remember what I am
grateful
for. Also will remind myself of all the times growing up Mama Goldstein made simple things special. What is your culinary memory that makes you smile on a not so good day? I am so grateful for you and hope you love this recipe! Happy cheesy lasagna making!
Recipe Hack / Cooking Tips:
Don't watch water boil: Save 15 minutes of the cooking dinner by using frozen ravioli instead of lasagna noodles. The frozen ravioli are usually par cooked and they steam and cook with other lasagna ingredients in the oven. Not only do they always come out pasta perfect but the they also add an extra layer of cheesy yum.
Be lasagna psychic: Make 2 lasagnas! Cook one for tonight and freeze one for later. You will be so happy you did this! One a crazy night when you don't have allot of time to cook that lasagna will be your dinner hero! Nothing like homemade lasagna to save the day and save you time. I do this with any casserole, baked ziti, and meatballs recipe.

Things you will need:
Watch This Video On How To Make This:
5 Ingredient Cheesy Lasagna
Ingredients
16 ounces ricotta cheese
6 ounce jarred pesto (or 1/2 cup homemade)
2 bags frozen ravioli
1 jar marinara (32 ounces) or (2 cups homemade)
4 cups grated mozzarella (1/2 pound thin slices mozzarella)
Instructions
Preheat oven to 375 degrees.

First, mix ricotta and pesto in a bowl.

Next, Pour 1/2 of the marinara on the bottom of a lasgana pan. Smear the sauce around to cover the whole dish.

Now, layer raviolis to cover the bottom of the dish.

Next, spread all the pesto ricotta cheese mixture ontop of the ravioli. Spread the ricotta around but dont worry about covering everything because it will spread more as it melts in the oven.

Now, add layer of mozzarella ontop of the ricotta.

Next, layer more frozen raviolis covering the whole dish.

Now, spread rest of marinara over raviloi and top with the rest of mozzarella cheese.

Finally, baked covered in tin foil for 30 minutes (on middle rack in the oven. Then bake uncovered at 450 degrees to melt the cheese and enjoy!
Other Easy Dinner Recipes:
Any question comment below or email! I love helping change the recipe!
My Favorite Ways To Save Money In The Kitchen: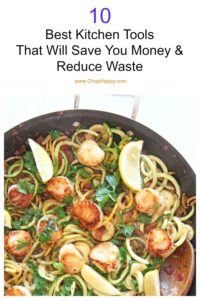 Check Out This book! It changed my life and keeps me centered:
ANY QUESTIONS OR COMMENTS? COMMENT BELOW 🙂
With a grateful heart and an amazing tummy – Jay
(Visited 1,028 times, 1 visits today)
Subscribe for tasty, free recipes!