All you need is 5 ingredients to make this fast 15 minute taco fried rice dinner.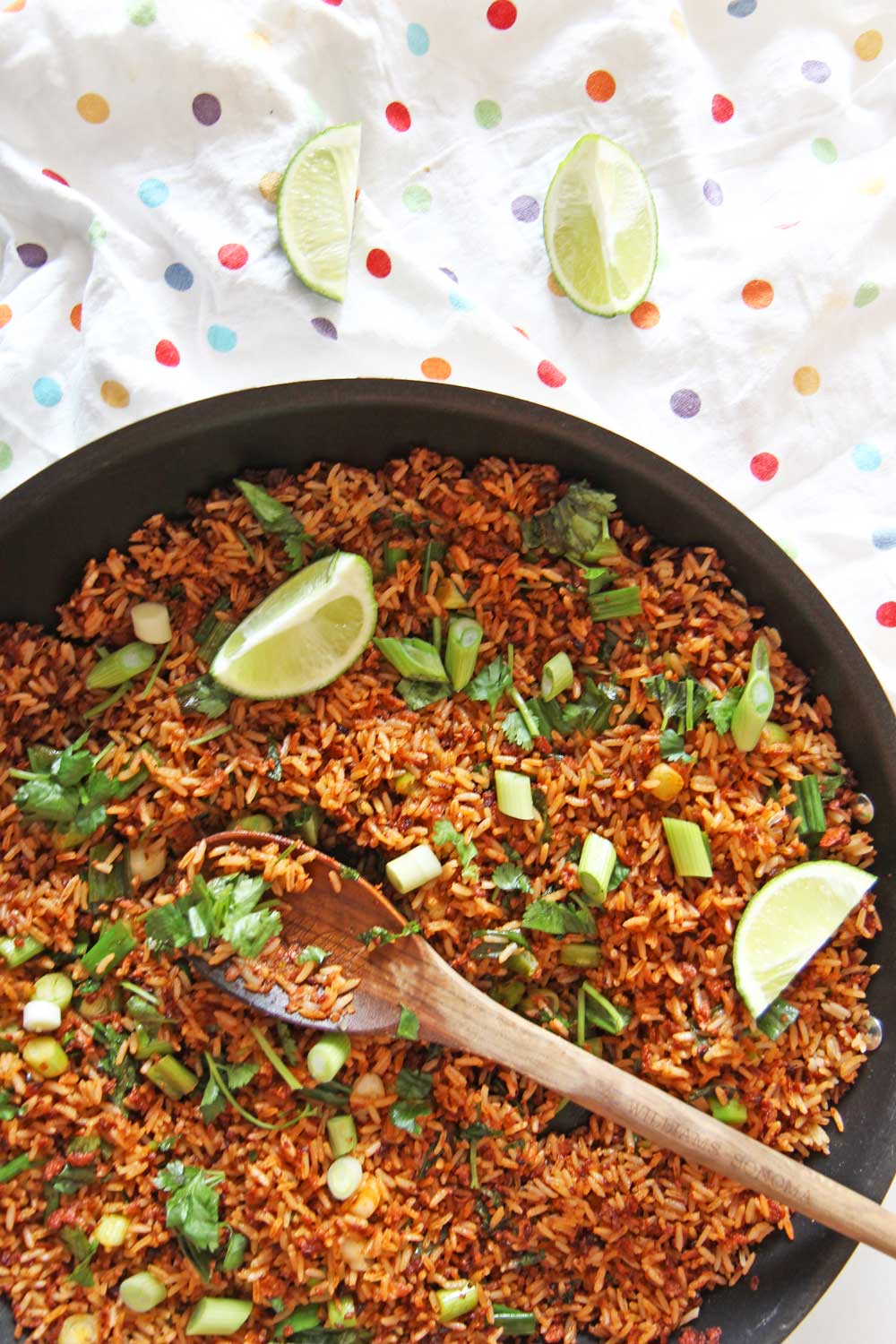 I am obsessed with 5 Ingredient recipes! First of all this recipe takes 15 minutes, uses leftover rice, and gives me more time after work to chill and decompress. Also, its crunchy, sweet, spicy, and a slash of citrus love in every bite. First, fry the sweet smokey chorizo. Mexican chorizo (the uncooked crumbly kind) works best because it mixes in the rice nicely. Spanish chorizo is the cooked cured kind. It works too if you cant find the Mexican chorizo. Now, add the rice to the pork happiness and stir with gratitude until all the rice becomes orange chorizo color. Next, spread the rice out in the pan and turn the heat up to get the rice crispy. Then leave it alone and do not stir so crisps well. This adds crunchy texture that makes this recipe fabulous. Finally, always add a fresh component to your dish. I add oniony crunchy scallions and citrusy cilantro. If you do not like cilantro just add half parsley and mint for that grassy citrus flavor. Hope this fast recipe makes you happy after a long day of work and lets you have less time in the kitchen and more time for you!  Grateful to share this recipe with you!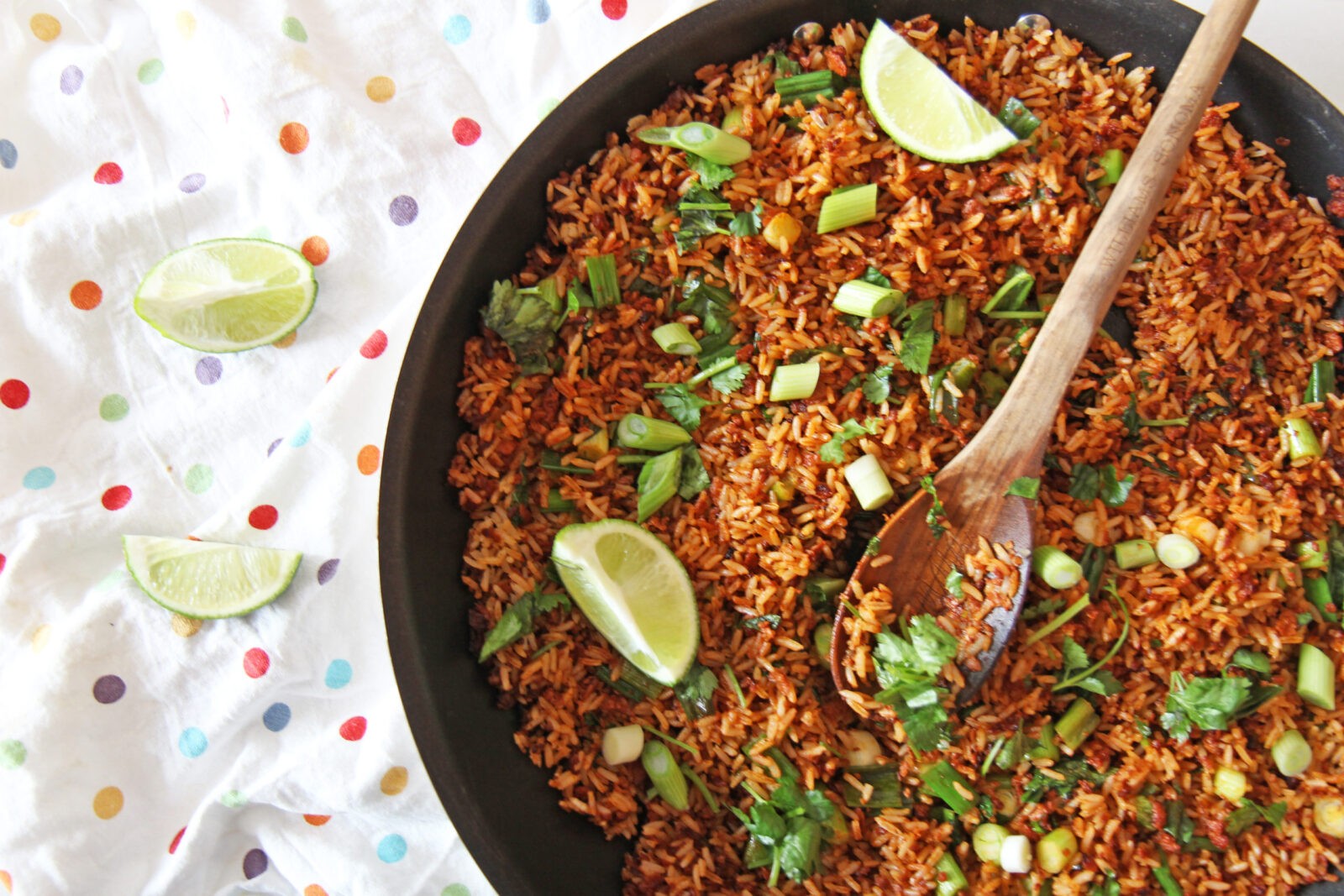 This rice reminds me of going to ChiChi's on my birthday every year with my mom. First of all, this was my favorite chain restaurant growing up because they gave you free lunch on your birthday! Every year (even on a school day) Mama Goldstein would take me to get my free lunch. They had amazing sweet and spicy rice. Also, the best part was Mama Goldstein and I would make this a tradition and it was so fun to cut school to celebrate my birthday. It is important to have silly traditions even as an adult. Life is crazy and we should enjoy it with fun things with loved ones. What fun culinary traditions do you have with friends or family? Comment below and lets all reminisce together! 
Recipe Hack / Cooking Tips:
Use this if you don't like cilantro: Are you team cilantro or no way? If you answered no, don't worry I have a solution. Those who like cilantro say it tastes grassy and citrusy. So you can just replace cilantro with half parsley (the grassy component) and mint (the citrusy component) as a substitute. Hope this cooking hack helps you enjoy cilantro based recipes again! 
If your forgot to let rice sit over night: Place cooked rice on a sheet pan and spread it out. Then put the sheet pan of rice in an oven at 350 for 10 minutes to get some of the moister out of the rice. This is a fun cooking hack to have fried rice today.

Things you will need:
Watch This Video On How To Make This:             
5 Ingredient Taco Fried Rice
Ingredients
6 cups rice (cooked)
2 pounds uncooked chorizo (or chopped Spanish cooked chorizo)
4 scallions (chopped)
1 handful cilantro chopped (or 1/2 parsley and 1/2 mint if you dont like cilantro)
1 lime
Instructions
First, cook the chorizo in 3 tablespoons of oil for 3 minutes on medium heat.

Next, stir in the cooked rice and mix until all the rice is coated with the orange chorizo oil.

Now, spread rice around pan and turn heat up high for 1 minute. Do not stir or move the rice so it crisps up and adds tecture to the dish.

Finnally, add scallions, cilantro, and limne juice. Stir and enjoy with avocado, salsa, or just as is.
Other Easy Dinner Recipes:
Any question comment below or email! I love helping change the recipe!
My Favorite Ways To Save Money In The Kitchen: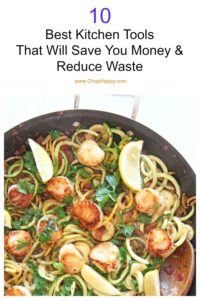 Check Out This book! It changed my life and keeps me centered:
ANY QUESTIONS OR COMMENTS? COMMENT BELOW 🙂
With a grateful heart and an amazing tummy – Jay
(Visited 758 times, 1 visits today)
Subscribe for tasty, free recipes!