Make ahead coleslaw that is a cheesy, salty and creamy super hero recipe!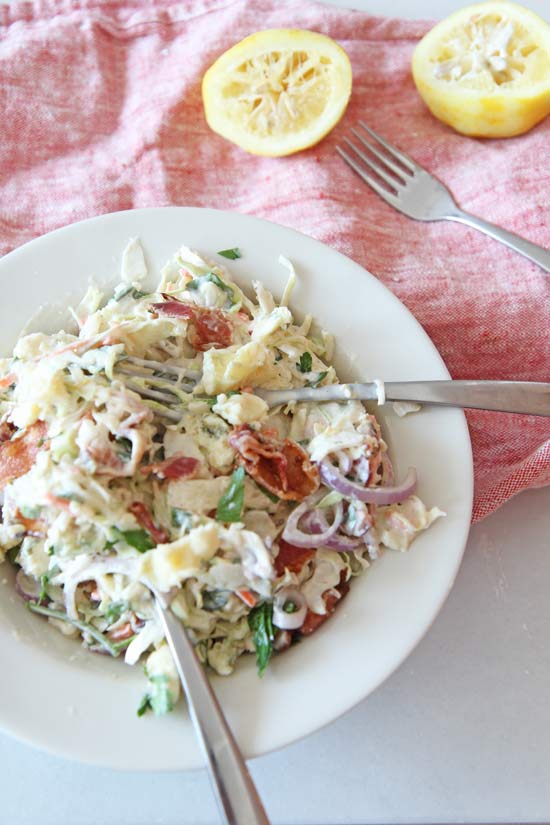 The minute my taste testers (my friends and Tom my husband) took a big bite they all said the same thing. "OMG this tastes like a cob salad." The crispy salty rush from the bacon, smokey blue cheese, the tangy lemony and creamy dressing. Also,  there was a burger on their plate, so you know this was good if they wanted more. Its so funny how cheese bacon and cream will get my husband to eat salad. He is definitely a man after my own heart.
This recipe reminds me of the days as a child down at the Jersey Shore. We use to go to the local fried fish shake after the beach (if you lived by the Jersey shore you probably did the same thing. Its a Jersey thing).  Like a best friend of the fried shrimp, there was always small surprisingly awesome plastic container of creamy coleslaw that was so crispy yum.  As I eat this coleslaw it brought me back to those simpler times. Now I want fried fish lol!
The crispy salty rush from the bacon, smokey blue cheese, and the tangy lemony and creamy dressing in recipe is your happy smile! Presenting Bacon Blue Cheese Coleslaw!
Finally, remember to grab the fries by the handful and live life to the fullest!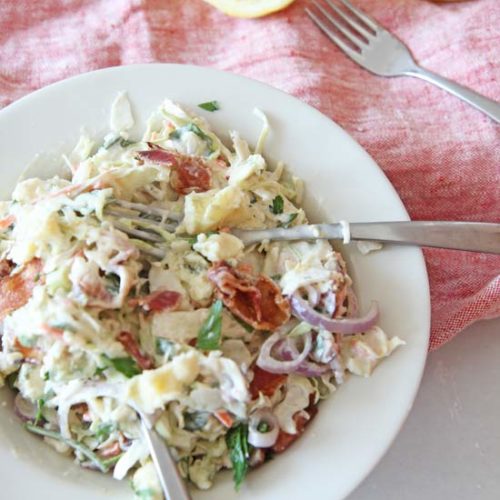 Bacon Blue Cheese Coleslaw Recipe
Ingredients
18 ounces coleslaw mix
5 strips bacon (cooked and chopped)
1 cup blue cheese (crumbled)
1/4 cup mayo
1/4 cup sour cream
1 teaspoon apple cider vinegar
5 scallions (chopped)
1 lemon (juice and zest)
1 cup parsley (rough chopped)
1/4 teaspoon red pepper flakes
1 teaspoon salt and pepper
1 shallots (chopped)
Instructions
First, place the mayo, sour cream, apple cider vinegar, lemon, red pepper flakes, salt and pepper in a bowl and mix.

Next, add the coleslaw mix, shallots, parsley, bacon and blue cheese to the bowl and mix until combined.

Finally, Happy Eating!
For more easy, happy comfort food recipes, check out our Pinterest Page
More Make Ahead Side Recipes:
I can't wait for you to try this recipe!!! Cheers to easy comfort food.  Happy Cooking!
QUICK NO BAKE DESSERT  FOOD RECIPE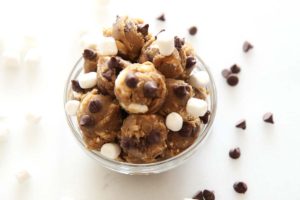 Your Dash Of Gratitude:
                                                                                                                                   
ANY QUESTIONS OR COMMENTS? COMMENT BELOW 🙂
With a grateful heart and an amazing tummy – Jay
(Visited 1,535 times, 1 visits today)
Subscribe for tasty, free recipes!