Creamy crispy crunchy tuna melt tostadas are the perfect easy dinner for a busy day!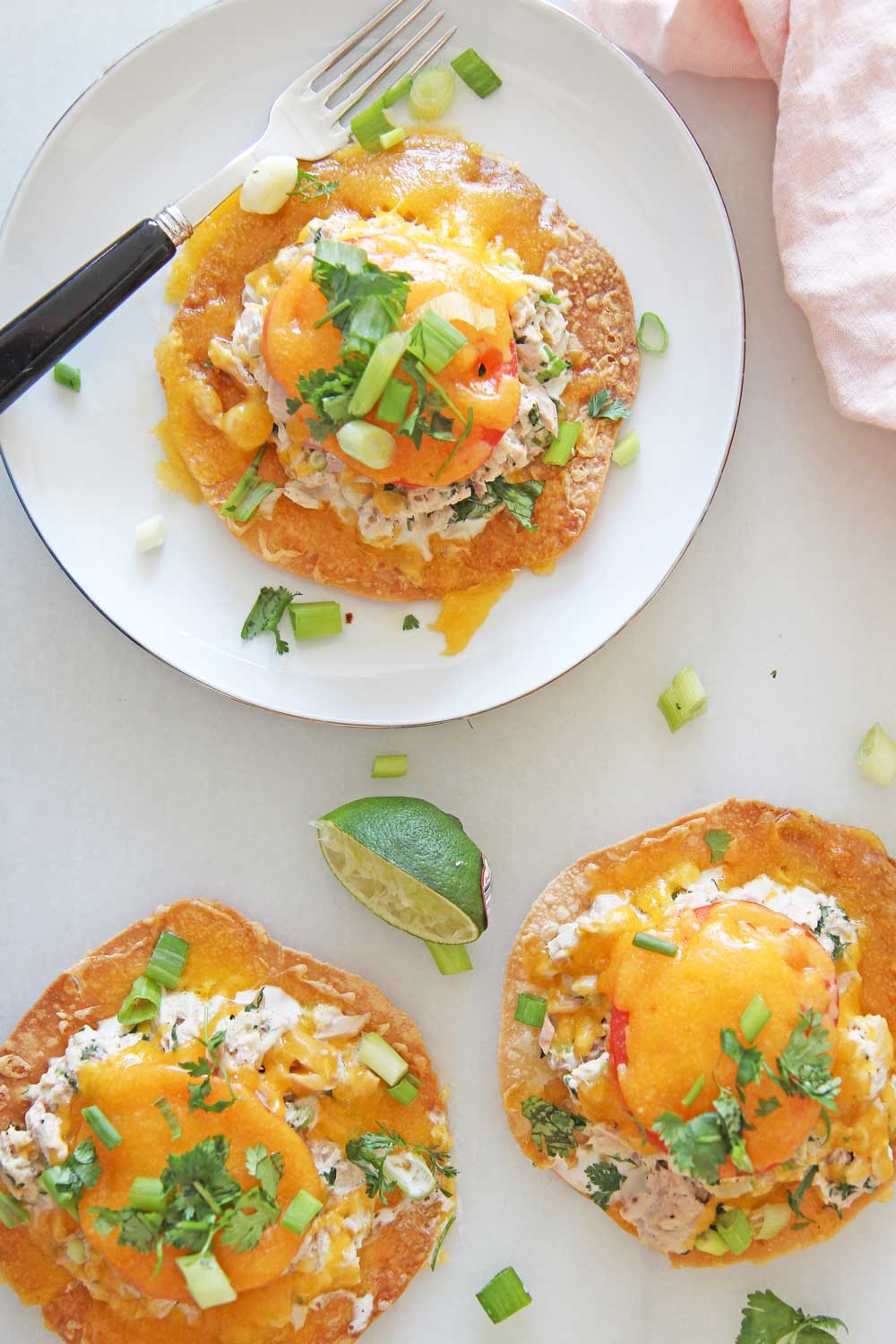 Growing up, my dad did not cook very often, but once in while he would make me tuna salad. I might be a little biased but I think his version was the best one. It is a delectable creamy, garlicky, crunchy hug. He also used a secret ingredient that is a pantry staple. And because I am obsessed with pasta, I took the opportunity to turn my dad's tuna salad into a pasta dish by throwing in some noodles and veggies.
How to Make Crispy Homemade Oven Baked Tostadas
1. Preheat oven at 400 degrees.
2. Next, add tortillas on a wire rack and spray both sides with cooking spray.
3. Finally, cook 10 minutes and then salt both sides.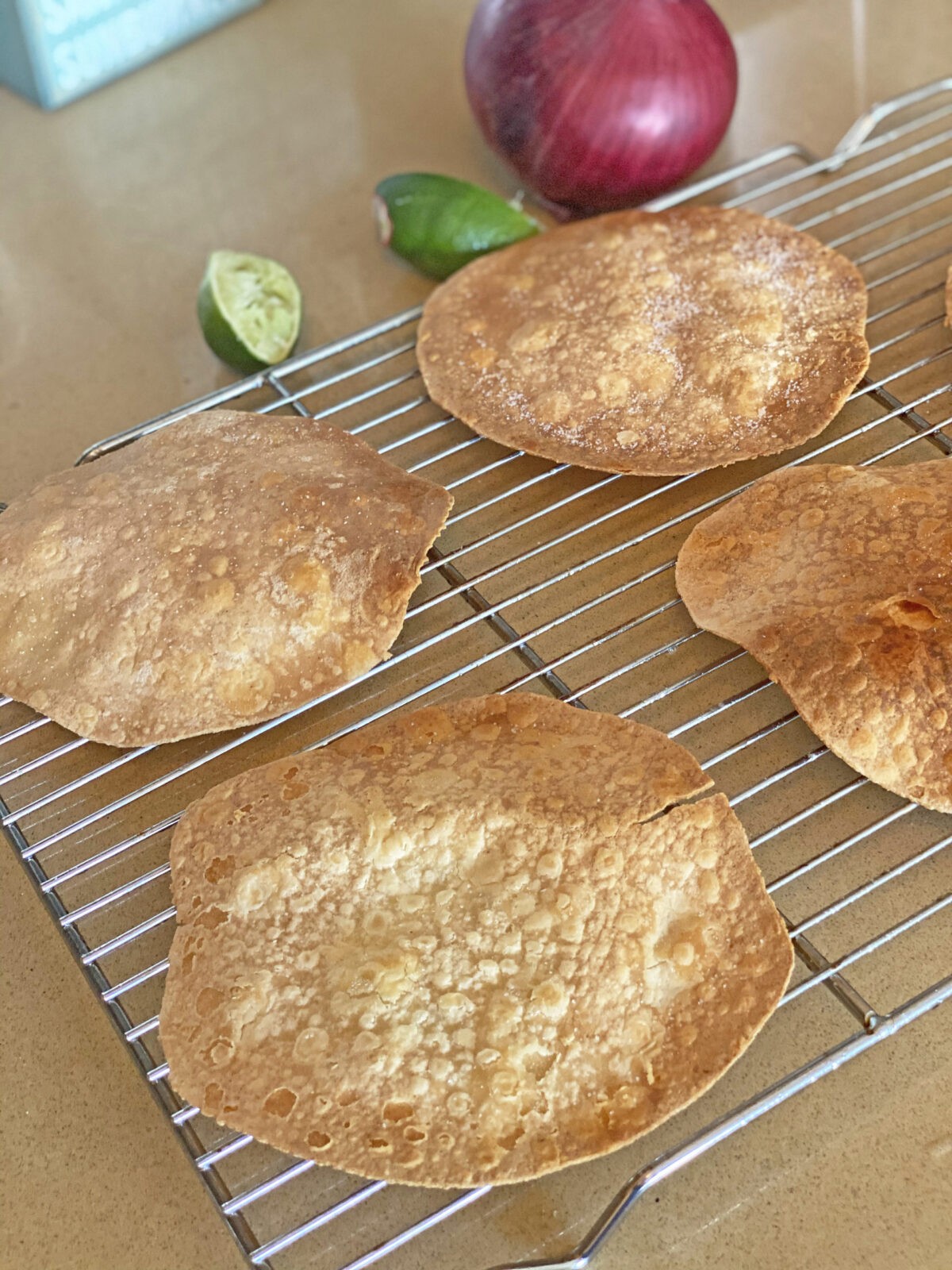 Dash Of Gratitude Tip While You Cook:
My mission with Chop Happy is to create easy recipe for busy people with a dash of gratitude! Since we all have to be in the kitchen at some point in our day lets use that time to zen out and gain more gratitude.
For the 10 minutes while the tostada is cooking visualize your dreams as if it is already here. Working on you does not have to be a long drawn out process. It can be as simple as making agreements with yourself. The perfect book to read to learn more about finding calmness and purpose is
The Four Agreements
Read some pages while the house fills with cheesy joy. Hope this helps you find joy in a crazy day and I am so grateful for you!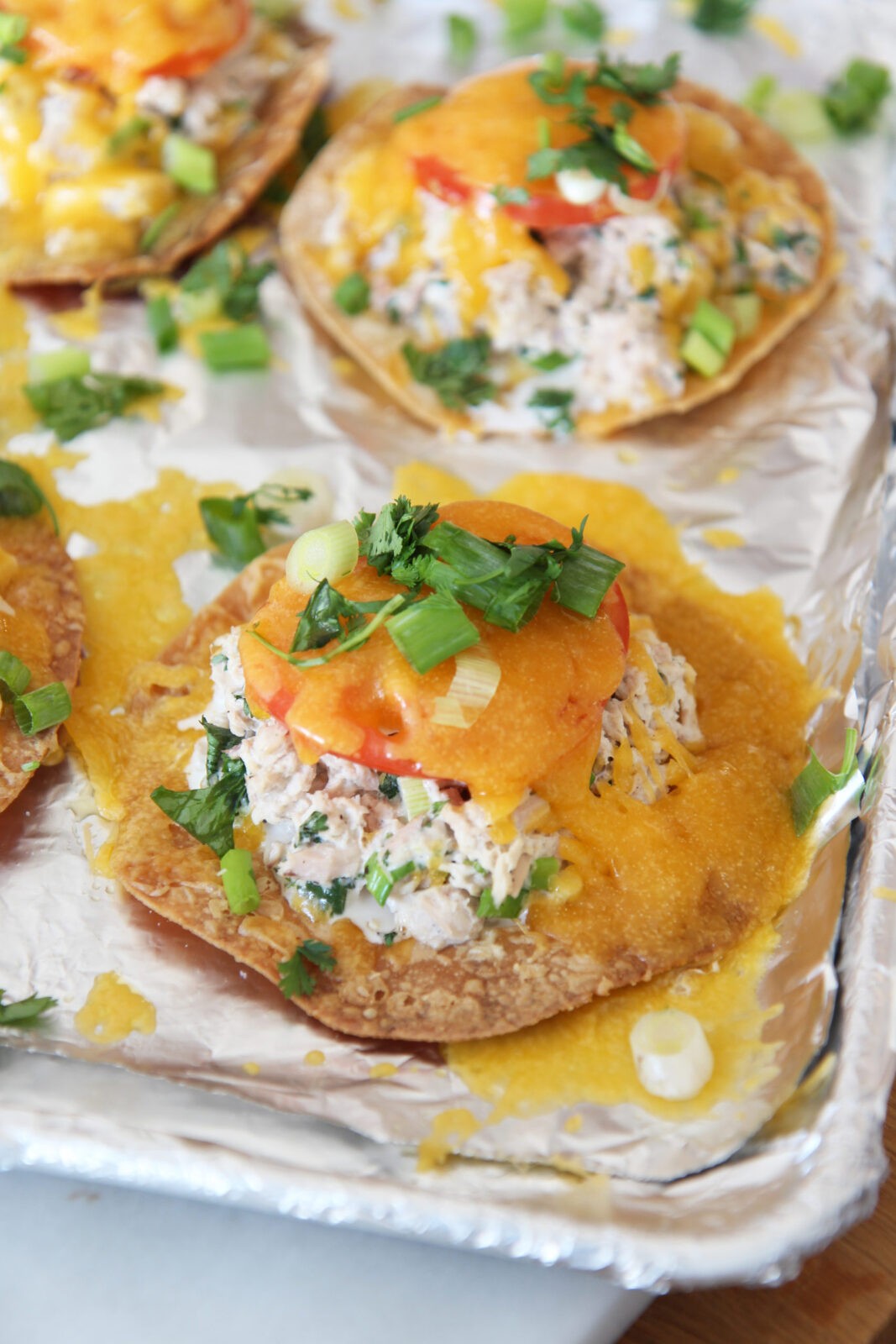 Recipe Hack / Cooking Tips:
Make Limes Juicier: If your lemons or limes are not juicy put them in the microwave. Place for 10 seconds and this should wake up and soften the lime for maximum citrus juice for your recipe.
Easy Tostada: Just spray tortillas on both sides and cook on wire rack 10 minutes at 400 degrees! Then salt the crispy tortillas while still hot! 
Gratitude While Stirring: Use the kitchen as a place for self care. As you stir or chop say what you are grateful for. I do this all the time so that cooking can be a time to recharge.
How To Make Tuna Melt Tostadas:
Tuna Melt Tostadas
Ingredients
Oven Baked Tostada Shell
6 tortillas
cooking spray
2 teaspoons salt
Fiesta Tuna Salad
3 cans tuna (drained)
4 tablespoons mayo
1 lime (juice)
4 scallions (chopped)
1 handful cilantro (chopped)
1 teaspoon garlic powder
1 teaspoon salt
1 teaspoon pepper
Other Ingredients
1 cup cheddar (grated)
1 tomato (sliced)
1 handful cilantro (chopped)
3 scallions (chopped)
Instructions
Oven Baked Tostada Shell
Preheat the oven at 400 degrees.

First, place the tortillas on a wire rack and spray both sides with cooking spray.

Now, place the sheet pan on the middle rack for 10 minutes.

Finally, sprinkle both sides with salt and enjoy!
Fiesta Tuna Salad
First, mix in a bowl all the tuna ingredients.

Next, set aside to make tostadas!
Tostada Assembly
First, place the tuna in center of tostada.

Next, add a slice of tomato on the top of the tuna.

Now, add lots of cheese on top of the tomato and tostada shell.

Finally, bake 10 minutes until the cheese melts and then top with cilantro and scallions.
Other Easy Recipes:
Any question comment below or email! I love helping change the recipe!
My Favorite Ways To Save Money In The Kitchen: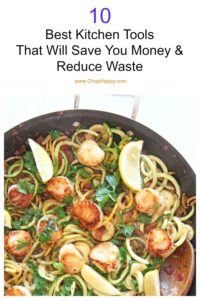 Check Out This book! It changed my life and keeps me centered:
ANY QUESTIONS OR COMMENTS? COMMENT BELOW 🙂
With a grateful heart and an amazing tummy – Jay
(Visited 875 times, 1 visits today)
Subscribe for tasty, free recipes!