Sweet, creamy, and spicy, mussels in a pot of  happiness. This is so comforting and warming that weeknight dinners will never be the same.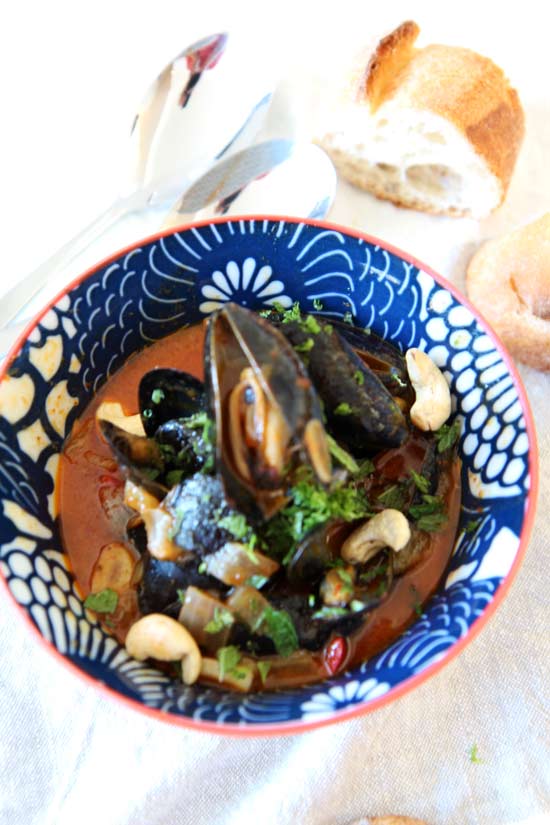 No matter how busy you are this recipe will always have your back. This is a one pot, drop ingredients, stir, and eat recipe. When I tested this recipe on Tom he was soooo excited. He was sooo impressed with the flavor combinations I was able to get in this bowl of mussels. The secret is it really is not that hard to make this!  Just a combination of coconut milk and Thai curry paste. These 2 ingredients make your taste buds cheer for joy and life feelMuscles, garlic, coconut milk, lime, and red curry paste make a sweet and spicy fabulous pot of mussel tips. Each bite tastes sweet, spicy, and citrusy sunshine good! I love making mussel because its super fast and fun to eat out of the shell!
Tips/Hacks For Mussels:
First, before cooking, make sure shells are closed. If not tap them. If the mussels don't close throw them out. Also, smell the shells! If they smell salty and fresh they are good to cook! Finally, soak them in water around 20 min before cooking. The mussels breathing in water they will expel sand! So you can prevent sandy bites! I love making this in the summer for friends! Feeding people you love is the best gift you can give them! Especially when its fun creamy seafood! Who would you cook this for  Hope this recipe brings you happiness! Grateful for you all always!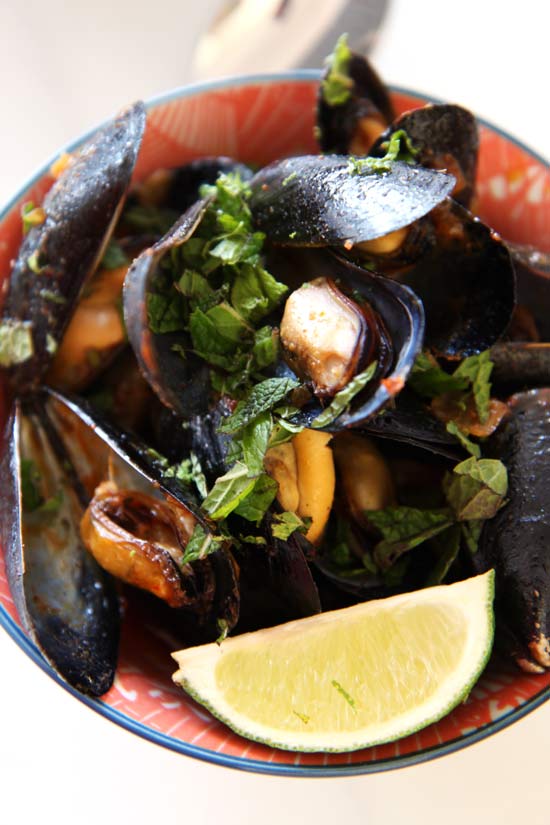 I hope this recipe makes you appreciate life and the simplistic fun you can have with good food and happy thoughts. I am always super grateful to cook with you and I hope you love this recipe it makes you and your family smile.
Island Coconut Curry Mussels Recipe
Ingredients
1 red onion (chopped)
5 cloves garlic (sliced)
1 fresno chili (seeded and chopped)
2 tablespoons butter
1 can coconut milk
2 tablespoons Thai red curry paste
3 pounds Mussels
1 lime (zest and juice)
1 handful mint (chopped)
1/4 cup cashews (roughly chopped)
Instructions
First, cook onions and fresno chills in 2 tablespoons of olive oil. Cook for 5 minutes, on a medium heat.

Next, add garlic and cook for 30 seconds.

Now, add the coconut milk and curry paste and mix well. Cook on low for 5 minutes.

Next add the mussels, mix and cover for 10 minutes on medium high.

Finally add mint, cashews, lime and lime zest.

Enjoy with big piece of bread to soak up the sauce.
For more easy, happy comfort food recipes, check out our Pinterest Page
More Quick  Recipes:
I can't wait for you to try this recipe!!! Cheers to easy comfort food desserts.  Happy Cooking!
QUICK NO BAKE DESSERT  FOOD RECIPE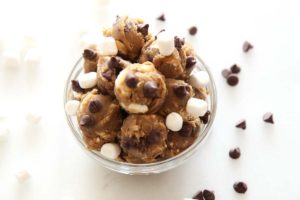 Your Dash Of Gratitude:
                                                                                                                                   
ANY QUESTIONS OR COMMENTS? COMMENT BELOW 🙂
With a grateful heart and an amazing tummy – Jay
(Visited 1,212 times, 1 visits today)
Subscribe for tasty, free recipes!