As you take a bite of the juicy plump shrimp and sweet pineapple you are instantly transformed to a tropical vacation.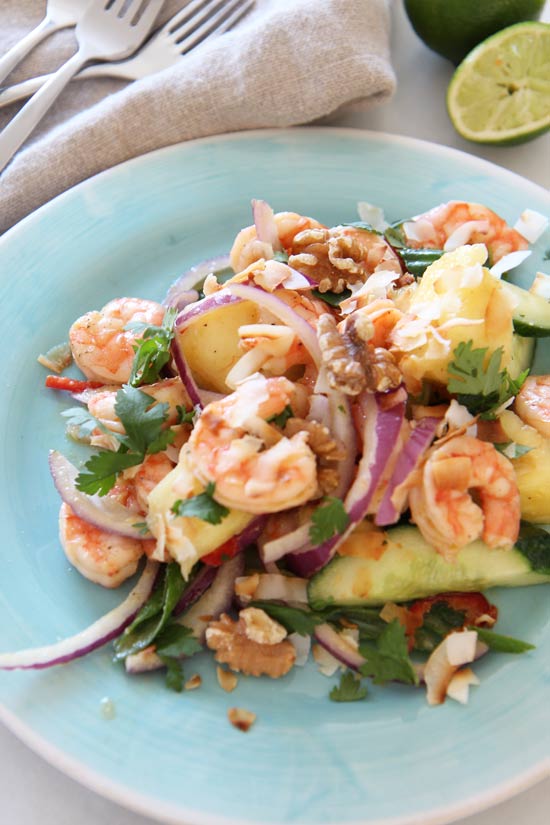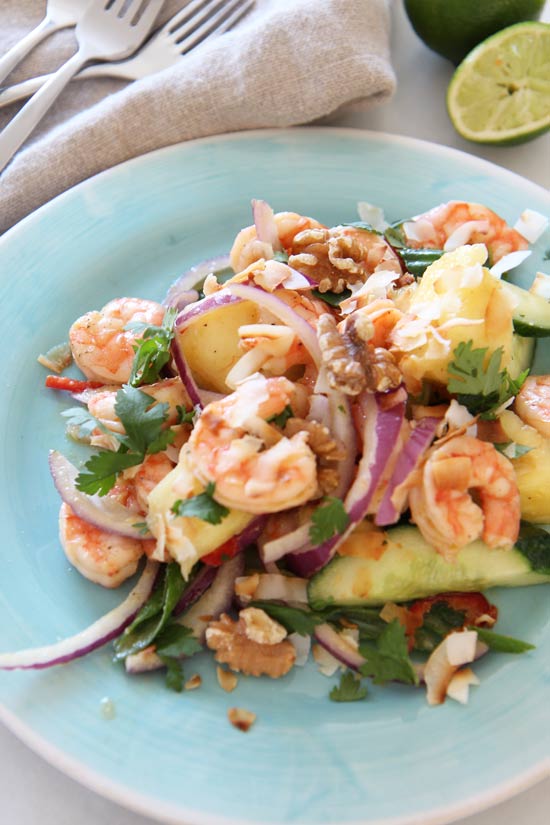 When you are in need of a happy bright meal that will make you instantly relax and smile make this shrimp salad. It is so juicy and tropical. Also you will love how easy it is. This recipes is inspired by one of our top NYC restaurants we eat at. Tom and me go to this amazing restaurant called Pig and Kho in the Lower East Side in NYC. They had a version of this as a special and it was so good that I went home and started testing out my own recipe. I remember being in the loud trendy restaurant instantly feeling refreshed and as life was becoming more vacation like every bite.
May this recipe makes you appreciate life and the simplistic fun you can have with good food and happy thoughts. I am always super grateful to cook with you and I hope you love this recipe it makes you and your family smile.
Ginger Shrimp and Pineapple Salad
Ingredients
Shrimp Ingredients:
1 1/2 pounds shrimp
3 tablespoons extra virgin olive oil
1 teaspoon salt
1 teaspoon pepper
Ginger Dressing
2 tablespoons soy sauce
2 tablespoons rice wine vinegar
1 tablespoon maple syrup
1 tablespoon dijon mustard
1/2 cup extra virgin olive oil
1 inch ginger (grated)
2 cloves garlic (grated)
Other Ingredients:
1 lime (juice and zest)
1/4 cup coconut chips (toasted dry pan on medium low till brown)
1/2 red onion (sliced)
1/2 cucumber (sliced)
2 cups pineapple chunks
3 scallions (chopped)
1 fresno chili (seeded and chopped)
1 handful cilantro (chopped)
1 handful walnuts
Instructions
Preheat the oven at 400 degrees.

Add all shrimp ingredients to sheet tray, mix, and spread out. Place in oven for 10 minutes. Then set aside.

Next, make the dressing by mixing all the ginger dressing ingredients in a bowl. Set aside.

Now, add the cooked shrimp, cucumber, scallions, red onion, fresno chili, cilantro, pineapple, and lime to the dressing.

Mix all the ingredients together and top with toasted coconut and walnuts.

Happy eating!
For more easy, happy comfort food recipes, check out our Pinterest Page
More Quick  Recipes:
I can't wait for you to try this recipe!!! Cheers to easy comfort food.  Happy Cooking!
QUICK NO BAKE DESSERT  FOOD RECIPE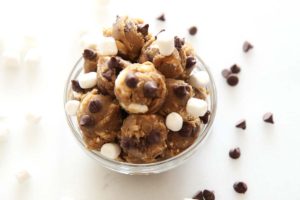 Your Dash Of Gratitude:
                                                                                                                                   
ANY QUESTIONS OR COMMENTS? COMMENT BELOW 🙂
With a grateful heart and an amazing tummy – Jay
(Visited 1,529 times, 1 visits today)
Subscribe for tasty, free recipes!