With only 3 ingredients you can make awesome mason jar ice cream!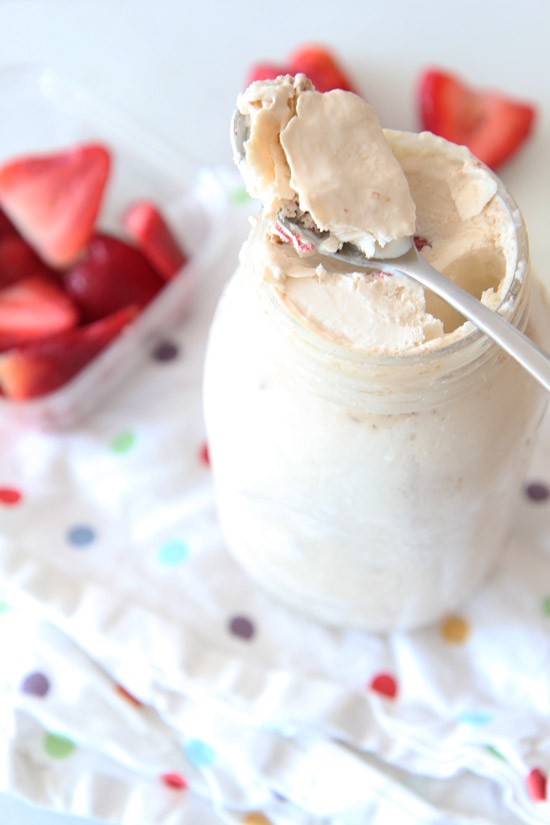 When I first met Tom (my husband), I would never order dessert. But over the past 11 years we have been together I have developed a sweet tooth. I blame him when I have a cavity lol! There will be many nights that me, Tom and Charlie (our Frenchie) will be on the couch eating ice cream. This is our reward for a long day of work and a chance to decompress.
I LOVE ice cream but we live in a small NYC apartment so there is no room for a ice cream machine. I store all my culinary gadgets in the oven! Also, if I buy another cooking tool, Tom gets to buy another pair of shoes. So go to William Sonoma for a ice cream maker and then spend my Saturday in Barneys shoe shopping or find a new way lol!  Here is my easy solution! Happy Dessert Making!
Finally, remember to grab the ice cream cones by the handful and live life to the fullest!
Mason Jar Ice Cream ( Decadent Strawbery Cheesecake Ice Cream)
Ingredients
10 strawberries (quartered)
1 slice cheese cake
3 cups heavy cream
Instructions
First, add the strawberries and cheesecake to the mason jar and break apart (muddle) with the back off the spoon.

Next, add the heavy cream.

Now, close the top to the jar super tight.

Next, shake the jar for 30 seconds to a minute.

Place in the freezer for at least 8 hours.

Finally, enjoy this creamy sweet ice cream!
For more easy, happy comfort food recipes, check out our Pinterest Page
More Easy Recipes:
I can't wait for you to try this recipe!!! Cheers to easy comfort food.  Happy Cooking!
QUICK NO BAKE DESSERT  FOOD RECIPE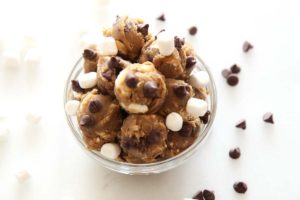 Your Dash Of Gratitude:
                                                                                                                                   
ANY QUESTIONS OR COMMENTS? COMMENT BELOW 🙂
With a grateful heart and an amazing tummy – Jay
(Visited 2,387 times, 1 visits today)
Subscribe for tasty, free recipes!