Warm comforting roasted carrot soup that is so easy and all the cooking is on a sheet pan so less clean up!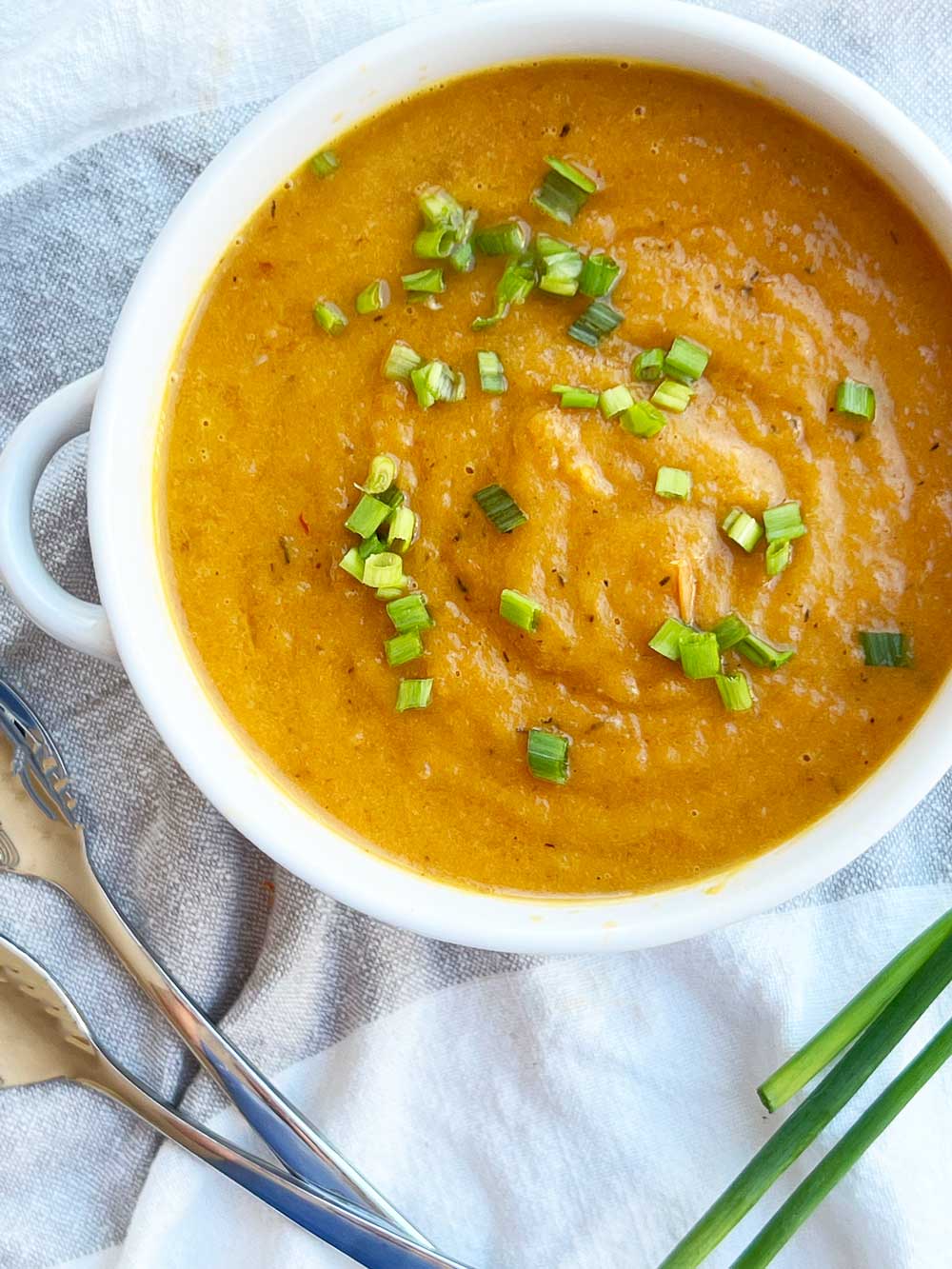 First of all, when you are looking for comfort food on a cold day but want to clean less dishes this roasted carrot soup is for you! I always buy a bag of carrots and have some leftover hanging in the fridge. Also, this recipe came from me staring at carrots every time I opened my fridge to cook. Literally I made this from mostly pantry ingredients and had soup for days! Also, less dishes to do and less cooking the next day. You can add lots of things to this recipe to make it your own. First of all add sriracha to make it spicy. Also, add coconut milk to make it creamy. Finally, even top with pesto to add a garlic smile.  Hope this soup makes life easier for you. As you chop listen to the chopping sound, as you stir say what you are grateful for, and as you let the food cook read a gratitude book for self care.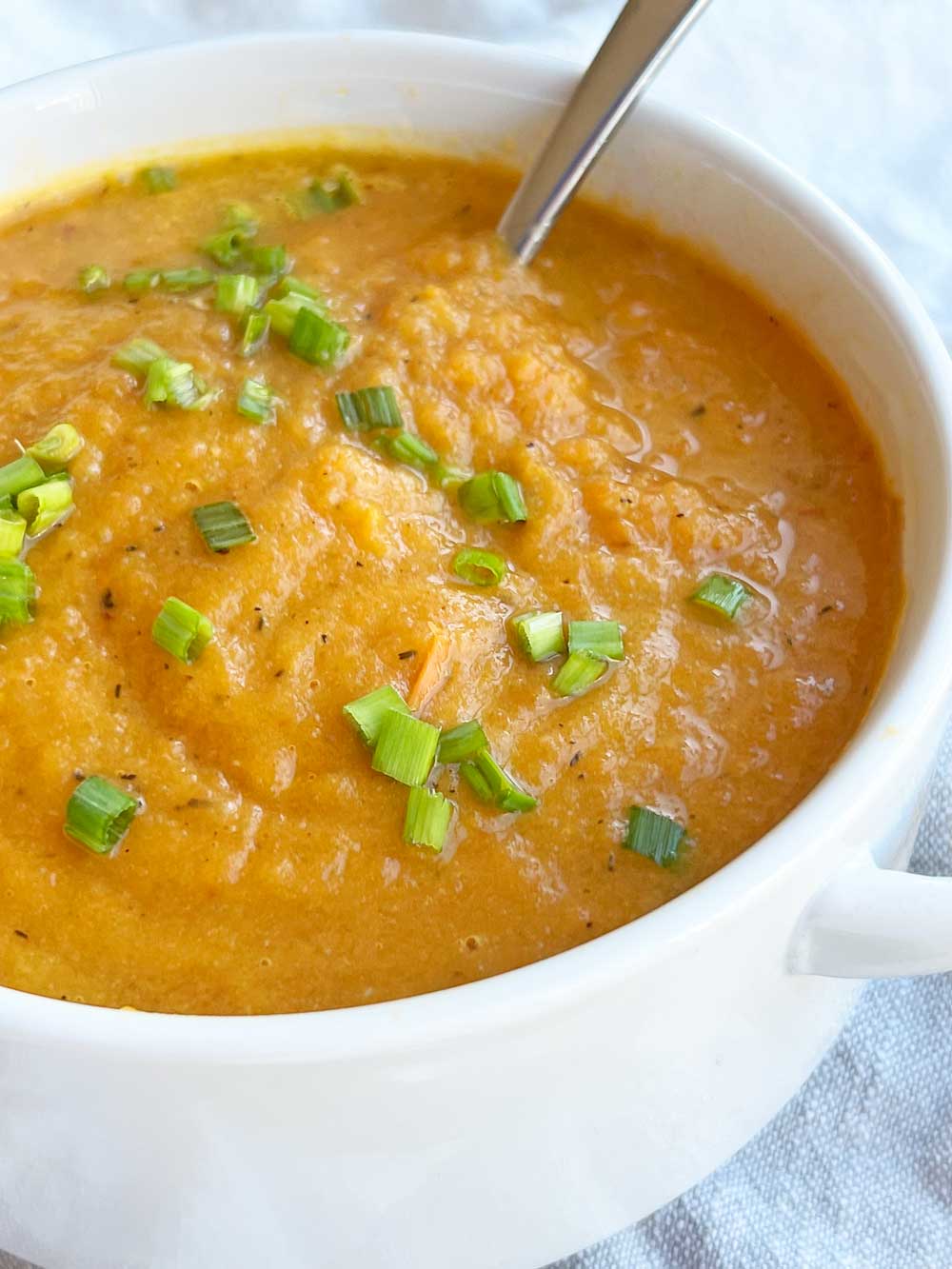 Things You Can Add To Have This Soup Your Way:
Add sriracha to make it spicy! Circle around your bowl with sriracha 2 times for mildly spicy.
Coconut milk will make it a creamy sweet carrot soup. Add a 1/2 can to the soup.
A tablespoon of miso paste will give it a deep rich flavor.
Mix in Calabrian chili paste to feel like you are in Southern Italy!
Easy Roasted Carrot Soup
Ingredients
4 carrots (chopped)
4 garlic cloves (cut in half)
1/2 onion (cut in large chunks)
1 teaspoon salt
1 teaspoon pepper
1 teaspoon thyme
1 teaspoon dried oregano
1 teaspoon garlic powder
1/2 teaspoon red pepper flakes
3 tablespoons olive oil
3 cups vegetable broth
Instructions
First, place the carrots, onions, and garlic on a sheet pan.

Next, add the olive oil, salt, pepper, thyme, garlic powder, oregano, and red pepper flakes to the veggies. Mix all together and spread out the veggies so it roast instead of steams.

Now, place on top rack of oven and cook for 20-25 minutes.

Next, place veggies in the blender or food processor and pulse to blend veggies. Be careful and covering openings so hot veggies don't splatter on you. Then slowly add broth as you blend. I like mine chunky but blend until consistency you want.

Finally, taste for more slat or pepper if needed and enjoy!
As you may know, I'm excited to be one of Google's paid early testers for their Thank with Google pilot program. Thank with Google is an experimental feature that allows you to purchase a virtual sticker and directly show your appreciation for content on my website. As a loyal supporter, you can now feel more connected and engaged because you have the ability to express yourself and share what my work means to you. I have loved seeing the variety of stickers and messages my readers have selected to date. And remember, every time you send a paid sticker, you can add a personal message which I enjoy
receiving. For me, these virtual stickers translate into direct revenue to support the work that goes into the content that you are enjoying on my blog.

You can find the Thank with Google feature in multiple places on my site, including as a button at the top of blog posts, as a button floating at the bottom of your screen, and on all blog posts. If you try it out, let me know what you think! Thanks as always for your support.
Easy Dinner Recipes For a Busy Day:
With a grateful heart and an amazing carbonara tummy – Jay
This book changed my life and it is how I elevated my home cooking:

Happy carrot soup cooking and I am always grateful to cook with you! If you have any recipes you would love to see on Chop Happy please comment below and I will try to make it just for you! Also I do private Zoom Cooking Classes! Just email me at [email protected] to set up a class.
Any questions feel free to comment or check me out on Instagram and Tiktok: @chophappy!
(Visited 260 times, 1 visits today)
Subscribe for tasty, free recipes!