Dinner could not get any easier and faster than fluffy buttery rice and beans. Everything cooks in one glorious pot. This means less clean up and more time to watch your favorite TV shows.  This recipe also yields a lot of food so there are leftovers to last a couple of days. And the ingredients are simple but make each bite taste hearty, carb-happy, spicy, and comforting.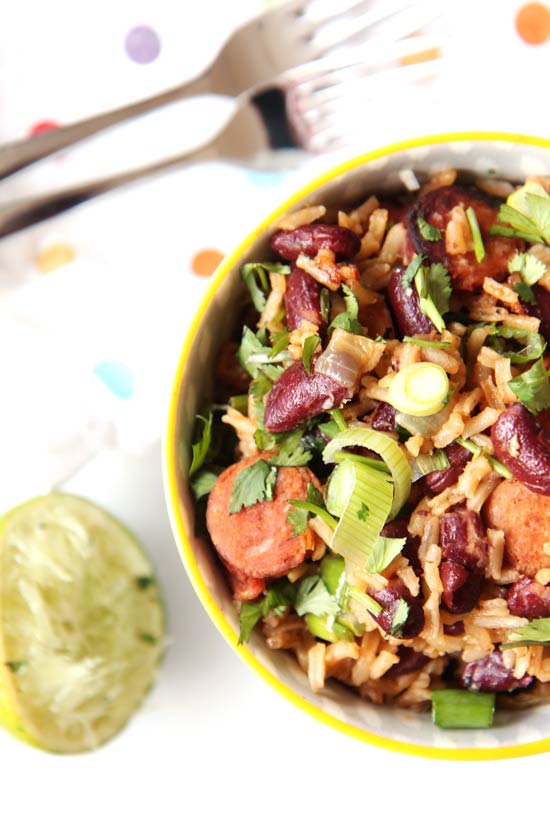 This recipe was born thanks to my fun, always-ready-for-adventure, and happy friend Natasha. Tom and I have a house in the Hamptons and we love to bring a crew of happy friends with us (Natasha is a regular). If you could hear our conversations and how we rock out to the 80s, you would totally laugh. During one trip, Natasha was in the back seat as we journeyed out of NYC to the Hamps! She started talking about her Mom's rice and beans, and it sounded so amazing that I spent the rest of the car quizzing her on what was in it and googling recipes. Since then, Tom and I have had rice and beans every week! Now you can try the Natasha-approved rice and beans recipe! I am super excited for you to make this a regular weeknight recipe!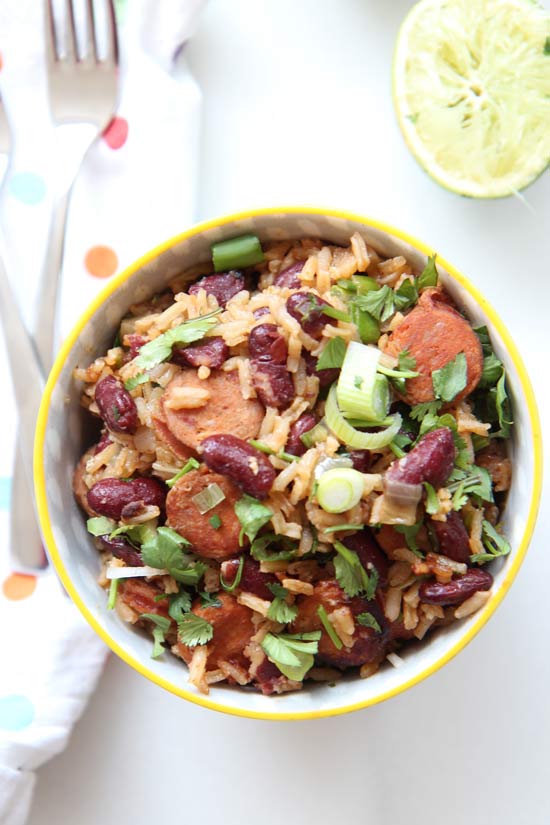 For more easy, happy comfort food recipes, check out our Pinterest Page
More Quick Weeknight Recipes:
I can't wait for you to try this recipe!!! Cheers to comfort food love on a plate. Happy Cooking!
One Pot Rice and Beans
Ingredients
1 can kidney beans (drained)
1 onion (chopped)
5 cloves garlic (chopped)
1 pound chorizo (smoked or cooked) sliced
1 cup jasmine rice
1 1/2 cup chicken stock
2 bay leaves
1 teaspoon salt
1 teaspoon pepper
1 handful cilantro (chopped)
1 lime (juice of the lime)
3 scallions (chopped)
Instructions
First, turn a pot to medium heat and add 3 tablespoons of extra virgin olive oil.

Now, add the onions and chorizo and cook for 3 minutes (until the oil turns yellow from the chorizo).

Next, add the rice, chicken stock, bay leaves, salt/pepper and beans. Stir to combine.

Now turn the heat to high until it boils. Then cover and reduce the heat to simmer.

Cook for 20 minutes.

Finally, lift lid and add scallions, lime juice, and cilantro and mix.

Happy Eating!
QUICK NO BAKE DESSERT  FOOD RECIPE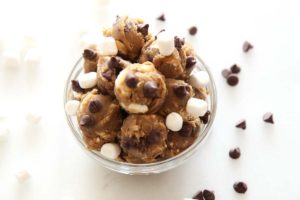 Your Dash Of Gratitude:

ANY QUESTIONS OR COMMENTS? COMMENT BELOW 🙂
With a grateful heart and an amazing tummy – Jay
(Visited 2,057 times, 1 visits today)
Subscribe for tasty, free recipes!