A bagel, cream cheese, and lox turned into a super simple dip recipe!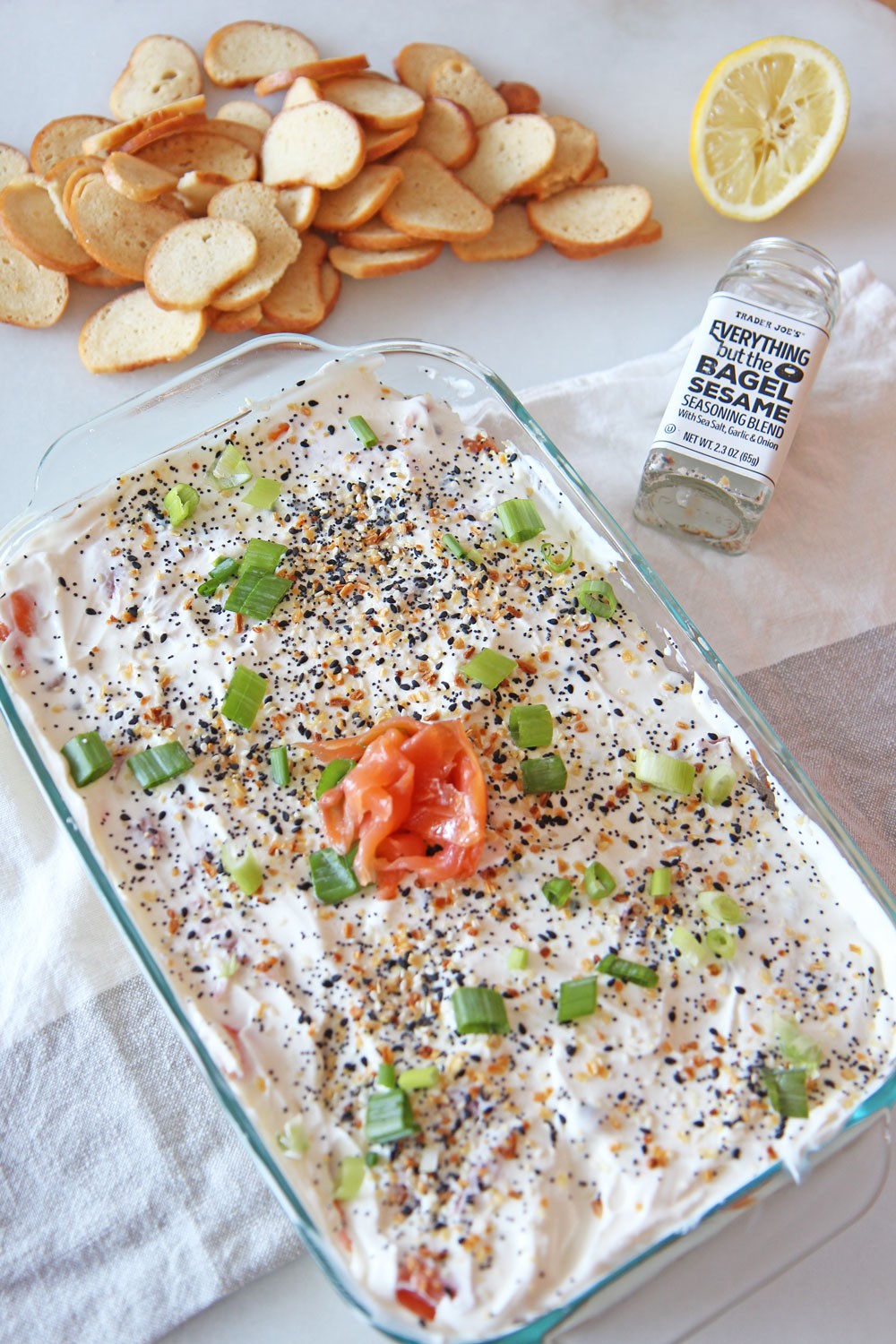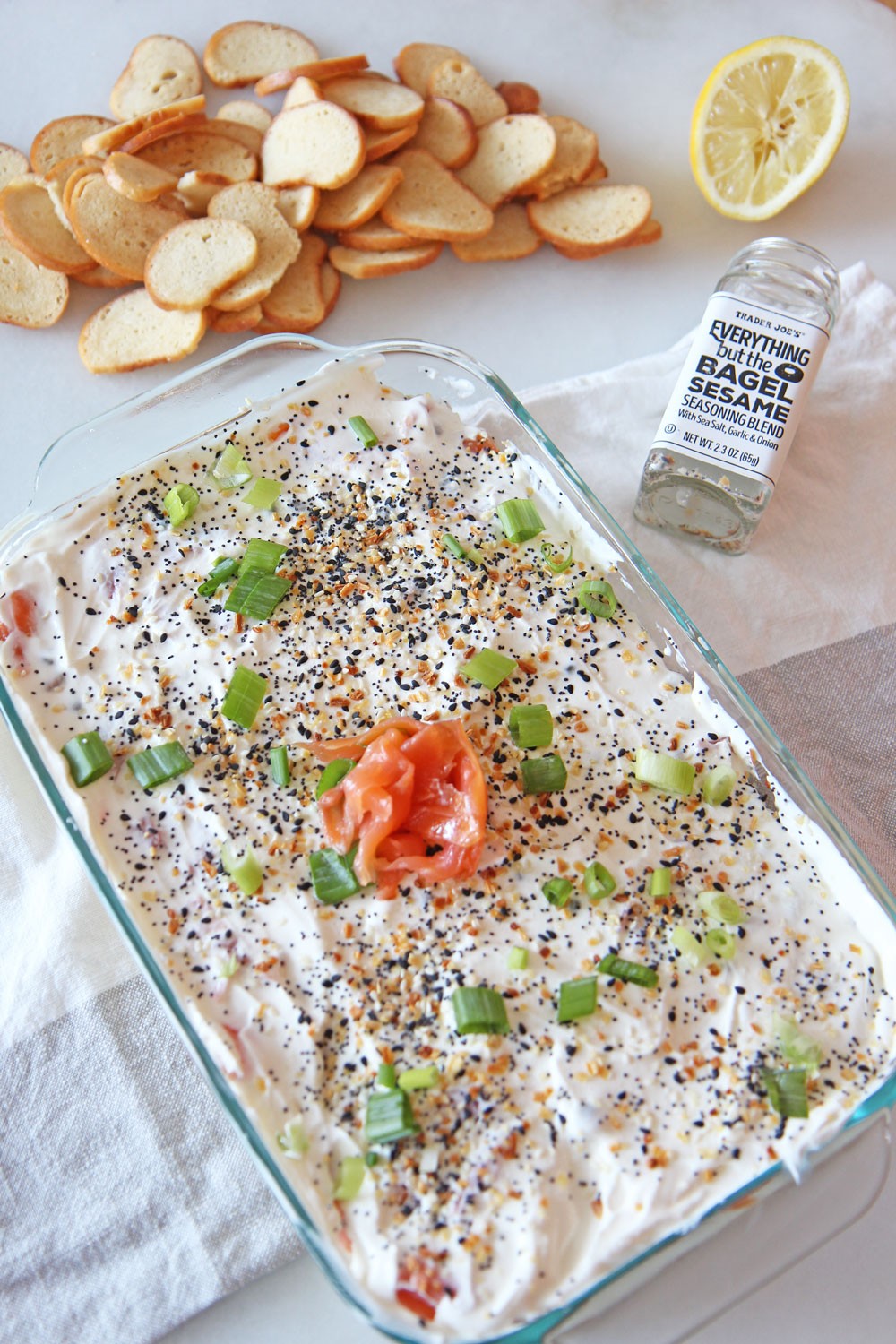 There are certain things in life that bring instant joy. These are things we usually do (or in my case eat) to cheer us up when time are tough. For me that is a bagel with lox. Being in NYC there are no shortage of bagel places to fill this wish! What if you did that thing or eat that meal to bring more joy when you are already happy! Your joy does not have a limit like filling up a gas tank. You have the possibility for unlimited joy! Also what about giving someone else a gift that you know will make them joyful just because. Sometimes I will get Tom pho soup as a surprise dinner. To him this is the thing that brings him comfort and joy. What is the food or thing that brings you to a happy place. Comment below and declare you are going to do this on a happy day!
This recipe is based on my childhood Saturday tradition. Every Saturday me and my dad would go to the bagel store and buy fresh hot doughy bagels and cream cheese for the weekend. If it was a special occasion we would also get the glorious sweet and salty smoked salmon. So when I eat a bagel and lox I feel like I am celebrating life and remember those fun times!
Recipe Hack:
Buy store bought hummus and scallion cream cheese to make this even easier.
You can make this a day in advance so it is make ahead happy.
Save money on smoked salmon. Usually the store will have bits and pieces of lox leftover that they will sell you cheaper.
Perfect gift! Buy a fun dish to put the dip in. This is a great gift for the host.
Tools You Need For This Recipe:
What is the difference between Smoked Salmon and Gravlax:
Smoked salmon is exactly what the name says. Smoked. It gets it flavor from both the seasoning and the type of wood you use to smoke. There is a more sweet fruity flavor in this type of lox.
Gravlax is cured. This means the salmon is rubbed with salt, sugar, and other spices. Usually a 50-50 salt to sugar ratio. Sometimes there is also vodka included in the mix. This type of lox is slightly more salty.
Watch how to make this easy recipe: 
Everything Bagel Seasoning 7 Layer Dip
Ingredients
1 cup hummus
2 tomatoes (chopped)
16 ounces whipped cream cheese
1/2 lemon (juice)
4 scallions (chopped)
4 ounces smoked salmon slices
1/4 cups capers (drained)
8 ounces sour cream
4 tablespoons everything bagel seasoning (2 tbsp for hummus and 2 tbsp for top layer)
1 teaspoon salt and pepper
Instructions
First Layer: Mix hummus and 2 tablespoons everything seasoning together. Then spread at bottom of the dish.

Second Layer: Mix tomatoes, salt and pepper. Spread on top of hummus layer.

Third Layer: Mix cream cheese, lemon juice, and scallions. Spread on top of the tomato layer.

Fourth Layer: Layer lox on top of the cream cheese layer.

Fifth Layer: Sprinkle capers on top of the salmon.

Sixth Layer: Smear sour cream on top of the capers.

Seventh Layer: Sprinkle remaining everything bagel seasoning on top.

Finally, dip with veggies, crackers or bagel chips!
Other Chop Happy Everything Seasoning Recipes:
If need any modifications to this recipe just comment below or email! I love helping change the recipe!
My Favorite Ways To Add More Gratitude In My Life: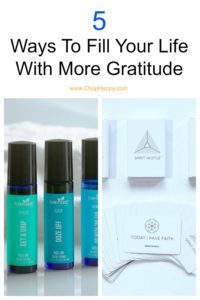 Totally Recommend This Food Processor:
Check Out This book! It changed my life and keeps me centered:
ANY QUESTIONS OR COMMENTS? COMMENT BELOW 🙂
With a grateful heart and an amazing tummy – Jay
(Visited 1,247 times, 1 visits today)
Subscribe for tasty, free recipes!