Crispy cheesy pizza in a cast iron only takes 10 minutes and is super easy.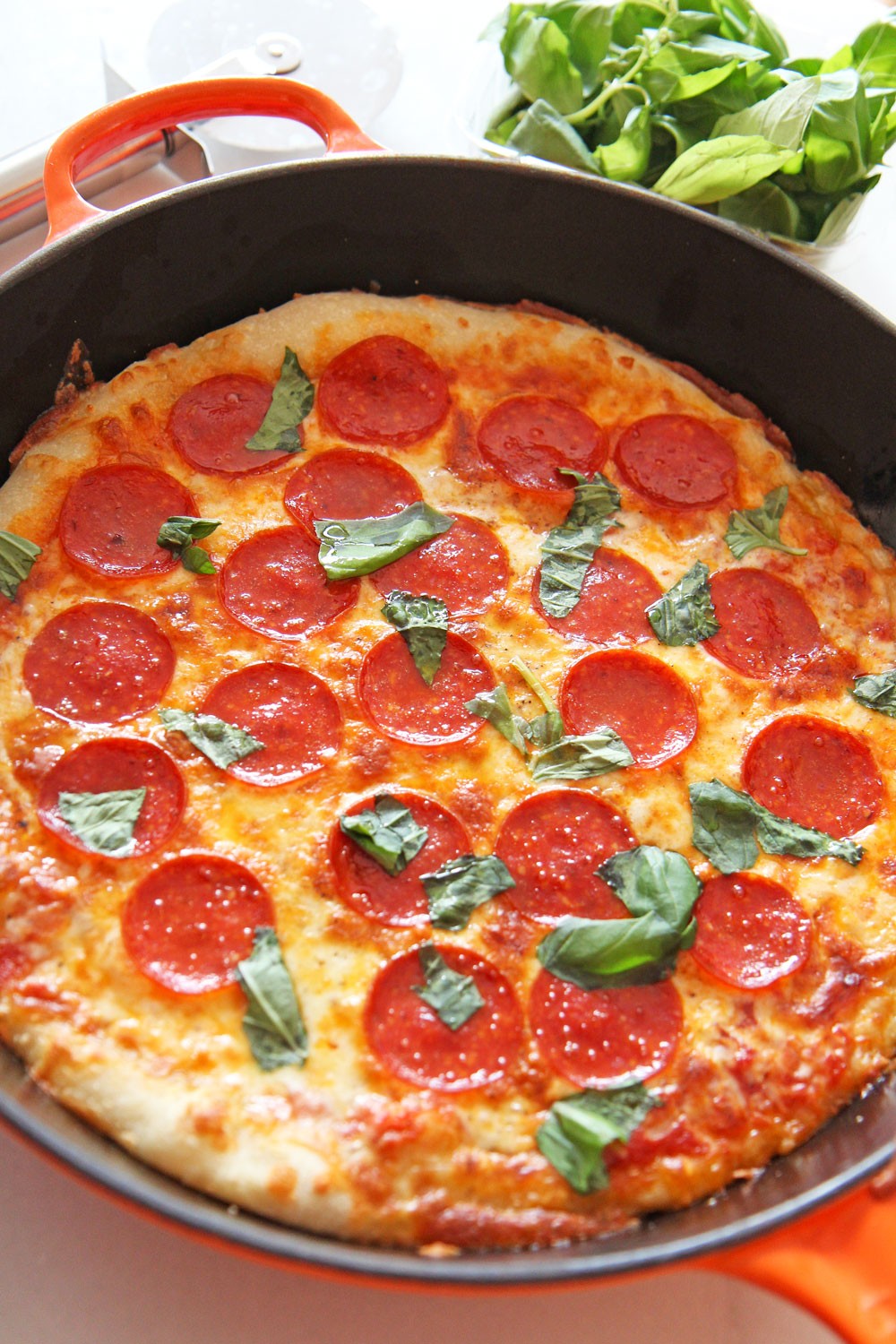 Growing up in NJ, the Goldstein clan would go to the local pizza place all the time. My favorite pizza was always pepperoni and my Mom's favorite was everything pizza. In college (
Quinnipiac
) I would order an entire meatball pizza and soda just for me as I studied. Now, Tom and I order pizza from our favorite pizza place (Joe's Pizza) on Sundays sometimes. So you can say pizza is in my DNA. So when I was creating this pizza recipe it brought back so many memories. 
Tips to Make Working With Pizza Dough Easy:
1. First, get your pizza dough from your local pizzeria. Cut the dough in half and freeze half and use the other half for dinner tonight.
2. Next, let the dough rest 30 minutes on the counter so the gluten's can rest. Cold dough does not stretch and goes immediately back into the pizza ball. Letting it come to room temp makes it so easy to stretch.
3. Finally, push with your fingers from the middle of the dough out to start to stretch the dough. Then using gravity, stretch in the air.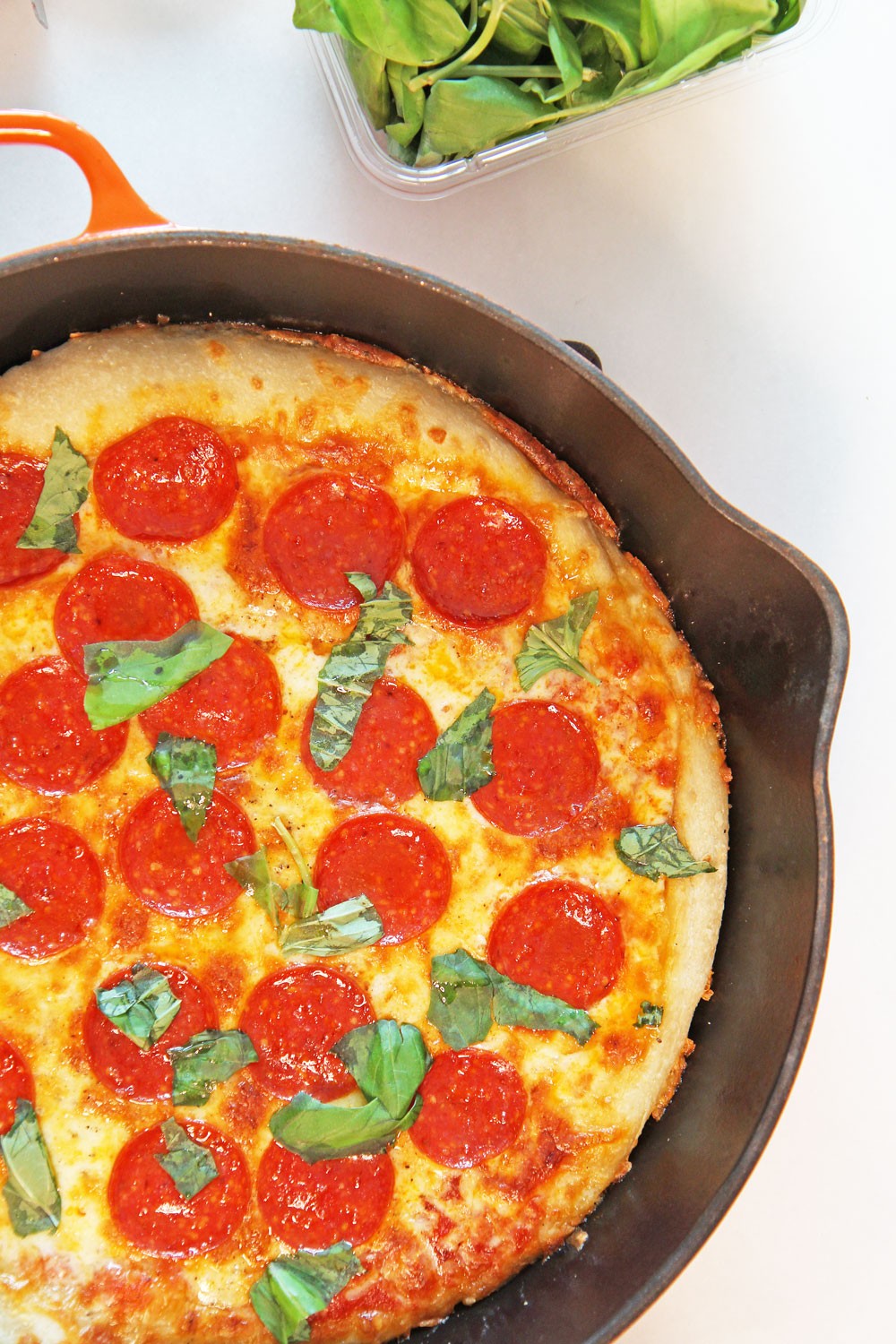 Dash Of Gratitude Tip While You Cook:
My mission with Chop Happy is to create easy recipe for busy people with a dash of gratitude! Since we all have to be in the kitchen at some point in our day lets use that time to zen out and gain more gratitude.
For the 10 minutes while the pizza is  cooking think about what went right today. I love doing this especially on days that were tough. The perfect book to read a couple pages for inspiration is
I Really Need This Today By Hoda Kotb!
Read some pages while the house fills with summer time pizza smell and find your joy. Hope this helps you find joy in a crazy day and I am so grateful for you!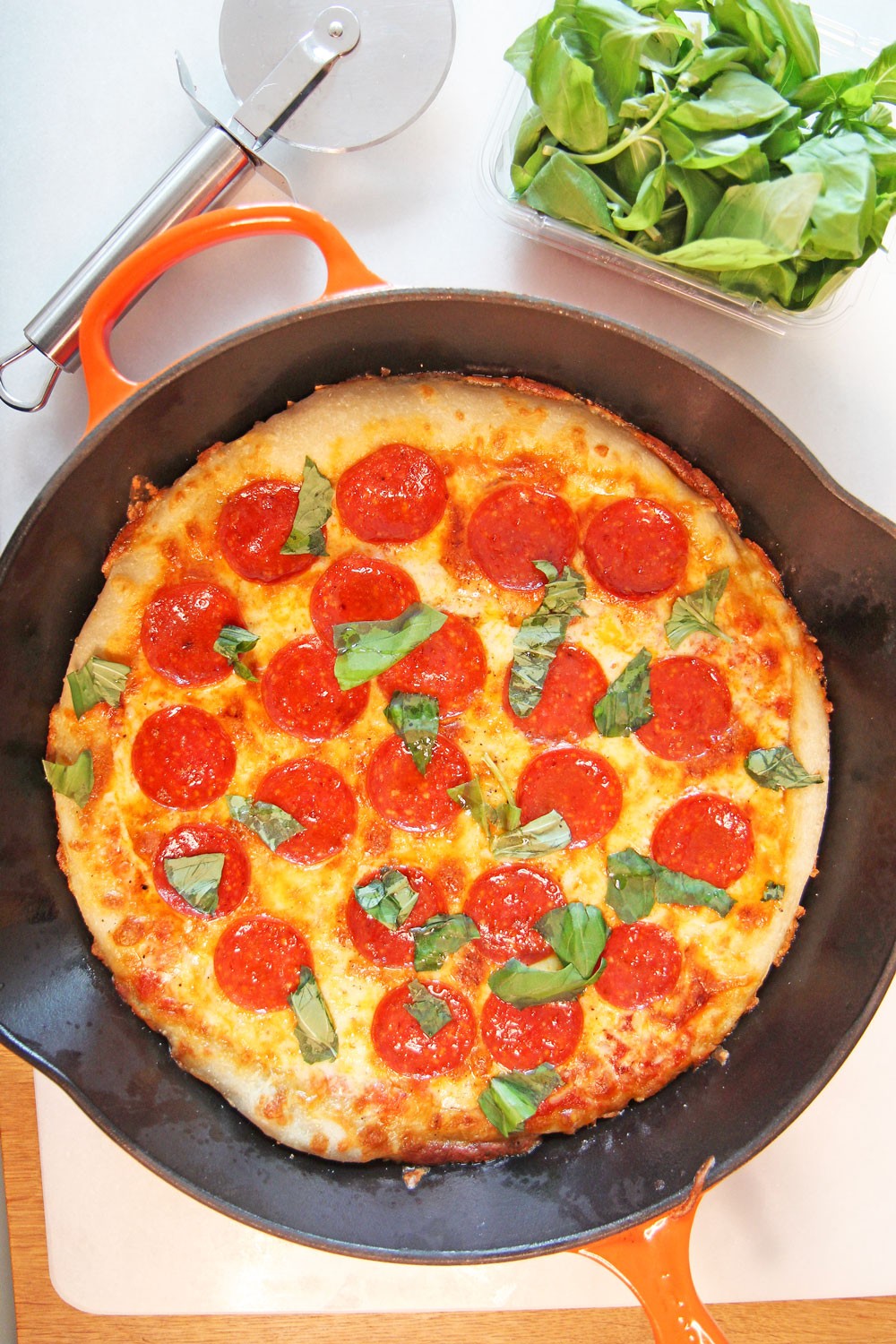 Recipe Hack / Cooking Tips:
Use olive oil on the surface to roll out the dough instead of flour: If you add more flour to dough it could become less easy to roll out and make the dough tougher to eat. Olive oil prevents the dough from sticking to the surface without messing with the dough. 
How To Know Herbs Are Fresh: When chopping fresh herbs there should be a fresh herbal smell coming from the cutting board. While chop basil it should have a sweet smell, parsley should smell grassy, and cilantro (if you like it) citrusy. If your herbs are not pungent in their awesome smell switch to dried herbs instead.
Gratitude While Stirring: Use the kitchen as a place for self care. As you stir or chop say what you are grateful for. I do this all the time so that cooking can be a time to recharge.
Watch How To Make Pizza in a Cast Iron: 
How to Make Pizza in a Cast Iron Pan
Ingredients
1 pizza dough
1 cup marinara
1 cups mozzerella cheese (shredded)
20 pepperoni slices
15 basil leaves
3 tablespoons extra virgin olive oil
Instructions
First, preheat the cast iron pan in a 500 degree oven. Also, place the pizza dough out on a surface with olive oil (to prevent sticking). Leave dough out for 20-30 minutes to rest so it is easy to work with.

Next, carefully take hot pan out of oven using oven mitts. Then add 3 tablespoons of olive oil to the pan. (I leave towel wrapped around pan's handle so do not accidentally touch it.)

Now, roll out the dough with your hands. Start pushing with fingers from center out on the dough. Then using gravity, pull dough so it gets slightly bigger then the cast iron pan (see video above).

Next, place the dough in the cast iron pan and push with your fingers to spread out to the edges of the pan.

Now, add marinara sauce, then cheese, and then pepperoni.

Next, add to oven on medium rack and cook 10 minutes.

Finally, tear basil and add alittle olive oil on top and enjoy!
Other Easy Recipes:
Any question comment below or email! I love helping change the recipe!
My Favorite Ways To Save Money In The Kitchen: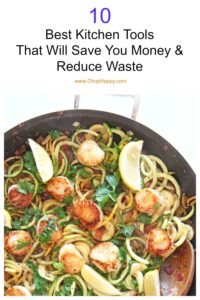 Check Out This book! It changed my life and keeps me centered:
ANY QUESTIONS OR COMMENTS? COMMENT BELOW 🙂
With a grateful heart and an amazing tummy – Jay
(Visited 837 times, 1 visits today)
Subscribe for tasty, free recipes!