This is a super easy steak and potato skewers recipe to make you look like a grill master!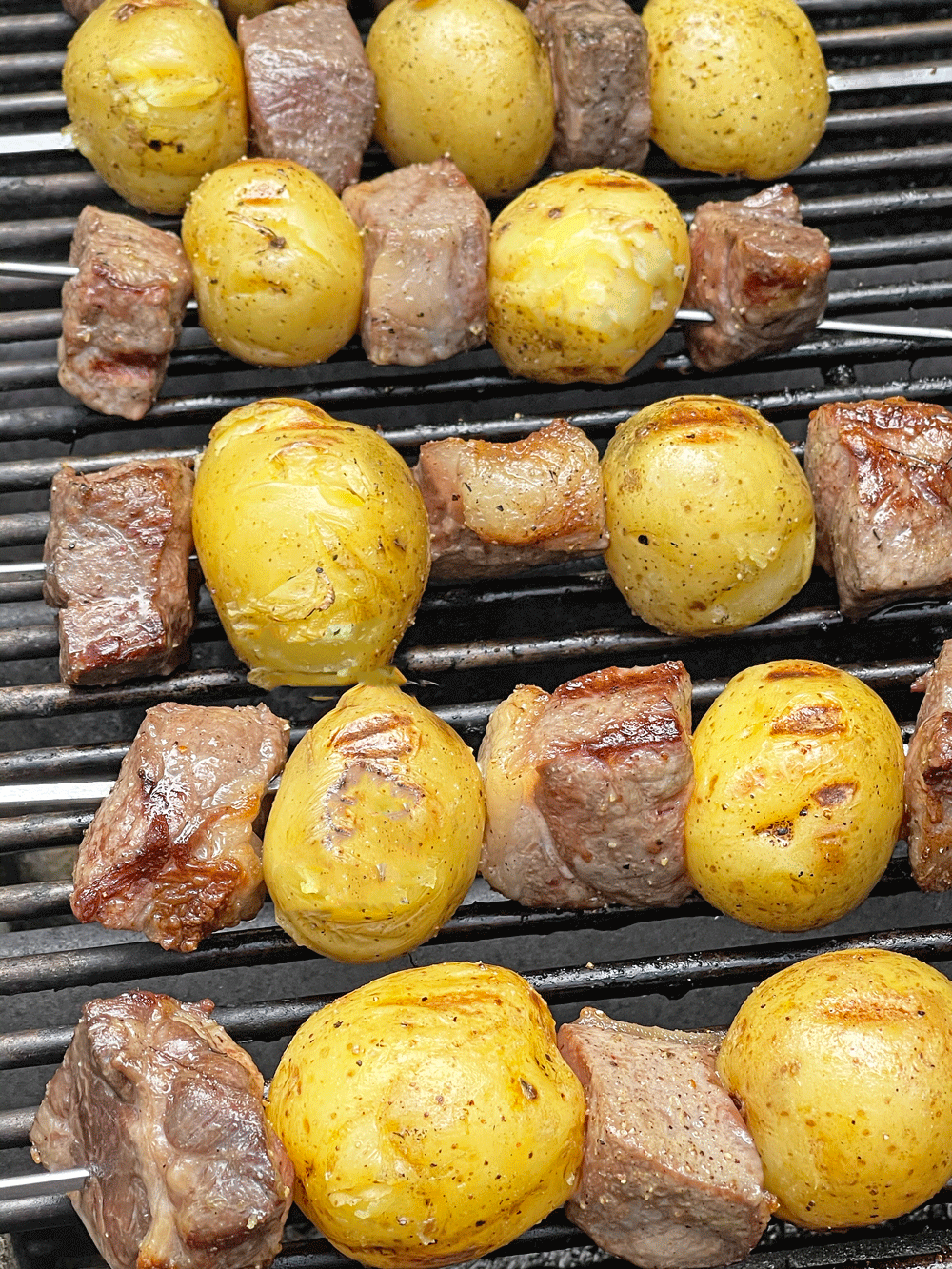 In the Goldstein family steak is our culinary option of choice to celebrate! The summers growing up was always a weekend celebration for us. Our routine would be beach, pool, seafood, grill and repeat. In fact as soon as the snow melted my mom or dad would be out grilling something! So this recipe is runs deep in my family! I added some twists for flavor hacks to the Goldstein steak and potato skewers. 1) Season the steak overnight so the seasoning has time to get all the way through and not just the surface. 2) My friend Andrea introduced me to Ghee witch I now use instead of oil to grill. Ghee is just butter without the milk solids so you can cook it at hight temps without smoking! Ghee adds an extra layer of sweet fabulous that oil can't. Also, I promise it makes the steak and potatoes taste sooo much better! I use NY strip steak because I am NYC unofficial cheerleader and love everything NYC but you can use any cut of steak you like to grill with! No matter what I hope this recipe gives you a chance to chill out and be grateful today! 
Hope you love this recipe and I am always grateful for you! Happy Cooking!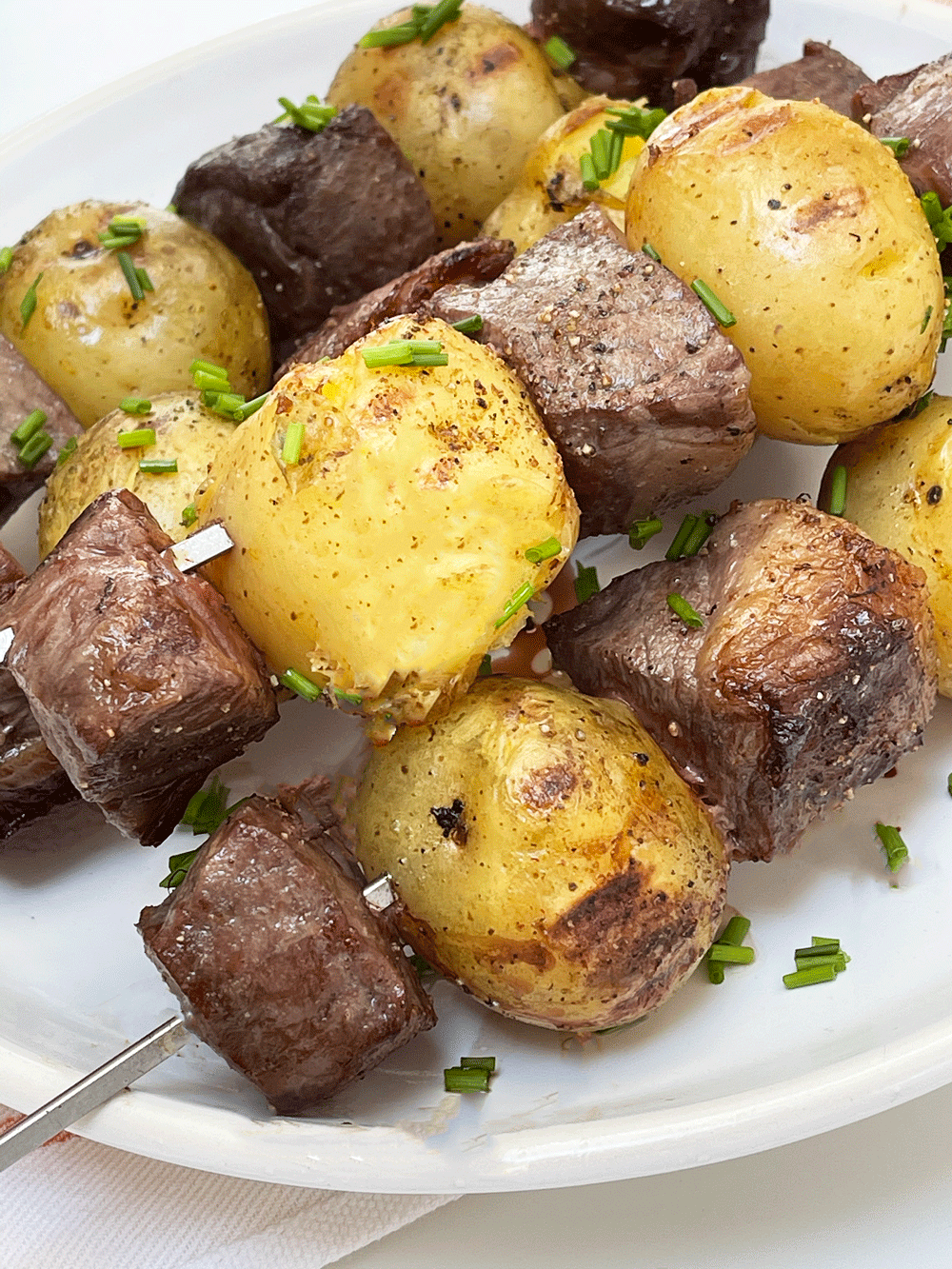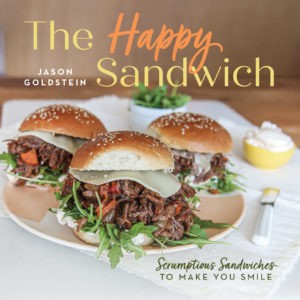 Gratitude Tip While You Cook:
My mission with Chop Happy is to create easy recipe for busy people with a dash of
gratitude
! Since we all have to be in the kitchen at some point in our day lets use that time to zen out and gain more gratitude.
For the time the steak cooks visualize your dreams as if it is already here. Working on you does not have to be a long drawn out process. It can be as simple as a couple of pages of a motivational book. The perfect book to read to learn more about finding calmness, your dreams and making your wishes a reality is
The Secret!
Time Saving Dinner Hacks / Cooking Tips:
Nothing Wrong With help from the Store: I totally buy the bags of peeled garlic so less work. That time not peeling you can read an inspirational book!
Gratitude While Stirring: Use the kitchen as a place for self care. As you stir or chop say what you are grateful for. I do this all the time so that cooking can be a time to recharge.
Easy Grilled Steak and Potato Skewers
Ingredients
2 pounds small yukon gold potatoes
1 New York Strip Steak
4 cups chicken broth
2 teaspoons salt
2 teaspoons pepper
4 teaspoons ghee (melted)
Instructions
First, place the potatoes, chicken broth and a teaspoon of salt in a pot. Bring to boil and then set timer for 10 minutes. When done drain and let potatoes cool.

Next, season the steak with 2 teaspoon of salt and pepper on both sides (Tip: if you have time season the steak overnight you will give the seasoning time to get all the way through the steak).

Now, cut the steak into chuncks approximately the size of the potatoes. Mix both the steak and the potatoes in melted ghee (TIP: ghee is a great way to add flavor to the stuff you grill. Ghee is just butter that has had milk solids taken out so has higher smoke point).

Next, alternate steak and potato on skewars (if you use wooden ones soak first).

Finally, cook on high heat 5 minutes per side to cook at medium rare.
Other Easy Recipes:
(Visited 366 times, 1 visits today)
Subscribe for tasty, free recipes!