This is the best sweet and spicy saucy meat sauce in 30 minutes.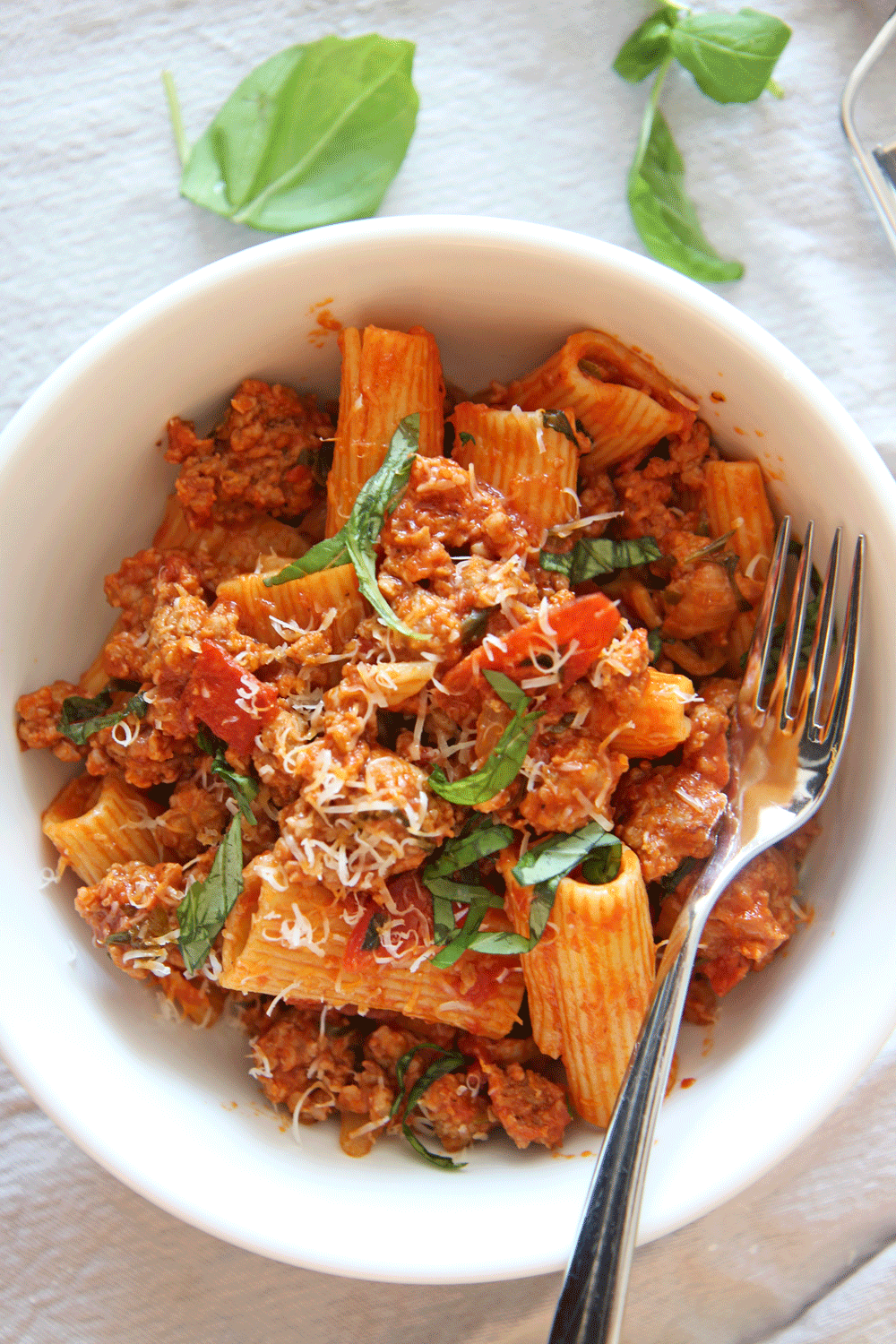 All day at work I dream of meat in sweet tomato sauce dancing with carb happy pasta. But when I get home I do not want to wait the hours it takes to develop the rich comfort flavors. So I tested meat sauces were bold flavors already existed and the prep and ingredients would be minimal! I used flavor all stars like sweet and spicy Italian sausage to get that long deep sweet fennel flavor with undertones of spicy yum.  Also, I added cut up pepperoni to make sure the sauce slapped you five as you eat it with flavor! Finally, the most important time savor was using jarred marinara. This was a huge time savor because it comes already simmered. Growing up Mama Goldstein would allow us one night a week to get anything we wanted and I always would choose pasta or something cheesy. It was always mid-week to celebrate the small stuff and not wait till the weekend to enjoy life. This recipe is dedicated to Mama Goldstein and that amazing lesson! 
Also this sauce is for my amazing husband Tom. He loves
my lasagna
and this is the meat sauce I use. This way he is happy and much less work then assembling layers of
lasagna
greatness.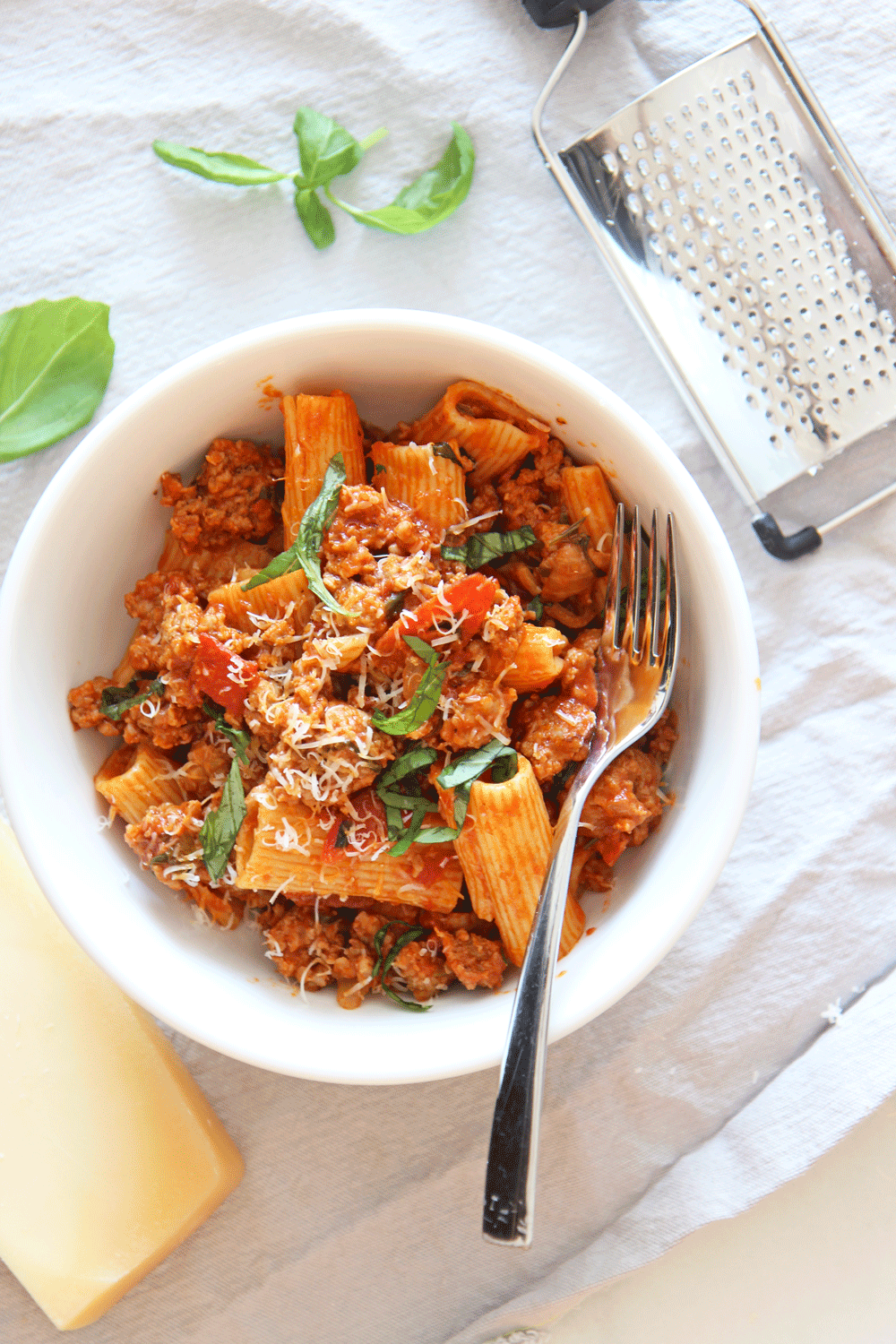 Gratitude Tip While You Cook:
My mission with Chop Happy is to create easy recipe for busy people with a dash of gratitude! Since we all have to be in the kitchen at some point in our day lets use that time to zen out and gain more gratitude.
For the 30 minutes while the pie is in the freezer visualize your dreams as if it is already here. Working on you does not have to be a long drawn out process. It can be as simple as a couple of pages of a motivational book. The perfect book to read to learn more about finding calmness, your dreams and making your wishes a reality is
The Secret!
Read some pages while the house fills with pie joy. Hope this helps you find joy in a crazy day and I am so grateful for you!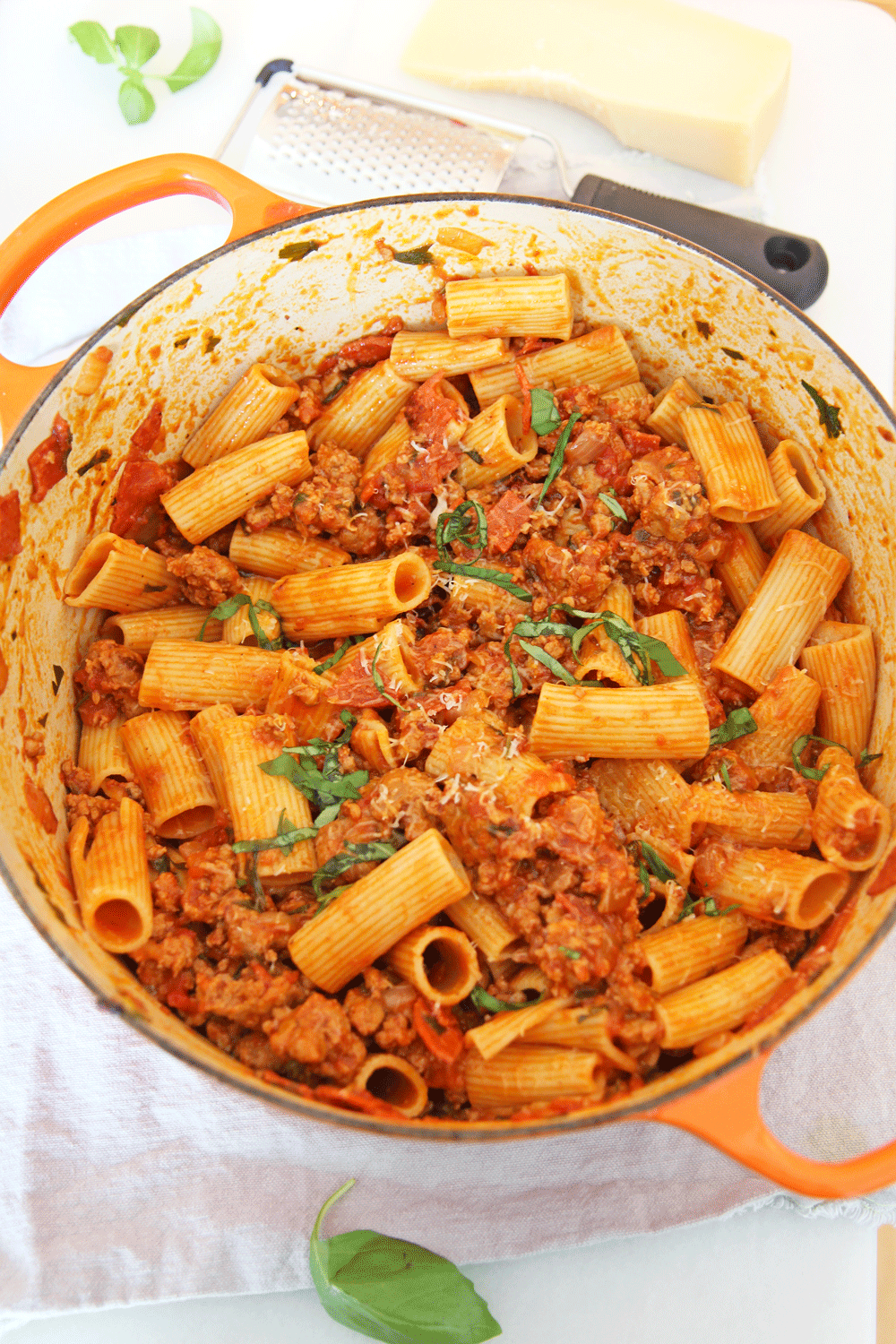 Recipe Hack / Cooking Tips:
Store Bought Marinara: There are allot of amazing brands. One of my favorites is Rao's! Why do the work of simmering sauce for hours to get the flavor someone can jar for you! Less work in the kitchen and more time for you!
Grate Your Own Cheese: Pre-Grated cheese can have chemicals to keep it fresh longer. This will effect the taste and the most time the grated is more expensive. Buy Parmesan and freeze whatever you do not use for another recipe. You save money and have parm on hand because parm stays good in the freezer for about 6 months. 
Gratitude While Stirring: Use the kitchen as a place for self care. As you stir or chop say what you are grateful for. I do this all the time so that cooking can be a time to recharge.
Watch How To Make Meat Sauce:
How To Make The Best Meat Sauce in Under 30 Minutes
Ingredients
1/4 pound pepperoni (chopped)
1 pound sweet Italian sausage (out of casing)
1 pound spicy Italian sausage (out of casing)
1 onion (chopped)
1 24 ounce jar of favorite marinara
10 basil leaves (chopped)
2 - 3 tablespoons Parmesan cheese (grated)
1 teaspoon salt and pepper
1 pound rigatoni (cooked 1 minute less then package instructions)
Instructions
First, place olive oil, pepperoni, onions, salt, and pepper in a pot on medium heat. Stir and cook for 2 minutes.

Next, turn up the heat to high and add both the sausages. Break up the sausage and let it cook without string for 2 minutes (this will get a brown caramel color on one side sausage).

Now, mix the sausage mixture for 1 minute and then add the marinara and basil.

Next, cook for 20 minutes covered.

Finally, add pasta and parm cheese. Mix for a minute to marry the flavors and enjoy!
Other Easy Recipes:
Any question comment below or email! I love helping change the recipe!
(Visited 720 times, 1 visits today)
Subscribe for tasty, free recipes!