This will soon be the only meat lasagna recipe you will want for every Sunday dinner.
The sauce is gloriously seasoned with a warm comforting sweet and spicy sausage. Each bite is a stick to your ribs masterpiece, that you will be proud to serve your family. As you carry this 10 pound pasta creation to the table, you know Sunday dinner is a cheesy success.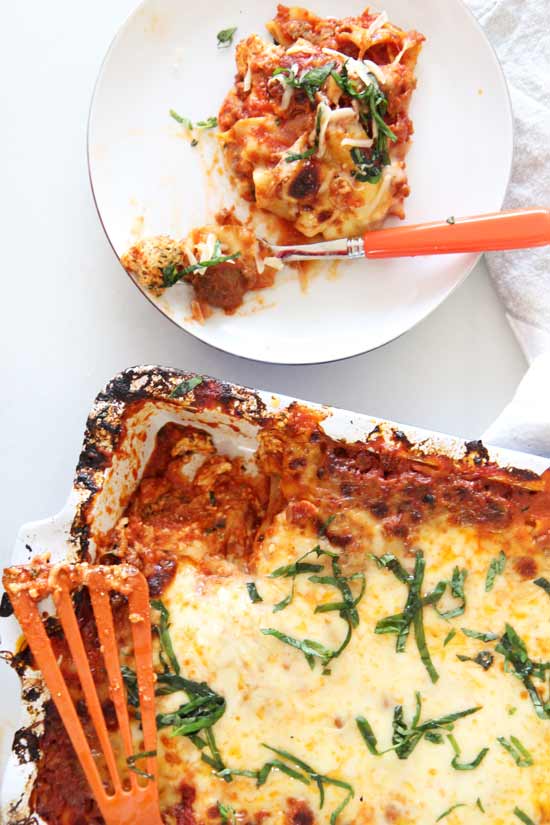 My friend Amy loves lasagna and is always asking me to make her a new version. So when I invited her to a recipe tasting party (This is were I make lots of food and friends and they tell me what they like and dont like. They also bring lots of wine so its sooo much fun).  I knew I had to make a new fabulous version. I channeled my inner comfort food vibes, to find a way to make a classic even more decadent. This was such a success, that at my next recipe party, my friends were still talking about this recipe. The best part is it is soooooo easy to make. I use sweet Italian sausage, spicy sausage, and pepperoni in the sauce. Also I mix the chess silky ricotta with lots of bright fresh green herbs.
Living in NYC there is allot of great lasagnas. To have my friends love this recipe makes me super grateful! Especially because Tom loves meat lasagna. When he worked midtown (he is in fashion) near this awesome grocery store, he use to get meat lasagna every day for lunch lol! So he will now be requesting this every day lol. Better make double!
Short Cuts to Easy Lasagna:
Use frozen raviolis as the noodles. Layer frozen ravioli and you can skip the step of boiling pasta. The frozen raviolis cook with the lasagna.
Use store bought sauce. This is a great way this recipe super easy and stress free.
Buy double the ingredients. Make 2 lasagnas! Eat one and freeze one for a future busy week dinner.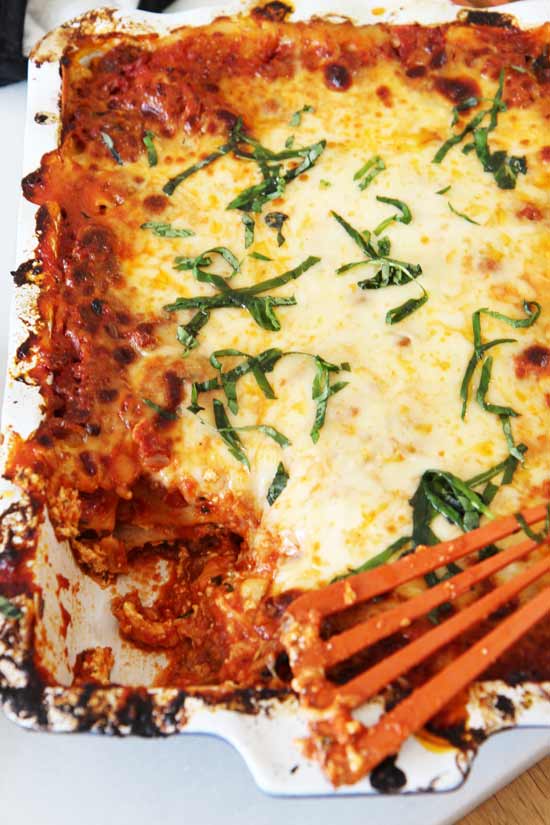 I hope this is your new go to weeknight dinner recipe and it makes cooking fun for you.
For more easy, happy comfort food recipes, check out our Pinterest Page
More Weeknight Lasagna Recipes:
I cant wait for you to try this recipe!!! Cheers to comfort food love on a plate. Happy Cooking!
The Best Lasagna
Ingredients
Meat Sauce Ingredients:
1 onion (chopped)
1/4 cup pepperoni (chopped)
1 lb sweet Italian pork sausage
1 lb spicy Italian pork sausage
5 cloves garlic (chopped)
1 28 oz can crushed tomatoes
1 handful basil chopped
Herb Ricotta Cheese Ingredients:
2 cups ricotta cheese
5 basil leaves chopped
1 handful parsley chopped
1 pinch salt and pepper
Other Lasgana Ingredients:
1 lb fresh lasagna noodles (or cooked boxed noodles)
4 cups mozzarella cheese (shredded)
1 cup parmesan cheese (grated)
4 tbs extra virgin olive oil
Instructions
Preheat the oven at 350 degrees.
Meat Sauce Instructions:
First, add to a pot (on medium high heat), onions, pepperoni, garlic, salt and pepper.

Now, mix to together for 1 minute.

Next, add the sweet and spicy sausage. Break the sausage up, spread on bottom of pan, and let cook for 3 minutes.

Now mix the sauasge mixture. Then add crushed tomatoes and basil. Turn the heat on low and cook for 15 minutes.
Ricotta Instructions:
Mix all the ricotta ingredients together until well combined.
Lasagna Instructions:
First, put 1/3 meat sauce on the bottom of lasagna dish. Spread so covers the bottom.

Next, add a layer of noodles.

Now add 1/3 ricotta mixture and spread on top of the noodles.

Next, sprinkle a handful mozzarella and parmesan cheese on top.

Now, repeat 2 more layer of sauce, ricotta, mozzarella/parmesan.

For the top layer, add rest of the sauce and then lots of mozzarella and parmesan.

Next, cover with tinfoil and bake for 30 minutes.

Finally, uncover and bake 10 to 15 minutes until the cheese is bubbly.

Top with more basil and enjoy!
CHECK OUT THIS NO BAKE S'MORES COOKIE DOUGH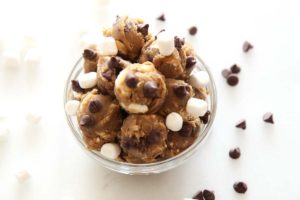 I can not talk Italian food without recommending great places to eat in NYC when you visit here!
Were to Eat Italian Food In NYC:
(All of these are me and Toms Favorites)
Scarpetta: They have the most amazing Spaghetti and tomato sauce! They give you awesome free pepperoni bread too!
Rubirosa: Located in Soho. I love love love there eggplant Parmesan. Tom loves there sausage and broccoli rabe pasta!
Piccolo Angolo: This is old school New York Italian comfort food! It is family owned and the meatballs are as big as my head. A must try!
Your Dash Of Gratitude:

ANY QUESTIONS OR COMMENTS? COMMENT BELOW 🙂
With a grateful heart and an amazing tummy – Jay
This book changed my life and it is how I elevated my home cooking:

(Visited 5,379 times, 1 visits today)
Subscribe for tasty, free recipes!