After making a juicy buttery sheet pan Steak and Crispy Potatoes for dinner make this breakfast burrito!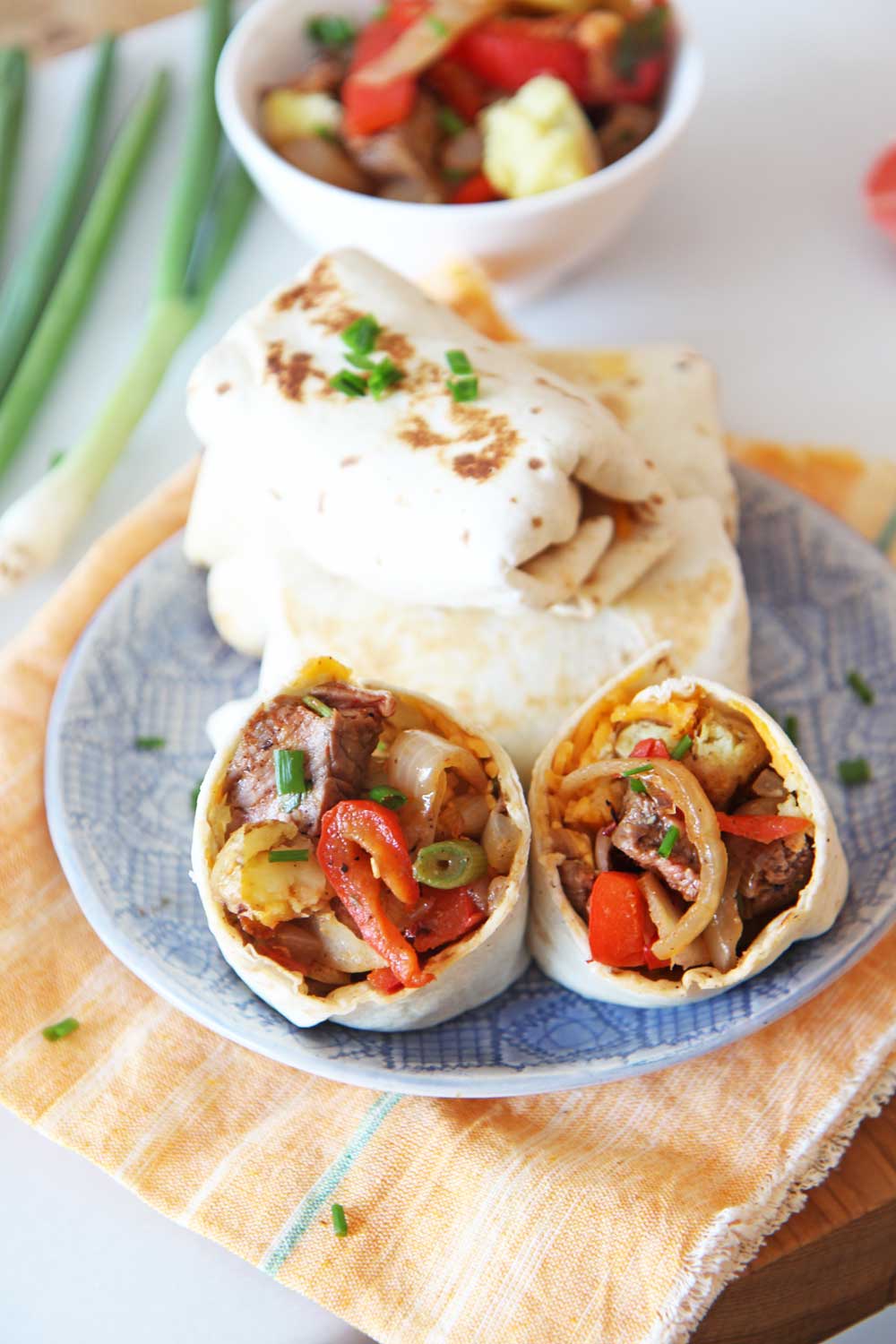 The way to my husbands heart is through steak and potatoes! So when I make him
Sheet Pan Steak and Potatoes
, I make double so I can make burritos for breakfast! A burrito is a handheld breakfast treat and you only need a few ingredients to make it fabulous. I add steak, potatoes, onions and peppers. To cut down on chopping a ton of ingredients I add salsa so I get the spicy juicy fun taste. I love rolling burritos because I use that time in the kitchen to zen out and just live in the now. As you roll the burritos just clear your mind and think of nothing but the burrito! This is mind cleansing and the reward to is carb happy. Hope this tip gives you more time for you and Happy Cooking and grateful for you!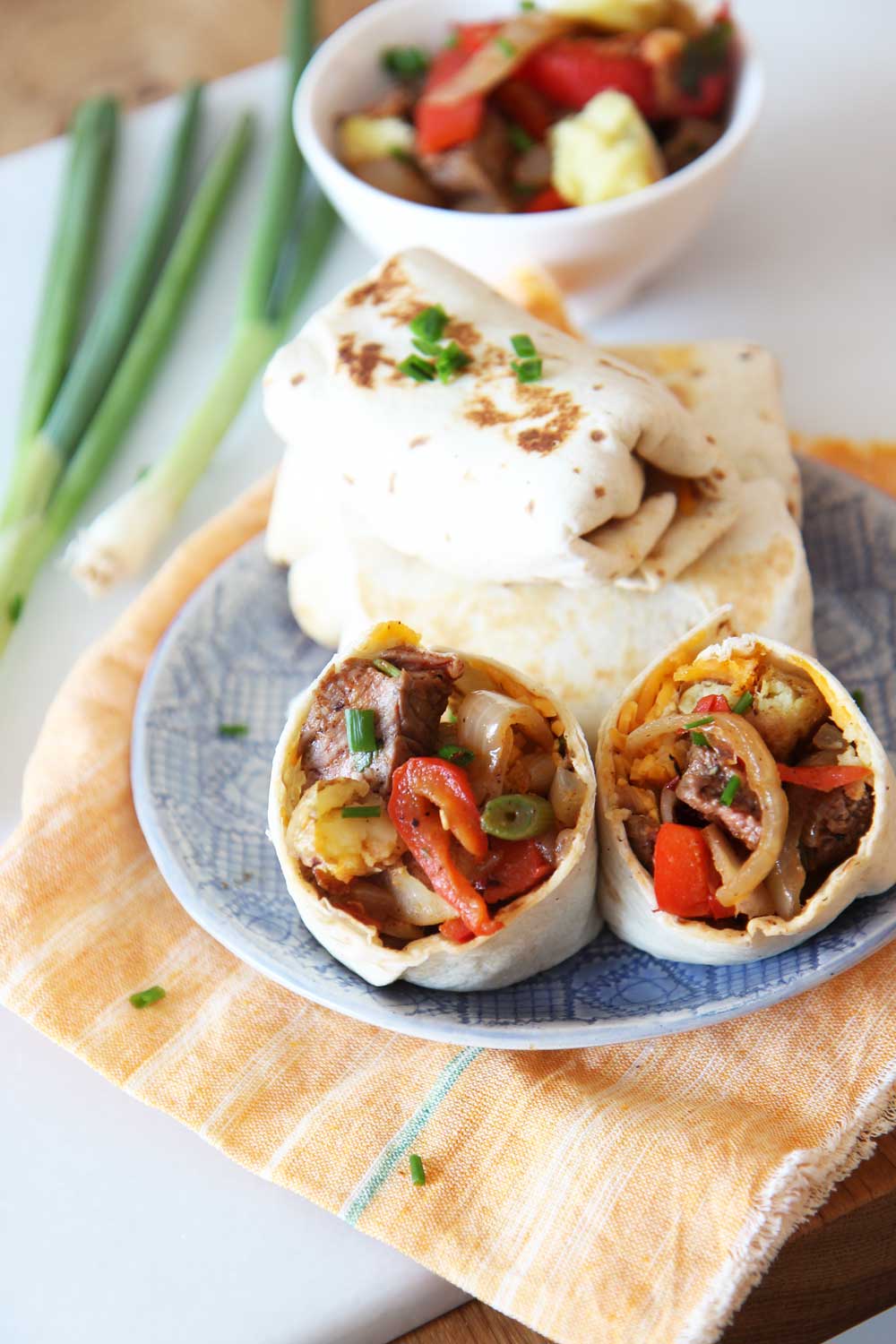 Gratitude Tip While You Cook:
My mission with Chop Happy is to create easy recipe for busy people with a dash of gratitude! Since we all have to be in the kitchen at some point in our day lets use that time to zen out and gain more gratitude.
For the time the soup cooks visualize your dreams as if it is already here. Working on you does not have to be a long drawn out process. It can be as simple as a couple of pages of a motivational book. The perfect book to read to learn more about finding calmness, your dreams and making your wishes a reality is
The Secret!
Recipe Hack / Cooking Tips:
Season Steak Overnight: I salt my steaks overnight and leave them in the fridge. This give the salt enough time to season all the way through the center of the beef.
Gratitude While Stirring: Use the kitchen as a place for self care. As you stir or chop say what you are grateful for. I do this all the time so that cooking can be a time to recharge.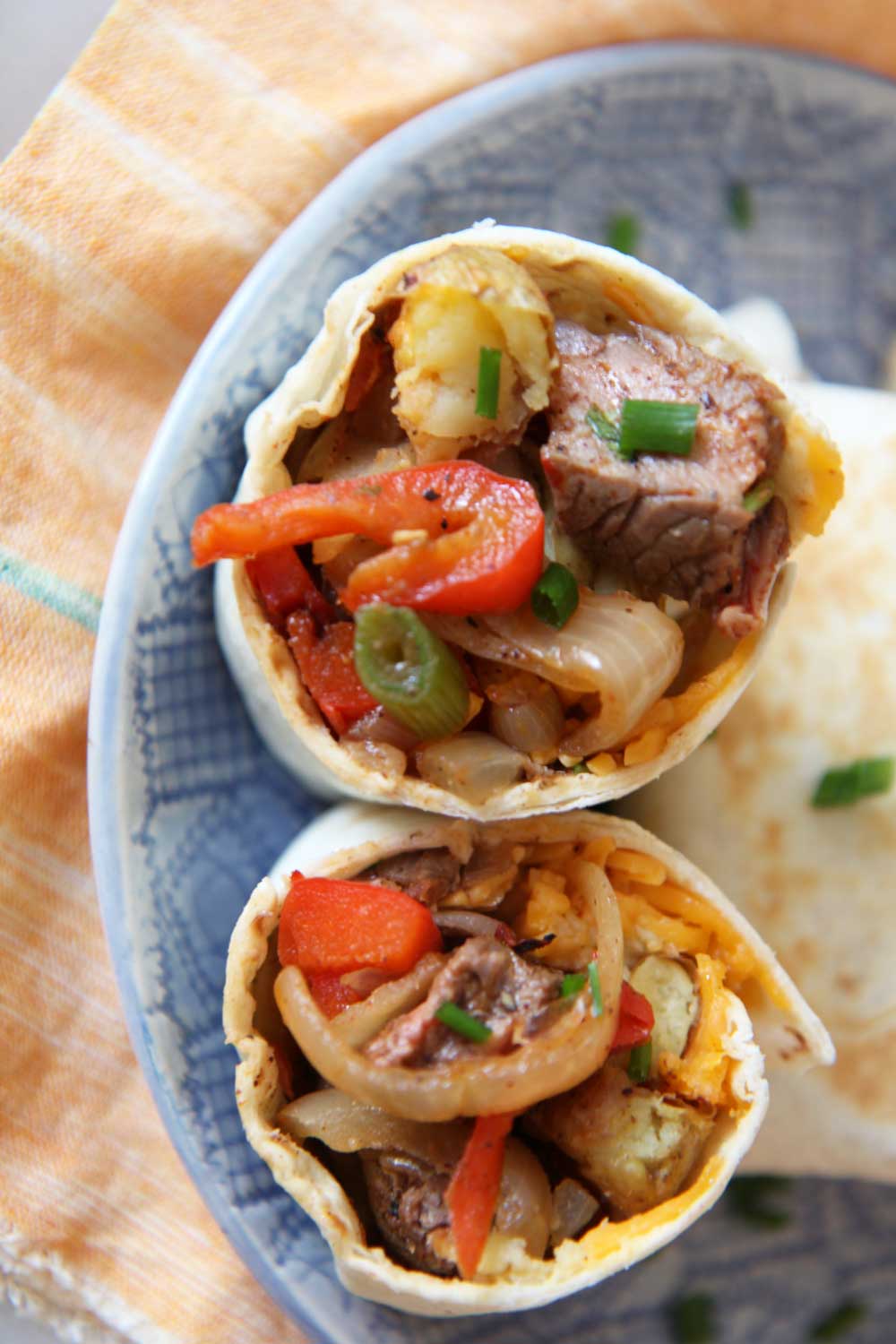 Leftover Steak and Hash Brown Breakfast Burrito
Ingredients
1 inch New York Strip (cooked)
1 pound leftover cooked Yukon gold potatoes
1/2 onion (chopped or sliced)
1 red pepper (chopped or sliced)
1 cup cheddar cheese (shredded)
1/2 cup salsa
2 scallion (chopped)
2 medium tortillas
1 tablespoon oil
1 teaspoon garlic powder
1 teaspoon salt and pepper
Instructions
First, add oil, onions, jalapeno, red pepper, salt, pepper, and garlic powder on medium high heat in a pan for one minute.

Next, add steak and potatoes and reheat for 30 seconds.

Now, mix in salsa and cheese.

Next, lets assemble the buritto by heating up tortillas in microwave for 10 seconds to make them easy to roll.

Now, add 1/2 mixture in center of the burrito with 3 inch border of side facing you.

Next, fold the tortilla over the mixture and tuck in the left and right sides. Then roll the burrito up.

Finally, to seal the burrito, heat seam side down on medium heat for 1 minute.
Other Easy Recipes:
Any question comment below or email! I love helping change the recipe!
(Visited 565 times, 1 visits today)
Subscribe for tasty, free recipes!