This is the easiest way to make baked ziti and you don't even need to boil water for the pasta!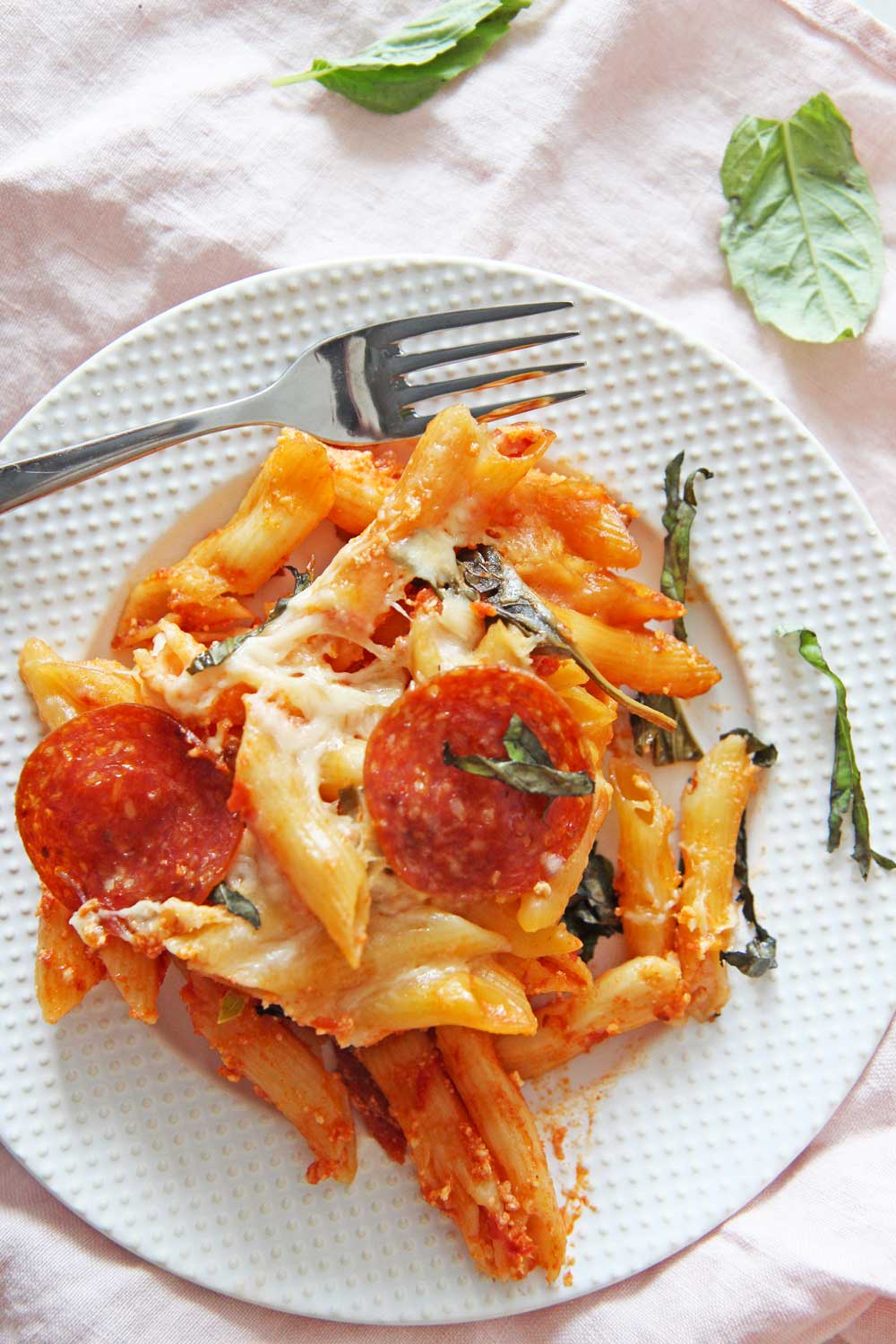 This dinner checks off all the boxes for me and Tom in our busy NYC life! Carb pasta happiness mixed and covered in cheese with bites of salty spicy pepperoni! Also this is super easy to make. You do not need to boil the pasta because it cooks and steams in the sauce. Also, I like to mix everything right before bed and put in the fridge. Then turn it on before I go to work so that there is very little work in the morning. Finally, you come home to hot a cheesy carb love dinner. Plus the bonus of leftovers that last all week long. The added pepperoni is in honor of my husband as he likes there to be some type of meat in all his dinners I hope this makes life easier for you and brings your family pasta smiles!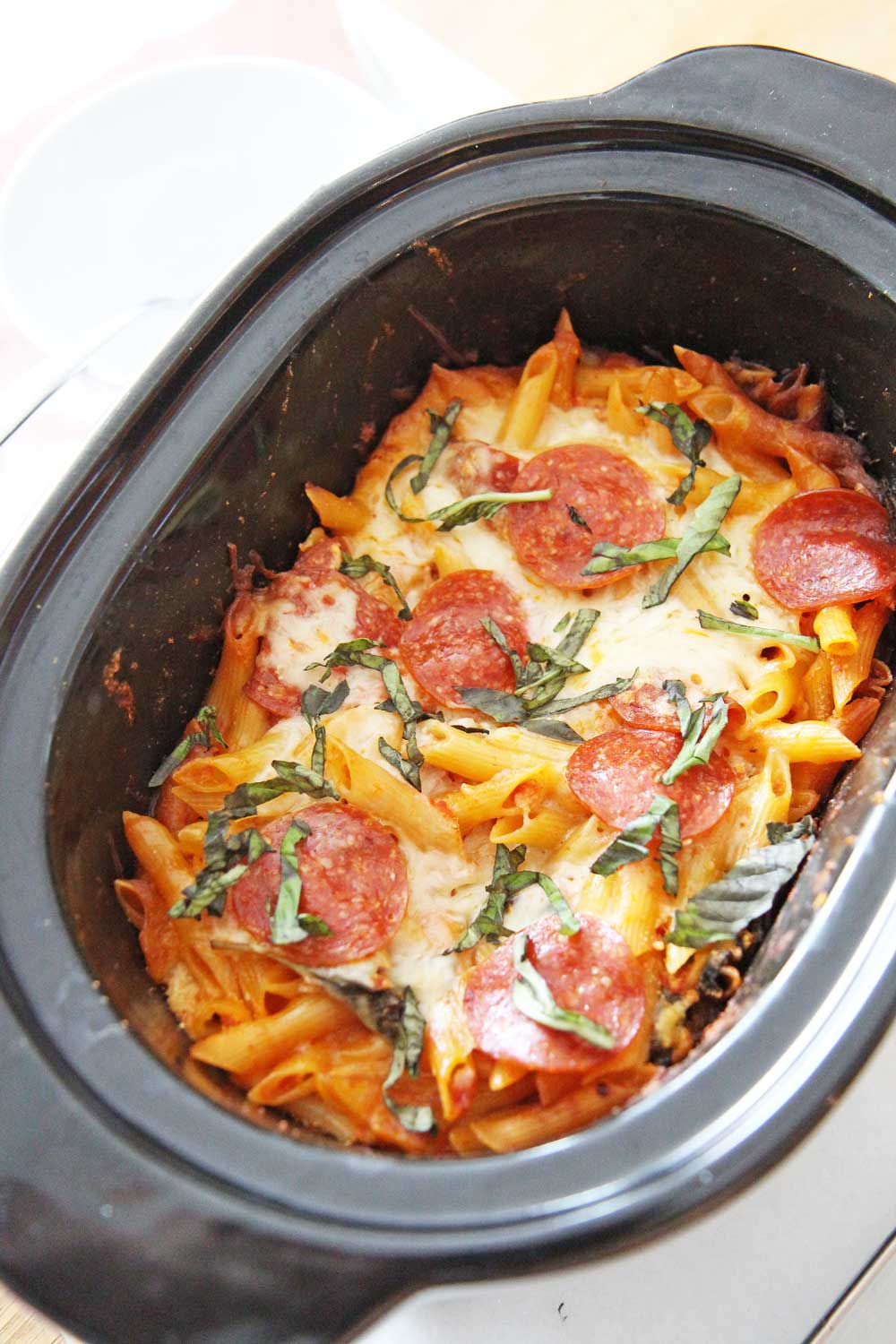 Gratitude Tip While You Cook:
My mission with Chop Happy is to create easy recipe for busy people with a dash of gratitude! Since we all have to be in the kitchen at some point in our day lets use that time to zen out and gain more gratitude.
For the time the pasta cooks visualize your dreams as if it is already here. Working on you does not have to be a long drawn out process. It can be as simple as a couple of pages of a motivational book. The perfect book to read to learn more about finding calmness, your dreams and making your wishes a reality is
The Secret!
Read some pages while the house fills with pasta joy. Hope this helps you find joy in a crazy day and I am so grateful for you!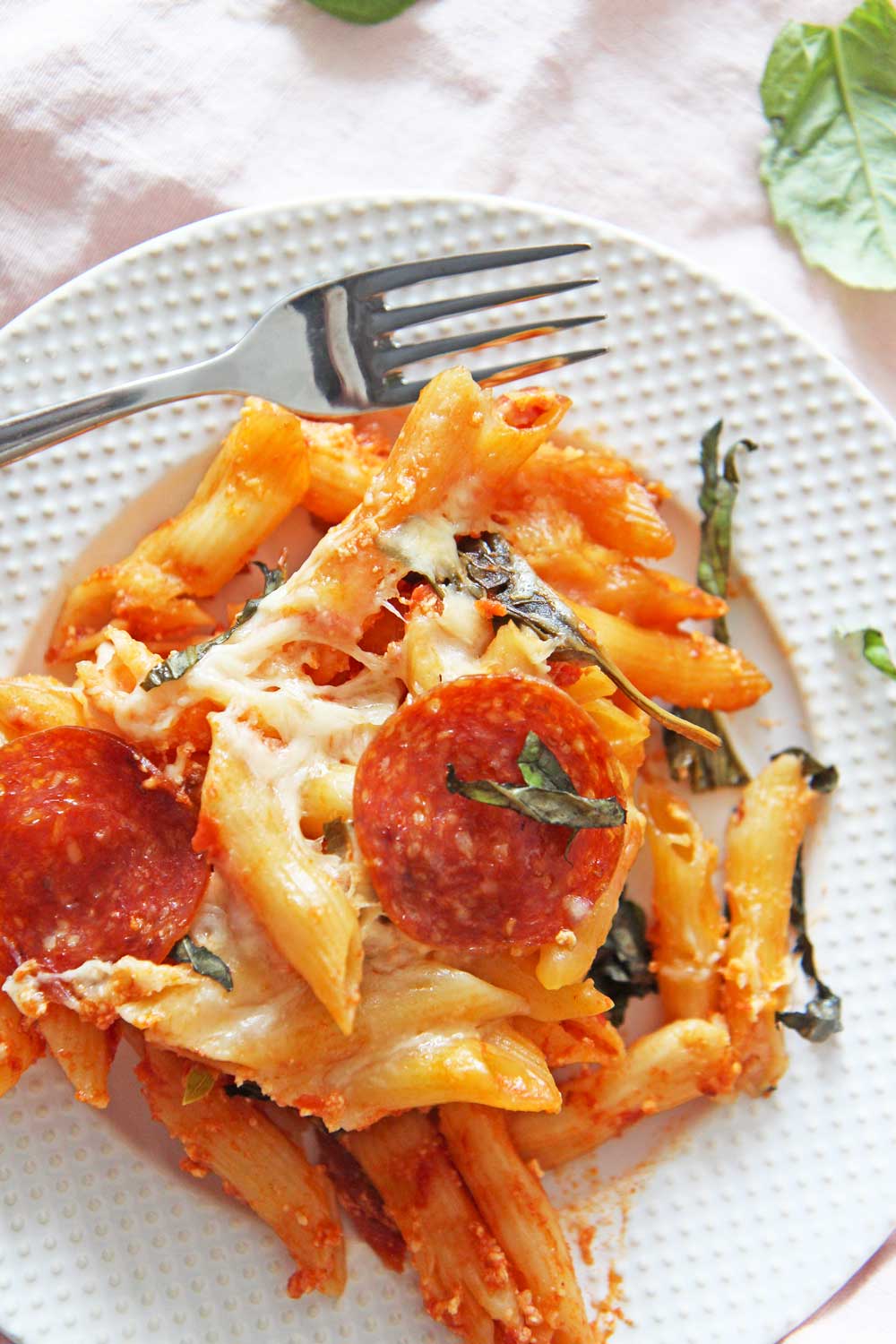 Recipe Hack / Cooking Tips:
Pasta Cooks in the Slow Cooker: The pasta goes in uncooked into the slow cooker. The sauce steams the pasta so less work and more dinner fun!
Store Bought Sauce: You can make your own marinara (I have an awesome 5 ingredient Pantry Marinara) but there are amazing store brought brands that save tons of time on a busy weekday!
Gratitude While Stirring: Use the kitchen as a place for self care. As you stir or chop say what you are grateful for. I do this all the time so that cooking can be a time to recharge.
Watch How To Make Ziti in a Slow Cooker:
How to Make Baked Ziti in the Slow Cooker
Ingredients
1 pound ziti pasta (uncooked)
24 ounce store bought marinara (1 jar)
1/4 cup water
16 ounces ricotta
2 cups mozzerella cheese
1 teaspoon red pepper flakes
10 basil leaves (chopped)
20 slices pepperoni (save 6 for top of ziti and rest for inside ziti)
Instructions
First, place all the ingredients in the slow cooker (except mozzerella and 6 slices of pepperoni).

Next, mix all together and then add mozzerellla cheese on top and slices of pepperoni to decoprate the top.

Now, cover and cook on low for 5 hours and 30 minutes.

Finally, top with ore basil and enjoy!

Note: Make double portion and freeze half for up to 6 months for a quick dinner!
Other Easy Recipes:
Any question comment below or email! I love helping change the recipe!
(Visited 1,177 times, 1 visits today)
Subscribe for tasty, free recipes!