Cherries, lemon, mint, and pantry staples all put in a slow cooker makes the easiest cherry pie recipe.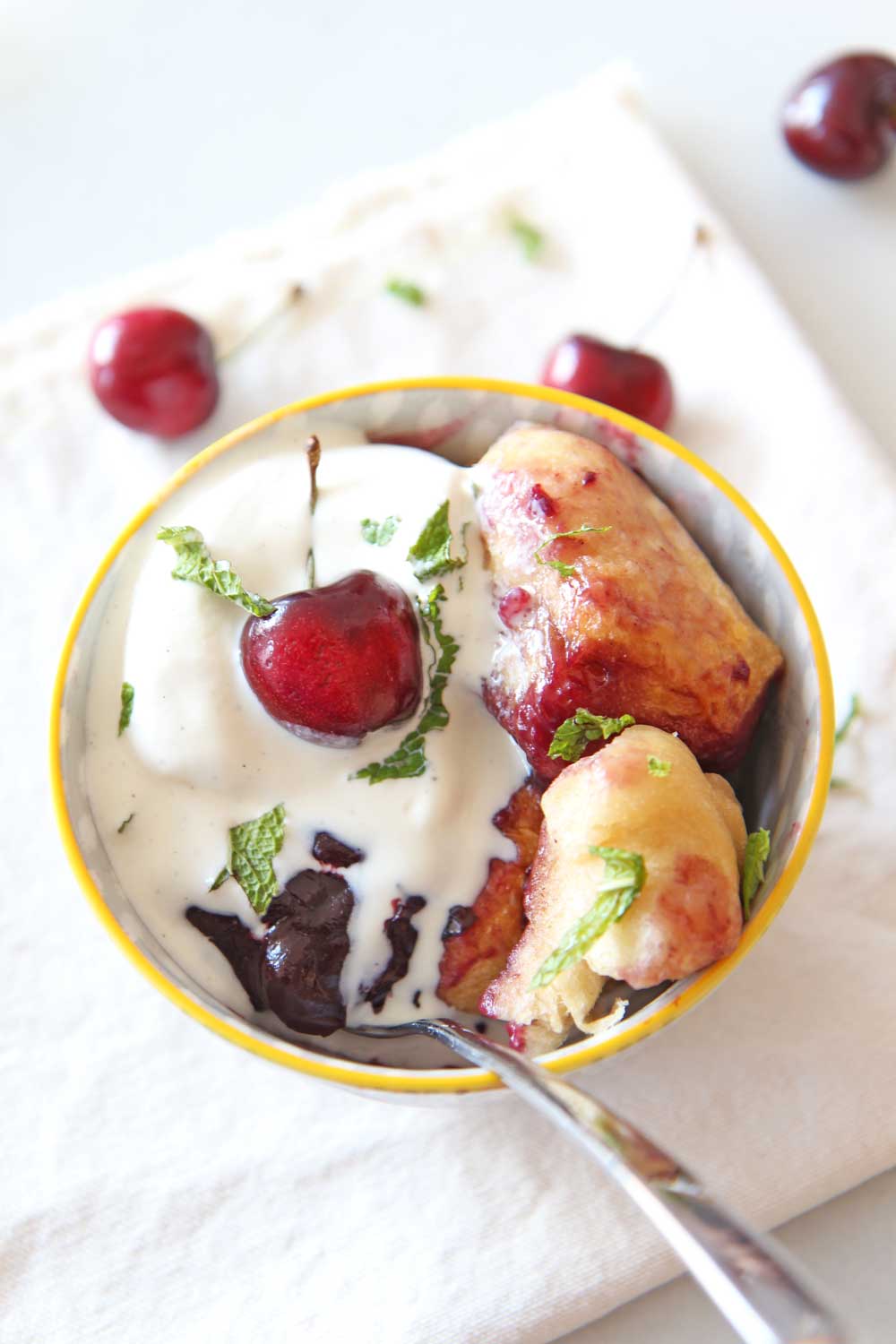 I love to eat desserts but I do not like to bake them. There is something about measuring and everything having to be exact ratios that is too scientific for me. But dessert dream big and I find ways to make dessert with fun short cuts. The slow cooker is then perfect vessel for easy sweet treats. First of all, why make the biscuits when you can buy awesome dough at the store. This saves time cleaning up all the flour all over the kitchen. Secondly,  buy frozen cherries! They are already pitted and also the liquid after defrosted makes awesome pie sauce. Finally, the slow cooker makes my life sooo much easier. Drop everything in the slow cooker and never worry about burning the crust. This is my type of dessert making. With all that extra time I can do some self care or just nap on the couch. What would you do with all the extra time this recipe saves you?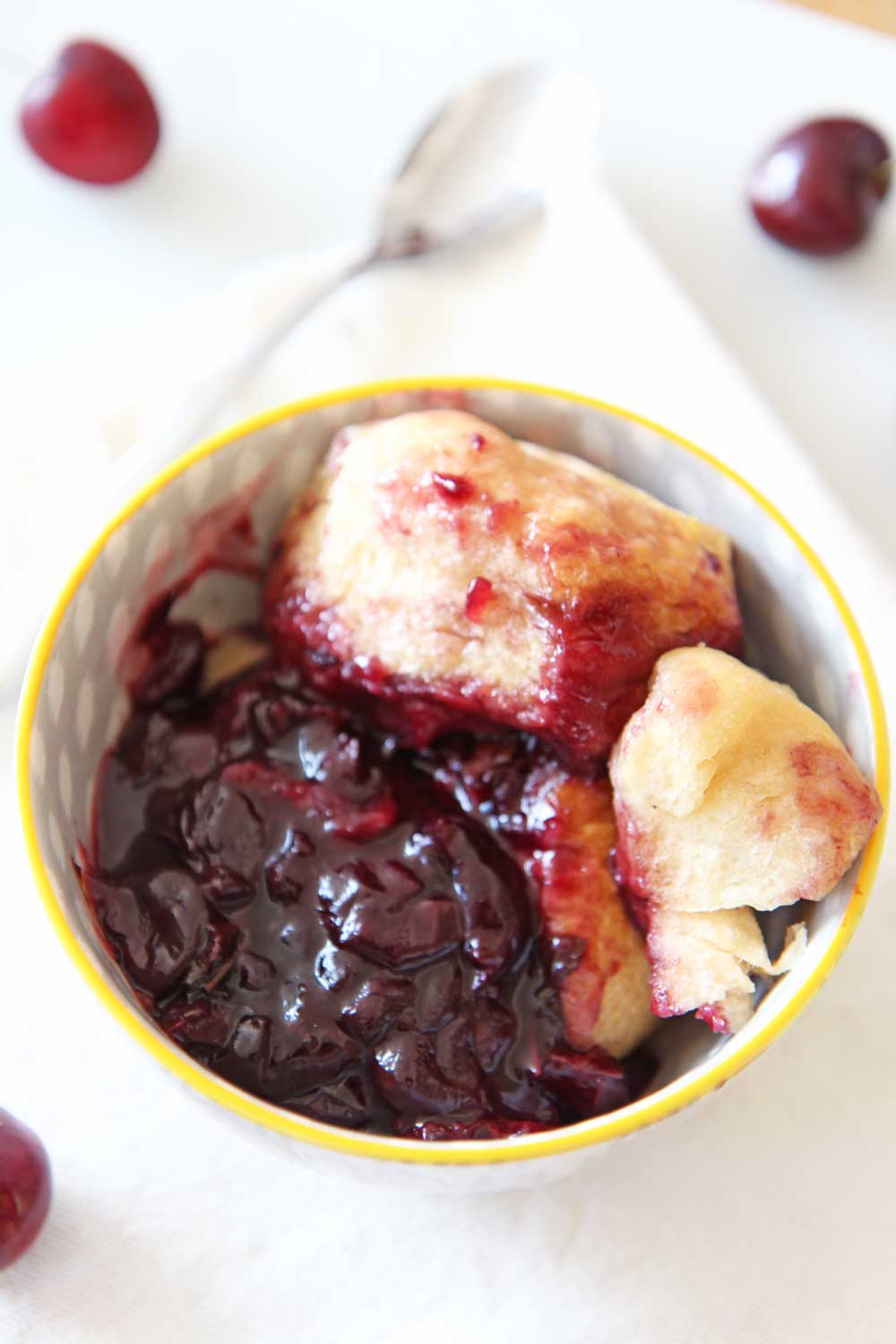 I use to not always crave desserts until I met Tom. We would be in the middle of eating dinner and he would declare it "dessert time!" He has a big sweet tooth. So over the years I started craving sweets after the meal. Now it I see who states "dessert time" to him. Since he loves desserts so much I try to make him some at home. The slow cooker is perfect because with our busy schedule I can dump everything in when I get home and by the time we finish dinner it is ready to eat.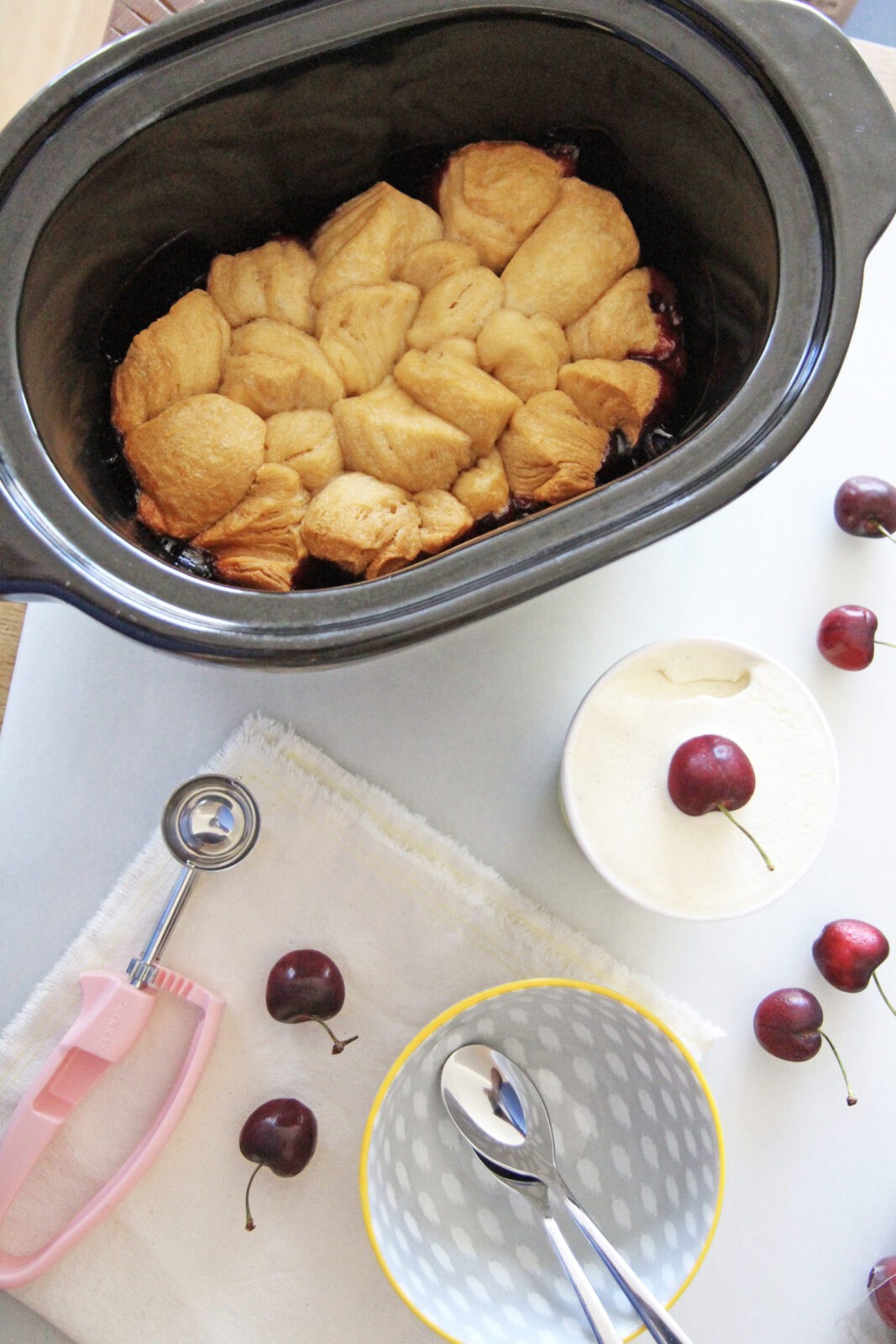 Recipe Hack / Cooking Tips:
Buy Frozen Fruit: First of all it makes life so much easier. The fruit is usually pitted and ready to use. Secondly its always fresh. They flash freeze the fruit at the peak of ripeness. 
Use Store Bought Short Cuts: In Chop Happy Land buying store bought dough is awesome. If you are as busy as we are getting dinner or dessert on the table and still having time for yourself is a challenge. Store bought dough saves at least an hour of your time and gives you more time with your family! 
Gratitude While Stirring: Use the kitchen as a place for self care. As you stir or chop say what you are grateful for. I do this all the time so that cooking can be a time to recharge. 

Things you will need:
Watch This Video On How To Make This:
Slow Cooker Biscuit Cherry Pie
Ingredients
2 48 ounces frozen cherries (defrost)
1 teaspoon maple syrup
2 teaspoons cinamon
2 tablespoons corn starch
1/2 lemon (the juice)
1 handful mint (chopped roughly)
1/2 teaspoon salt
1 16 ounce can biscut dough (cut in chunks)
Instructions
First, mix all the ingredients (except the biscuit dough) in a bowl.

Next, pour the cherry mixture into a slow cooker,

Now add the biscut dough peices to top of the cherries. Spread out evenly over mixture.

Finally, place lid ontop and cook on low 3 hours!

Enjoy!
Other Easy Recipes:
Any question comment below or email! I love helping change the recipe!
My Favorite Ways To Save Money In The Kitchen: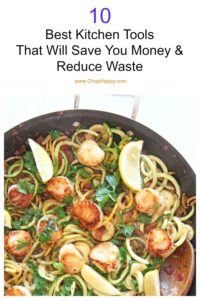 Check Out This book! It changed my life and keeps me centered:
ANY QUESTIONS OR COMMENTS? COMMENT BELOW 🙂
With a grateful heart and an amazing tummy – Jay
(Visited 751 times, 1 visits today)
Subscribe for tasty, free recipes!