This beefy, sweet and spicy tacos is the perfect dinner with lots of juicy leftovers. The best part is your slow cooker (home cooks personal chef) cooks the meal for you while you are at work. When you return home after a long day a hot melt in your mouth hearty meal is all ready for you!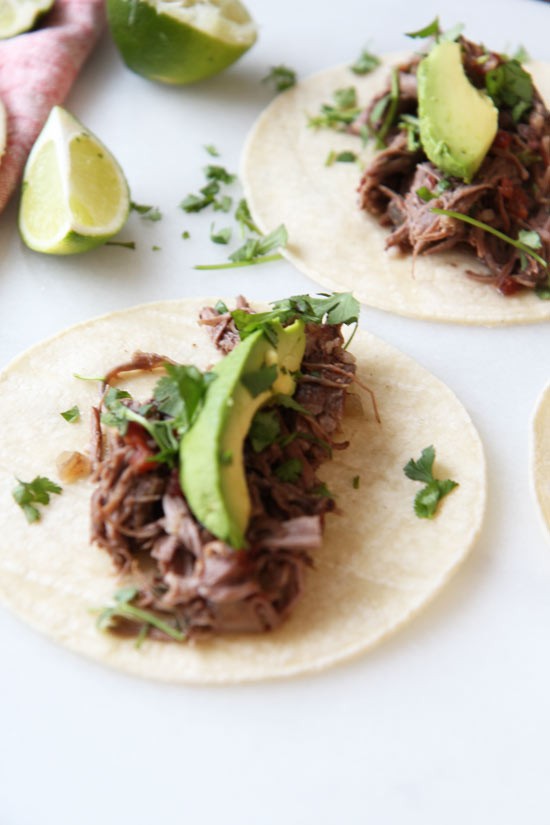 I love this recipe because it reminds me of the beginning years me and Tom started living together! I obviously cooked allot but he wanted a day he could do dinner. So we made Thursdays his night to get dinner. He would proudly come through the door with a big bag of barbacoa from Chipotle. The night officially became Chipotle Thursdays because it was the same dinner. I loved those times and always looked forward to Toms face of excitement and proudness that he got dinner.
So since he is busy now and working typical fun NYC hours, I figured out how to do this at home. When we eat this we always smile over those days and how fun it was.
Slow Cooker Tip:
Prepare everything in the slow cooker the night before.
When you wake up take out of the refrigerator and turn on before leave for work ( I put a sticky note by my keys so I don't forget to turn the slow cooker on)
 Come home after along day to a hot meal waiting for you thanks to your personal chef, the slow cooker!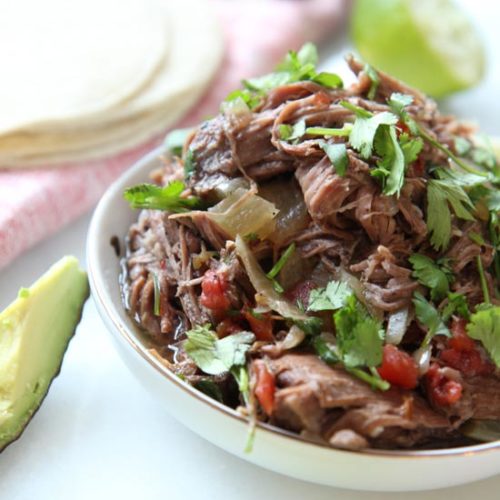 Slow Cooker Beef Tacos Recipe (barbacoa recipe)
Ingredients
3 pound beef chuck
1 teaspoon salt
1 teaspoon pepper
1 tablespoon oregano
1 tablespoon garlic powder
1 white onion (chopped)
7 ounce can green chilis
14 ounce can diced fire roasted tomatoes
1 handful cilantro (chopped)
1 lime (juice and zest)
10 tortillas (heated in microwave 10 sec before serving)
Optional Ingredients (to top taco's)
1 cup salasa
1 cup guacamole
1/2 cup sour cream
Instructions
First, sprinkle both sides of the beef (in the slow cooker) with salt, pepper, garlic powder, and oregano.

Next, add the onions, chili's, and diced tomatoes.

Now, cover and cook on low for 8 hours.

Next, shred the beef with 2 forks and add lime juice and cilantro.

Finally, place some of the shredded beef mixture on the taco and top with your favorite salsa and guacamole and enjoy.
For more easy, happy comfort food recipes, check out our Pinterest Page
More Quick  Recipes:
I can't wait for you to try this recipe!!! Cheers to easy comfort food.  Happy Cooking!
QUICK NO BAKE DESSERT  FOOD RECIPE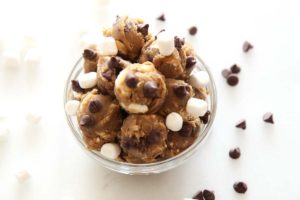 Your Dash Of Gratitude:
                                                                                                                                   
ANY QUESTIONS OR COMMENTS? COMMENT BELOW 🙂
With a grateful heart and an amazing tummy – Jay
This book changed my life and it is how I elevated my home cooking:

(Visited 1,511 times, 1 visits today)
Subscribe for tasty, free recipes!