There is something so satisfying about taking a bite into the crispy exterior to find a glorious sweet, juicy, and the flaky pink inside of the pan seared salmon. Seared Salmon is soon easy to make its the perfect quick weeknight meal! The secret is to star out cooking the salmon in a cold pan and then turn on the heat!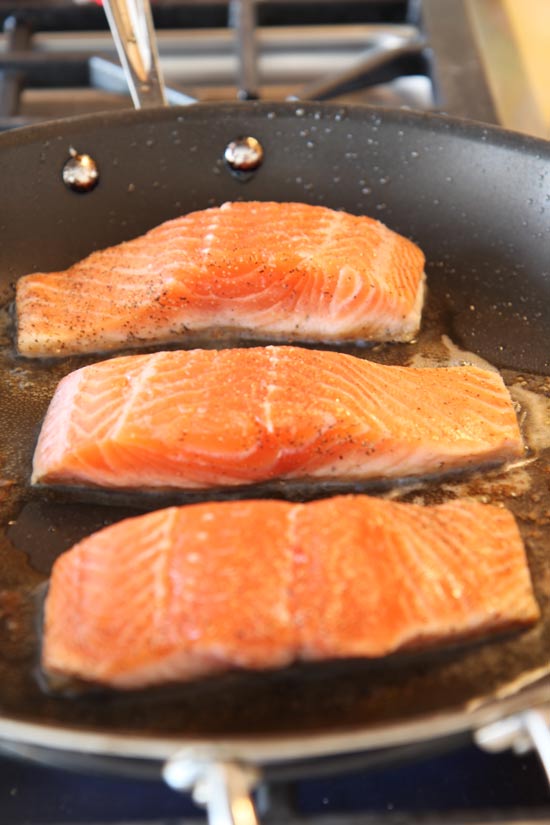 Growing up, my mom cooked us 2 things really well. Chicken or salmon most weeknights. I can still remember the sizzle of the salmon in my moms kitchen as it was being prepared and my excitement for dinner. Now that I am grown up, living in NYC, I still smile every time I hear the sizzle in my apartment. Before meeting me Salmon was not Toms favorite fish. I think I won him over with pan seared salmon because of its the crispy outside. Also, I always wonder, how can something so healthy, tastes so indulgent. I think the 2 pads of creamy butter I add to this recipe that definitely helps lol. So grab you pans and get ready for a fabulous 6 minute weeknight meal.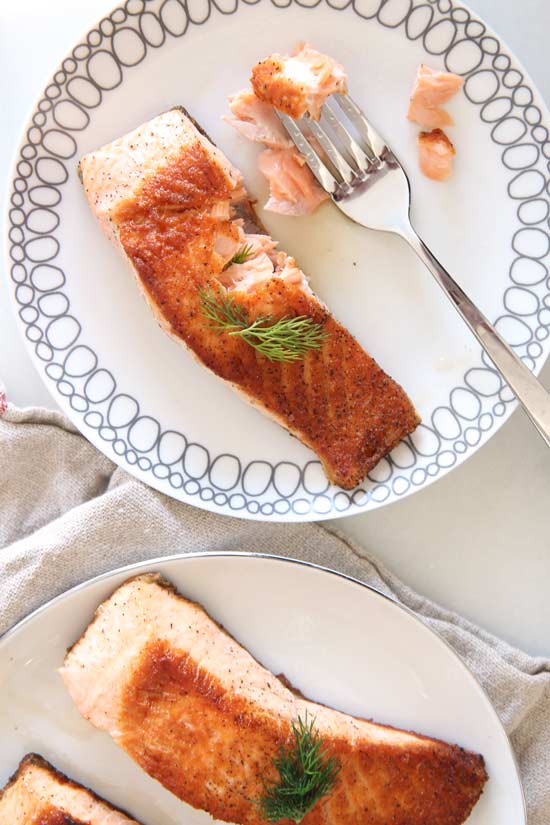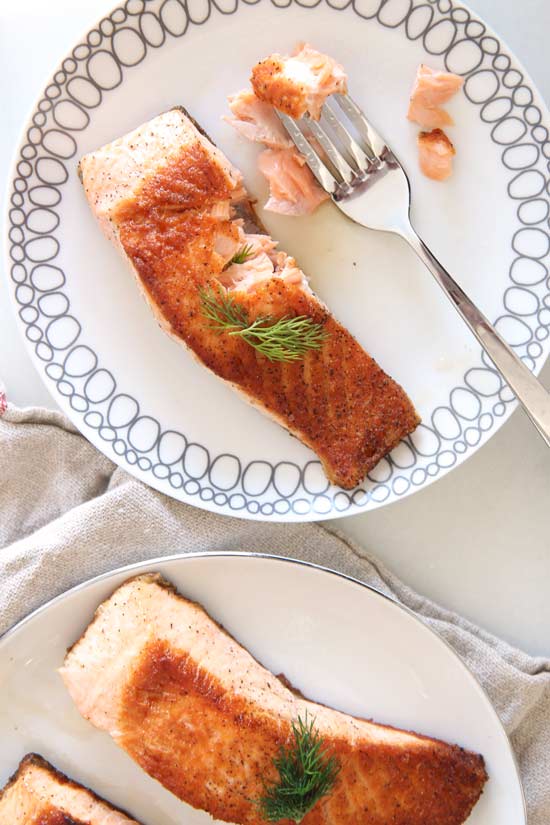 For more easy, happy comfort food recipes, check out our Pinterest Page
More Quick Weeknight Recipes:
I cant wait for you to try this recipe!!! Cheers to comfort food love on a plate. Happy Cooking!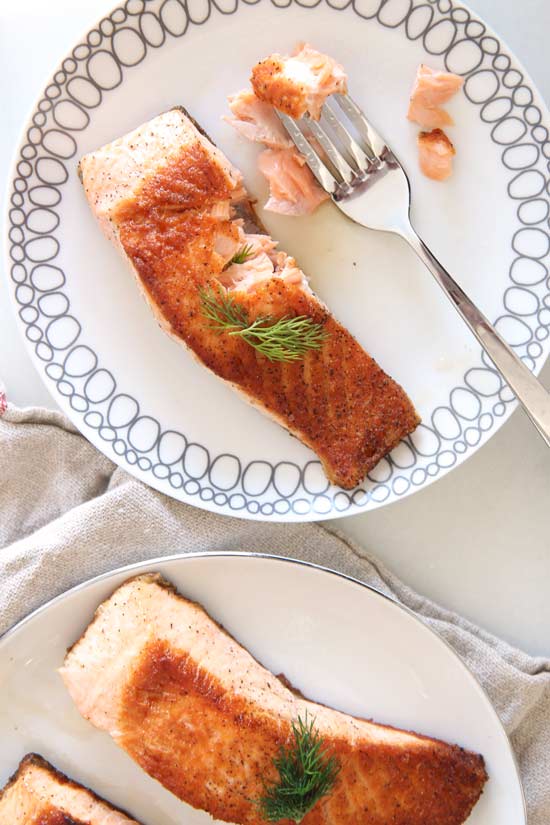 6 Minute Pan Seared Salmon
Ingredients
4 (6 ounce) salmon filets
2 tablespoons vegetable oil
2 tablespoons butter
1 pinch salt
1 pinch pepper
Optional Ingredients:
1/2 lemon juice
4 tablespoons pesto (to spread on after cooked)
Instructions
First, pat both sides of the salmon dry with a paper towel. The drier the salmon, the better the sear.

Next, salt and pepper the salmon on both sides.

Now, add 2 tablespoons of oil and place the 4 filets (skin side down) in the pan. Make sure salmon is spread out and not touching so it sears instead of steaming.

Add 2 tablespoons of butter to the pan.

Next turn pan on medium high heat.

When you hear the sizzle of the oil time 3 minutes of cooking skin side down. Then flip and cook 3 minutes more.

Now add lemon, dill, or pesto to the top and enjoy!
QUICK NO BAKE DESSERT  FOOD RECIPE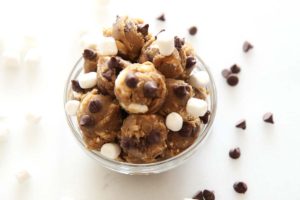 Your Dash Of Gratitude:

ANY QUESTIONS OR COMMENTS? COMMENT BELOW 🙂
With a grateful heart and an amazing tummy – Jay
(Visited 8,824 times, 1 visits today)
Subscribe for tasty, free recipes!