You can't get much easier than this party food appetizer. If you are not a big fan of cooking, this will win you over. It is flaky, creamy, and has a kick of spiciness from the jalapenos that make your world smile.
Anytime I have friends over for dinner, I always overfeed them, from starters to dessert. My mom used to say it is better to have food for 20 when you have 2 guests because it shows love and is a gift in itself. Comfort food is love and tells someone they are family and that you are grateful for them.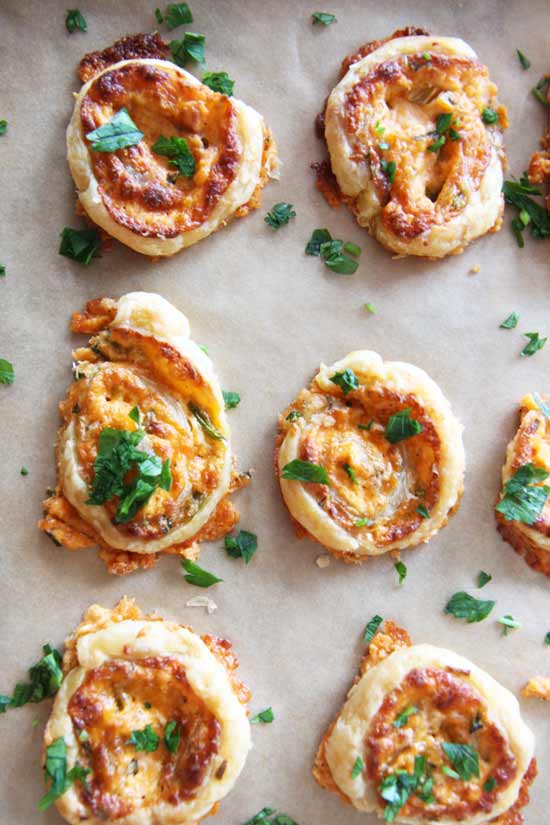 These party food appetizers have been a life saver when there is a lot to do before guests come over. I literally make them a couple of days in advance, put them on a sheet tray, and freeze them until the day of the party. Then I take out them out, thaw them in the fridge for 40 minutes and then bake. At my last party, I served these puff pastry treats, my everything bagel pigs in a blanket, my famous 3 meat lasagna, and my peanut butter no bake cake. Tom and I made a pact a long time ago: I cook and he cleans. All these dishes required very little cleaning so he was happy!
You can also use spinach artichoke dip, pimento cheese, or vegetable cream cheese in place of jalapeno popper dip. I challenge you to try and only eat one of these party food treats. We sat in the kitchen eating them before guests came. We had to stop ourselves so there was enough left for our friends.
Puff Pastry Tips:
Buy store bought puff pastry. It makes life so much easier. If you want to make it from scratch here is a great recipe.
Defrost the puff pastry 2 ways: either in the fridge for 20 minutes (I usually do it overnight so I do not forget) or at room temperature for 40 minutes.
The package usually comes with 2 pastries. So I always make double recipe and freeze one. Freeze before you would bake it. It last longer in the freezer uncooked.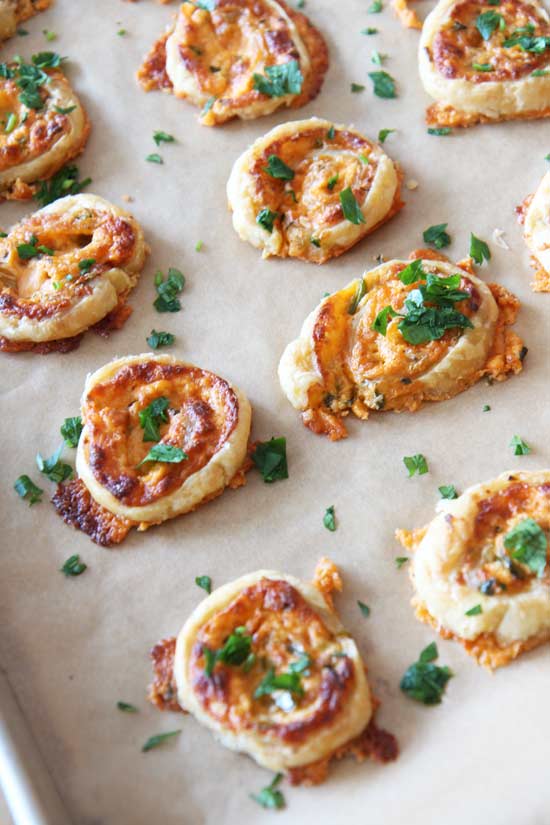 I hope this is your new go to party food recipe and it makes cooking fun for you.
For more easy, happy comfort food recipes, check out our Pinterest Page
More Jalapeno Recipes:
I cant wait for you to try this recipe!!! Cheers to comfort food love on a plate. Happy Cooking!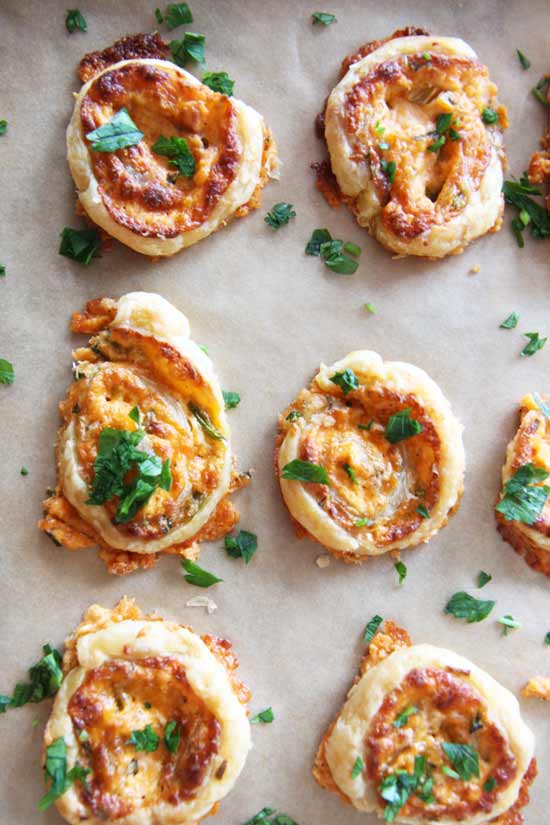 Jalapeno Popper Pinwheels (party food)
Ingredients
1 sheet puff pastry (thawed)
1 (8 oz) cream cheese
2 cups cheddar cheese (grated)
1 jalapeno (seeeded and chopped)
1 tsp Sriracha
3 cloves garlic (grated)
1 tsp salt
1 tsp pepper
4 scallions (chopped)
Instructions
Preheat at 375 degrees


First, mix all the ingredients (except puff pastry) together.


Next place puff pastry on counter. Roll out the pastry an extra inch on all sides.


Now evenly spread the cream cheese mixture all over the puff pastry leaving an inch boarder around the edges.


Roll the pastry lengthwise. Make sure you are rolling tightly.


Now place sheet tray in the refrigerator for 10 minutes (or over night as make ahead meal) so the puff pastry is cold. This will allow it to puff up perfectly.


Next, cut into 1 inch circles and place on sheet tray (separate 1 inch from each other).


Now place in oven 15-20 minutes. Watch to till turns light brown then take out.


Finally eat these cheesy omg starters.

 NO BAKE DESSERT PARTY FOOD RECIPE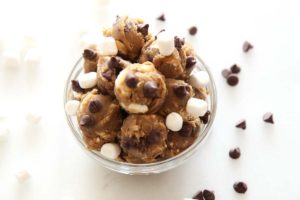 I can not talk comfort food food without recommending great places to eat in NYC when you visit here!
Were to Eat Comfort Food In NYC:
(All of these are me and Toms Favorites)
Los Tacos No.1: Has super authentic tacos that are cheap (for NYC). They are in the fun Chelsea Market!
Mimi Cheng's Dumplings: Located in Soho/Chinatown. I love love love there dumplings. I get the 50/50 so I can try to different dumplings!
Zucker's Bagels and Smoked Fish: This is old school New York bagel and lox! Bagel and lox is my absolute favorite breakfast. I use to choose this as my birthday brunch every year!
Your Dash Of Gratitude:

ANY QUESTIONS OR COMMENTS? COMMENT BELOW 🙂
With a grateful heart and an amazing tummy – Jay
(Visited 3,034 times, 1 visits today)
Subscribe for tasty, free recipes!