One bite of this perfect potato you made, mixed with creamy sweet, and spicy dressing makes the world seems delicious! Harissa Potato salad will be your new comfort food crush!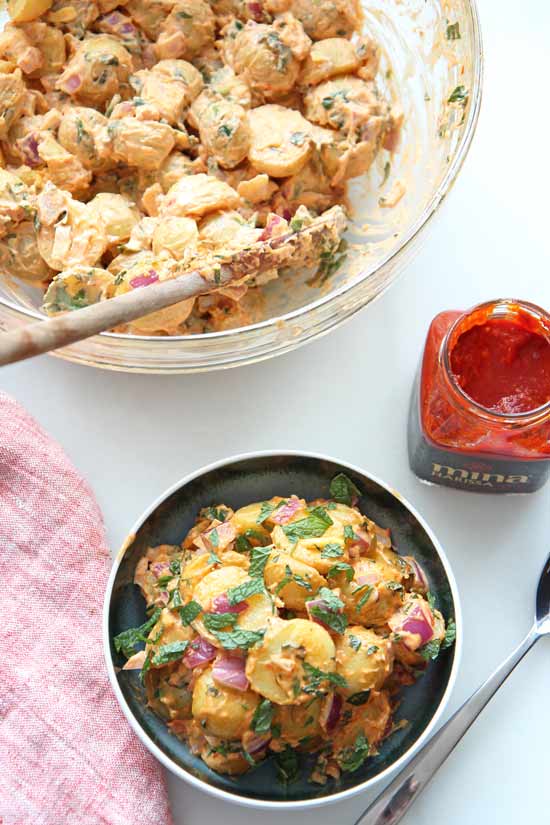 If I could live in a house filled with potatoes that would be a dream come true. There is something warming and comforting about potato salad that makes my whole world smile and everything ok. I made this recipe super easy so you can spend more time eating this then making it.
So my next questions is have you ever had harissa? If not you are going to love it. Harissa is a Moroccan chili paste that is unique in its flavor punch. It is spicy but not overwhelmingly hot. There is a great sweet and tangy component that gives you heat and cooling love at the same time. If you close your eyes as you sit by the pool while you eat this, you will be transformed to the magical fabulous coast of Morocco. Instant vacation through day dreaming.
I hope this recipe makes you appreciate life and the simplistic fun you can have with good food and happy thoughts. I am always super grateful to cook with you and I hope you love this recipe it makes you and your family smile.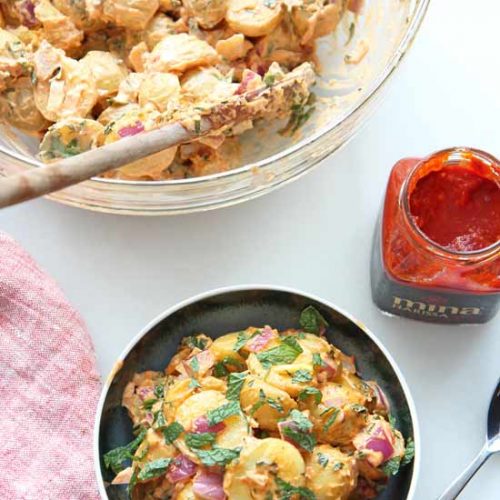 Creamy Harissa Potato Salad
Ingredients
2 pounds small yukon potato (cut in half)
4 cups chicken stock
1/2 cup mayonnaise
3 tablespoons harissa
1/2 lime (juice)
1 handful parsley (chopped)
1 handful mint (chopped)
1/2 red onion (chopped)
Instructions
First, add the potatoes and chicken stock into a pot. Turn the heat to medium high. Start the timer for 15 minutes when you start to see the chicken stock boil.

Now, set the potatoes aside to cool.

Next, mix the harissa, lime, and mayo in a large bowl.

Now, add the potatoes, onions, parsley, and mint.

Finally, mix gently and enjoy!
For more easy, happy comfort food recipes, check out our Pinterest Page
More Quick  Recipes:
I can't wait for you to try this recipe!!! Cheers to easy comfort food desserts.  Happy Cooking!
QUICK NO BAKE DESSERT  FOOD RECIPE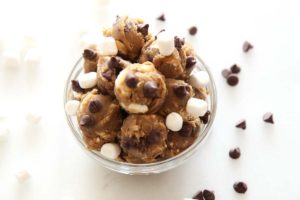 Your Dash Of Gratitude:
                                                                                                                                   
ANY QUESTIONS OR COMMENTS? COMMENT BELOW 🙂
With a grateful heart and an amazing tummy – Jay
(Visited 2,350 times, 1 visits today)
Subscribe for tasty, free recipes!