This is a super easy no bake pumpkin pie cheesecake that is decadent yum!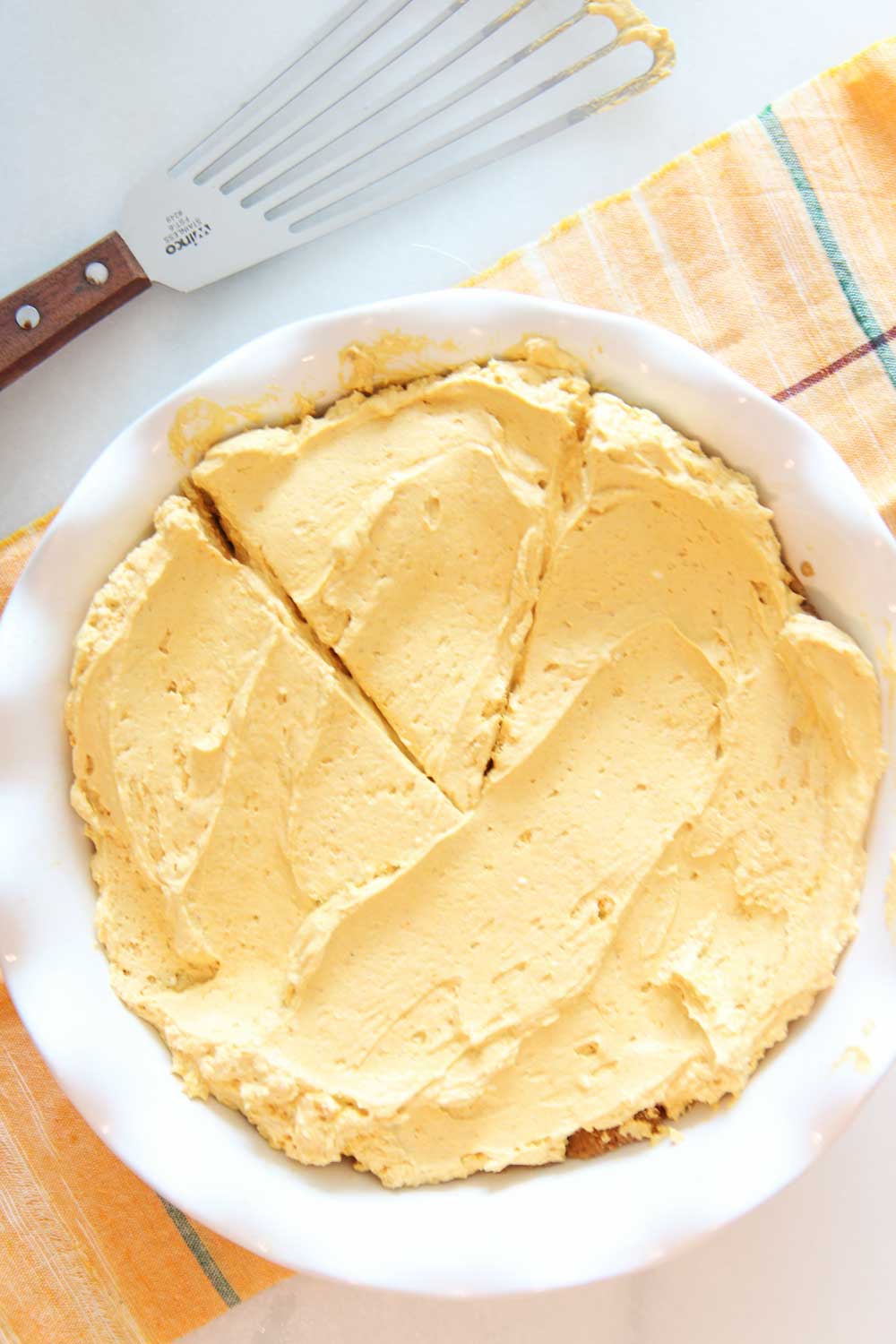 I love desserts but making them is another story. If you are a proud No Bake Dessert maker this recipe is for you! It is a no bake pumpkin pie cheesecake that is so easy to make. When I first started dating Tom over 13 years ago, I was more an appetizer than dessert eater. But every meal at the end Tom would say "Dessert Time" in an excited voice. So we started having desserts after dinner. Now I say "Dessert Time" and have a big sweet tooth! Since I do not bake well I have come up with lots of
No-Bake Desserts
so we can have awesome sweet treats after dinner. Hope you love this recipe and I am so grateful for you!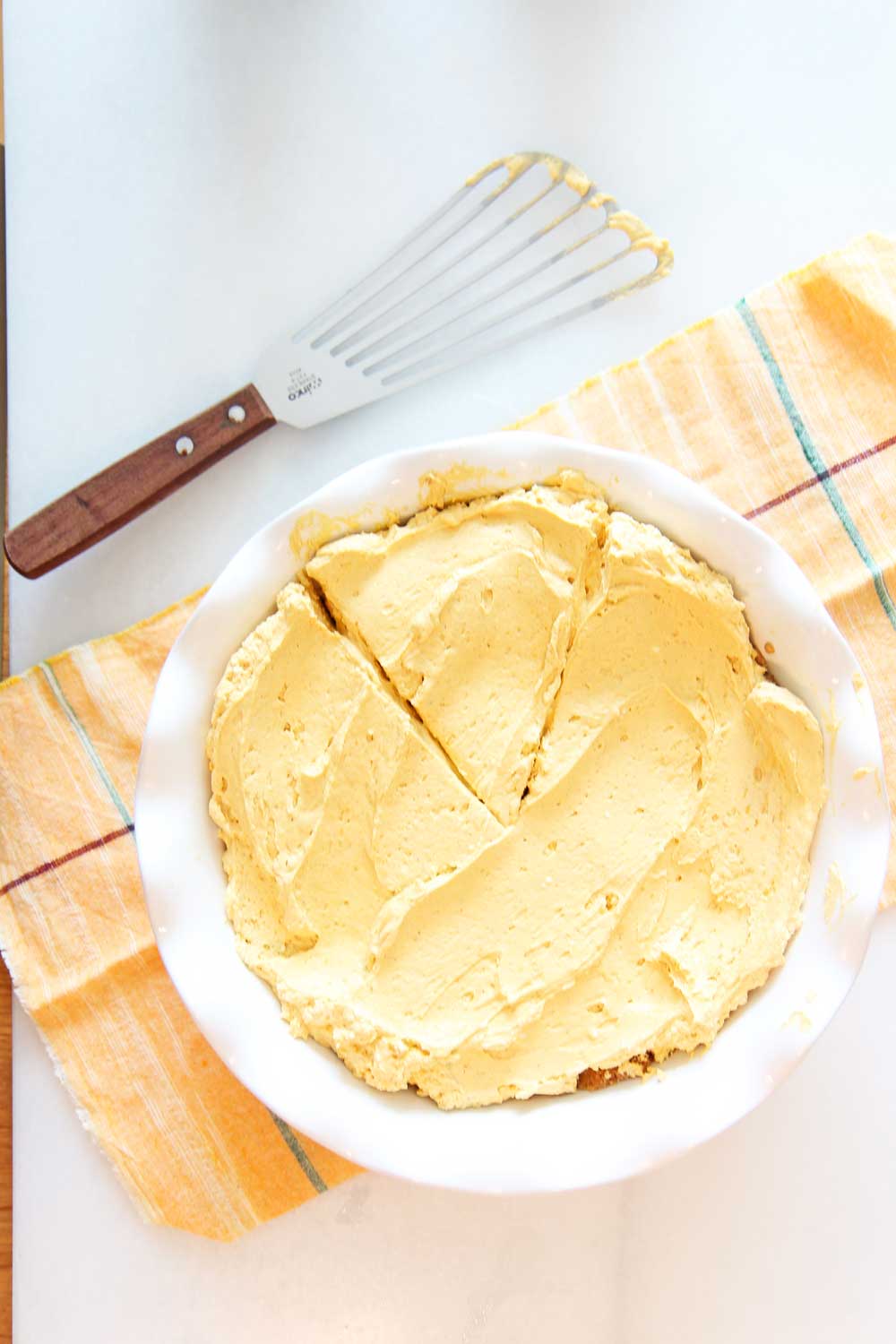 Gratitude Tip While You Cook:
My mission with Chop Happy is to create easy recipe for busy people with a dash of gratitude! Since we all have to be in the kitchen at some point in our day lets use that time to zen out and gain more gratitude.
For the 30 minutes while the pie is in the freezer visualize your dreams as if it is already here. Working on you does not have to be a long drawn out process. It can be as simple as a couple of pages of a motivational book. The perfect book to read to learn more about finding calmness, your dreams and making your wishes a reality is
The Secret!
Read some pages while the house fills with pie joy. Hope this helps you find joy in a crazy day and I am so grateful for you!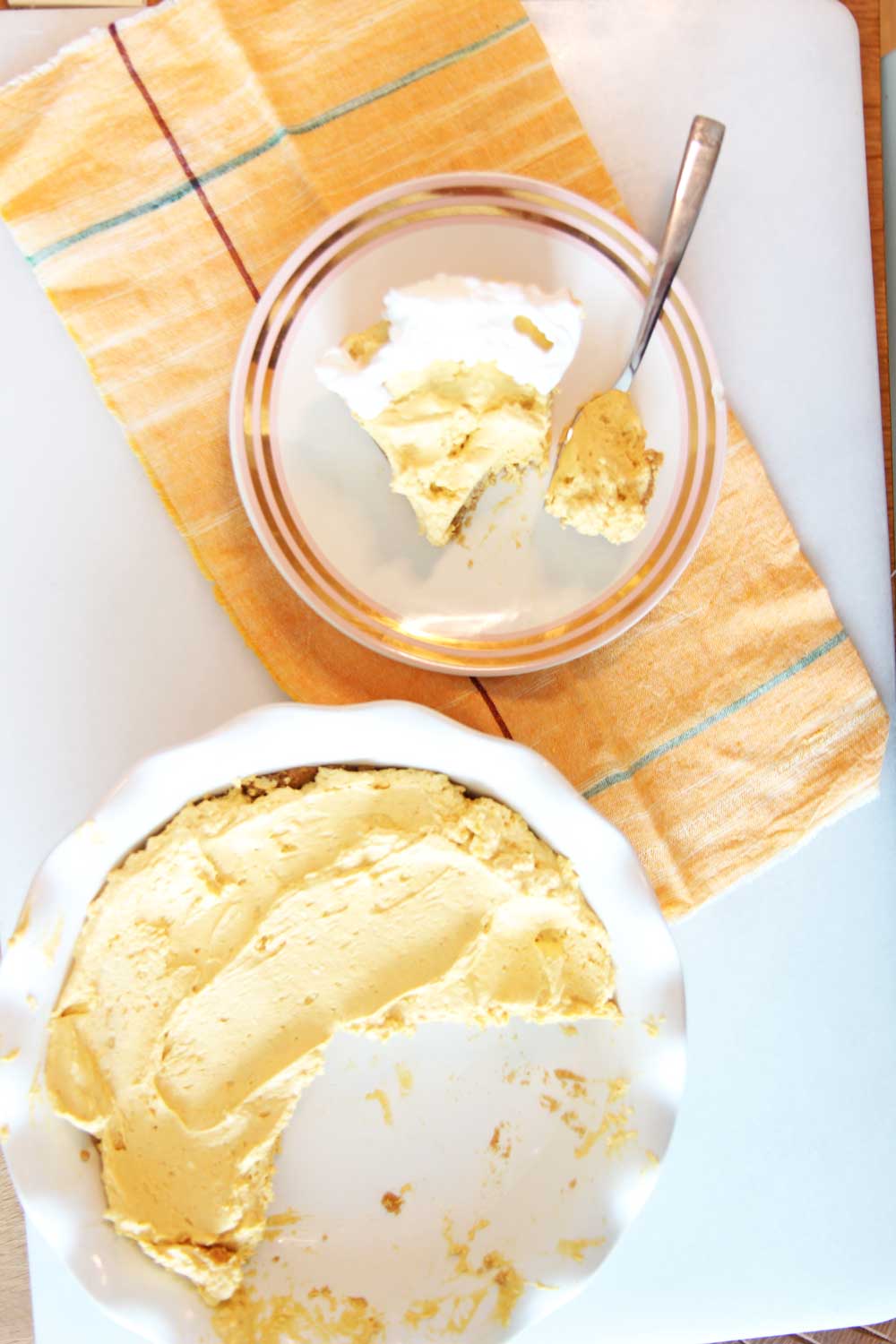 Recipe Hack / Cooking Tips:
No Bake Desserts: If you are baking challenged like me these recipes are for you. Making dessert a couple days in advance so you are not stressed the day of a party.
Make 2 Desserts and Freeze One For Later: When making a pie or cheesecake make 2. Have one that day and freeze one for a quick dessert on a busy day!
Gratitude While Stirring: Use the kitchen as a place for self care. As you stir or chop say what you are grateful for. I do this all the time so that cooking can be a time to recharge.
Watch How To Make No Bake Pumpkin Pie:
No Bake Pumpkin Pie Cheesecake
Ingredients
3 Ingredient Graham Cracker Pie Crust
1 sleeve graham crackers (2 cups blended)
1 stick butter (melted)
1 teaspoon salt
3 Ingredient Pumpkin Pie Cheesecake Filling
8 oz cream cheese (room temperature so easier to mix)
1 can pumkpin pie filling
1 package cool whip (1 cup whipped cream)
Instructions
3 Ingredient Graham Cracker Pie Crust
First, place the graham crackers in the blender and blend until it looks like dry sand.

Next, add butter, salt, and blend again until it looks like wet sand.

Now, place the graham cracker mixture on a pie pan that has been sprayed with non-stick spray.

Next, using your hands form a pie crust shape and then freeze for 30 minutes for the pie shell to set up.

Finally, it is ready for the pie filling!
3 Ingredient Pumpkin Pie Cheesecake Filling
First, mix in a bowl the cream cheese and the can of pumpkin pie filling. Then switch to a whisk and whisk until both ingredients are fully combined.

Next, add whipped cream and fold gently into the mixture until fully combined.

Note: Folding is when you scoop from bottom of bowl and over slowly to make sure your keep air in the mixture so it is fluffy (see video above).

Now, add the pie filling to the pie crust and smooth out the top to fill to pie pan.

Finally, add to the fridge overnight and enjoy!
Other Easy Recipes:
Any question comment below or email! I love helping change the recipe!
(Visited 256 times, 1 visits today)
Subscribe for tasty, free recipes!