Slurping juicy sweet mussels filled with pizza flavored broth is quick dinner bliss.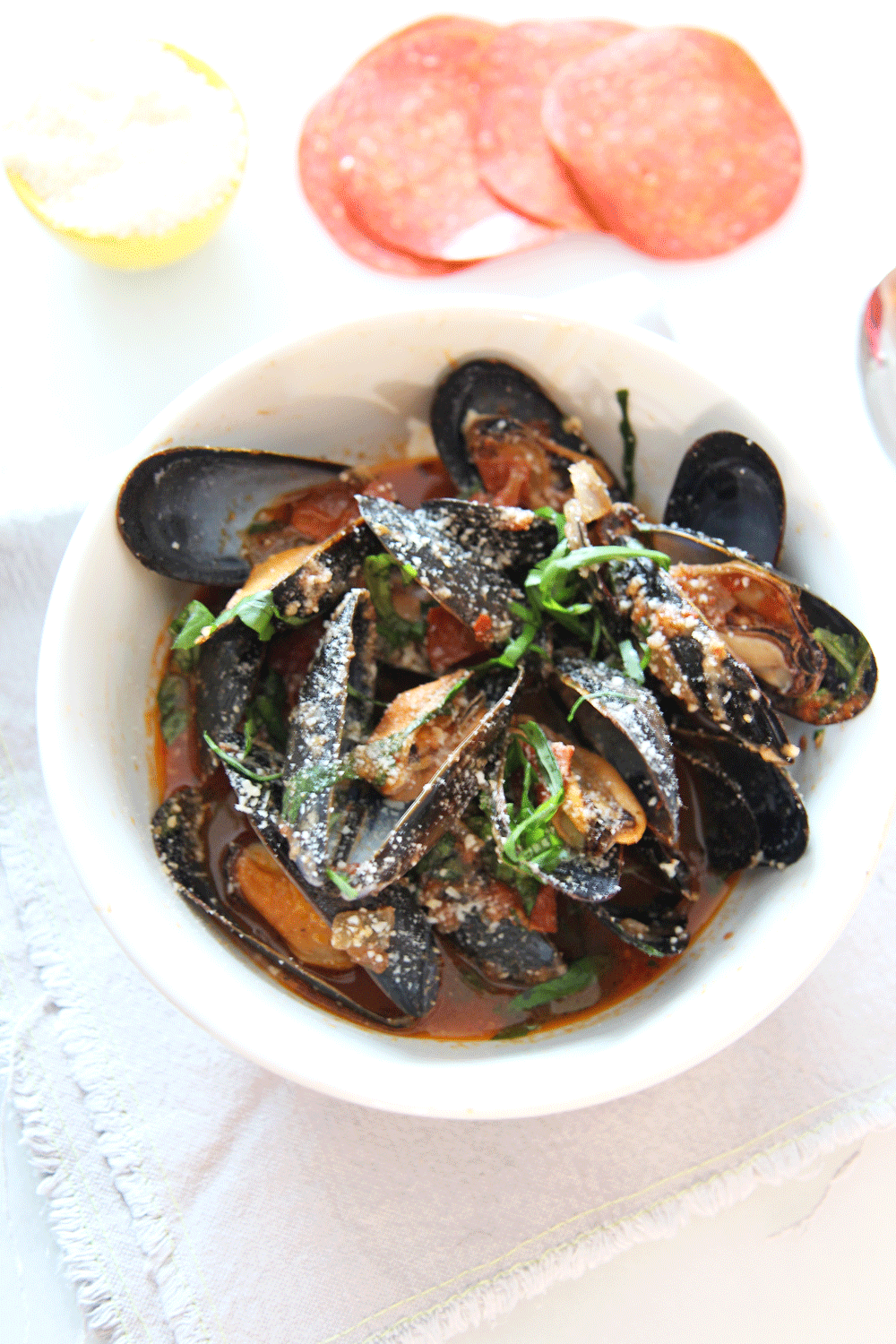 Growing up in NJ, the Goldstein clan would go to the local pizza place all the time. My favorite pizza was always pepperoni and my Mom's favorite was everything pizza. In college (
Quinnipiac
) I would order an entire meatball pizza and soda just for me as I studied. Now, Tom and I order pizza from our favorite pizza place (Joe's Pizza) on Sundays sometimes. So you can say pizza is in my DNA. So when I was creating a mussels recipe I was eating pizza lol! I was like if I use pepperoni as the base and all the seasonings for pizza that could be epic and easy. That is how this quick seafood dinner was born! 
Steps For Cleaning Mussels:
1. Raw mussels are no good! If they are not closed tap the mussel shell and if the mussels close its good to cook! 
2. Next, if there is a beard like substance coming out of the mussels pull it out. It is not edible.
3. Finally, place the mussels in cold water in the sink (with the water running). Do this for 15 minutes and the mussels will spit out sand so you have cleaner mussels! 
4. If there are barnacles on the shell you can brush them off.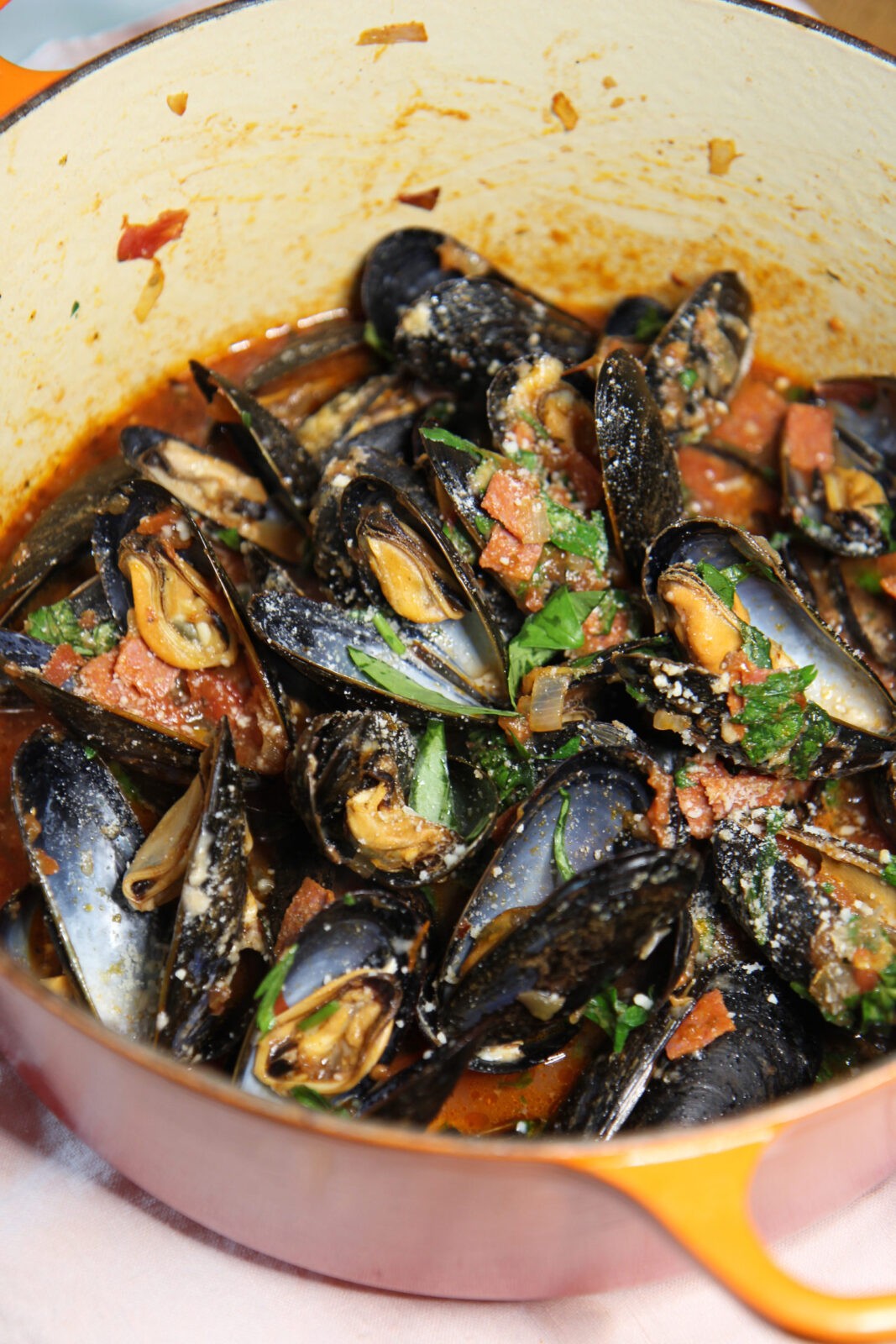 My mission with Chop Happy is to create easy recipe for busy people with a dash of gratitude! Since we all have to be in the kitchen at some point in our day lets use that time to zen out and gain more gratitude. For the 8 minutes while the mussels are cooking go to the couch and think about what is going right or read a book that helps with self care. The perfect book to read a couple pages for inspiration is
The Book of Joy: Everlasting Happiness in a Changing World!
Read some pages while the house fills with summer time pizza smell and find your joy. Hope this helps you find joy in a crazy day and I am so grateful for you!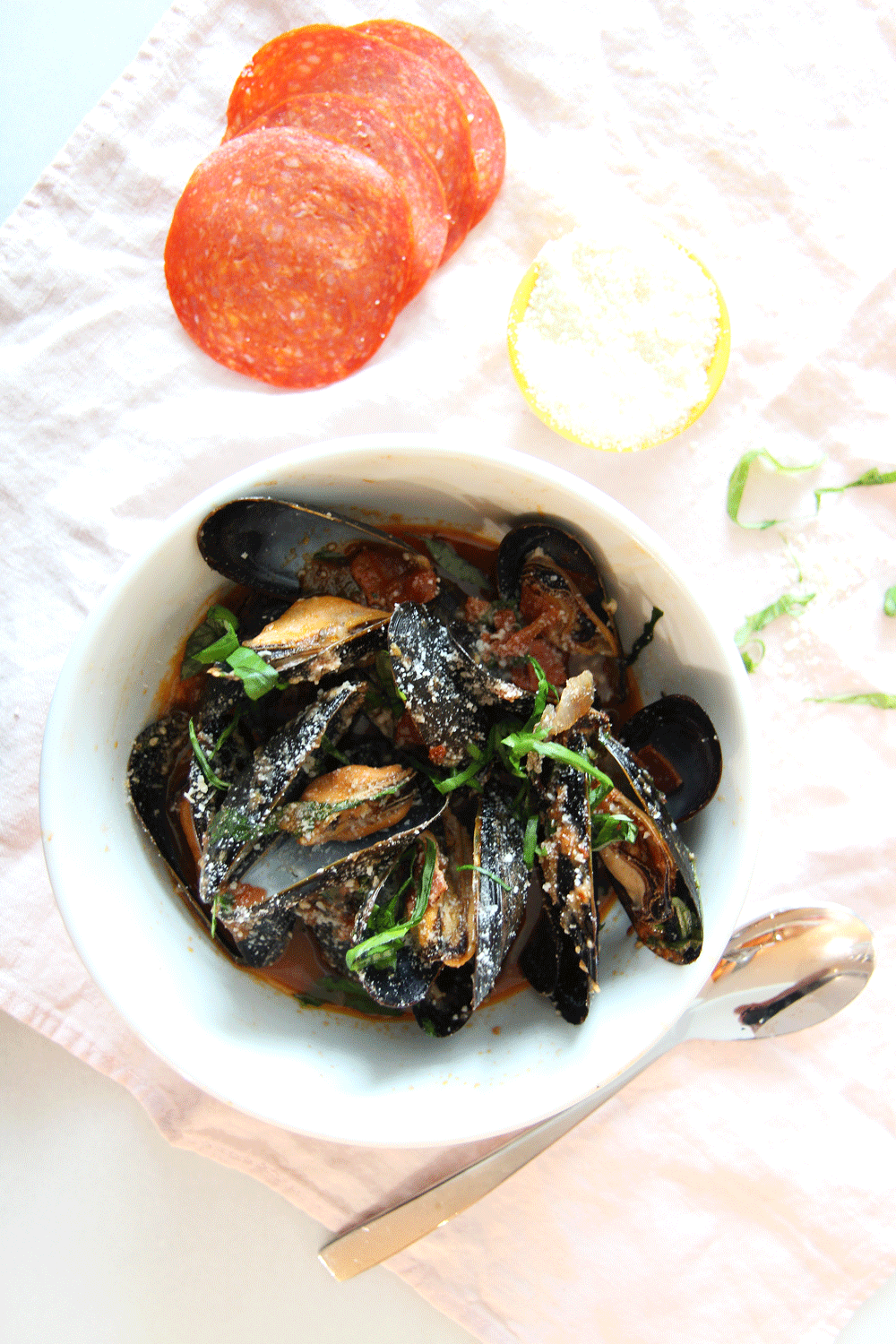 Recipe Hack / Cooking Tips:
Wake Up Dried Herbs: Herbs are sitting in the jar for a long time. To get maximum flavor wake them up to release their oils. Push your food in the pan to the side, add oil, and cooking the dried herbs for 10 seconds. This will make all the difference in flavor of your recipe!
How To Know Herbs Are Fresh: When chopping fresh herbs there should be a fresh herbal smell coming from the cutting board. While chop basil it should have a sweet smell, parsley should smell grassy, and cilantro (if you like it) citrusy. If your herbs are not pungent in their awesome smell switch to dried herbs instead. 
Gratitude While Stirring: Use the kitchen as a place for self care. As you stir or chop say what you are grateful for. I do this all the time so that cooking can be a time to recharge.
Watch How To Make Pepperoni Pizza Mussels: 
How To Make Pepperoni Pizza Mussels
Ingredients
3 pounds mussels (see above for how to clean them)
4 tablespoons extra virgin olive oil
10 slices pepperoni (chopped)
1 shallot (chopped)
1 teaspoon garlic powder
1 teaspoon red pepper flakes
1 teaspoon oregano
1 teaspoon salt
1 teaspoon pepper
1 cup chopped canned tomatoes
2 cups chicken broths
10 basil leaves (chopped)
1 handful parsley (chopped)
1/2 cup Parmesan cheese
1 tablespoon red wine vinegar
Instructions
First, add olive oil, pepperoni, and shallots to a pot on medium heat and cook 2 minutes.

Next, add garlic powder, red pepper flakes, and oregano and stir for 30 seconds to wake up seasoning.

Now, add mussels, salt, pepper, and crushed tomatoes to the pot and stir.

Next, close the lid cook 4 minutes, stir, and then cover and cook 4 more minutes.

Finally, add basil, parsley, parm, and vinegar. Then enjoy!
Other Easy Recipes:
Any question comment below or email! I love helping change the recipe!
My Favorite Ways To Save Money In The Kitchen: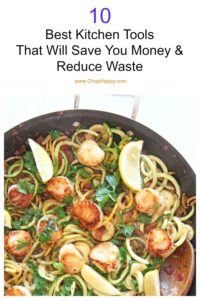 Check Out This book! It changed my life and keeps me centered:
ANY QUESTIONS OR COMMENTS? COMMENT BELOW 🙂
With a grateful heart and an amazing tummy – Jay
(Visited 490 times, 1 visits today)
Subscribe for tasty, free recipes!