This is an easy one pot juicy sausage and peppers rice dinner recipe with awesome leftovers.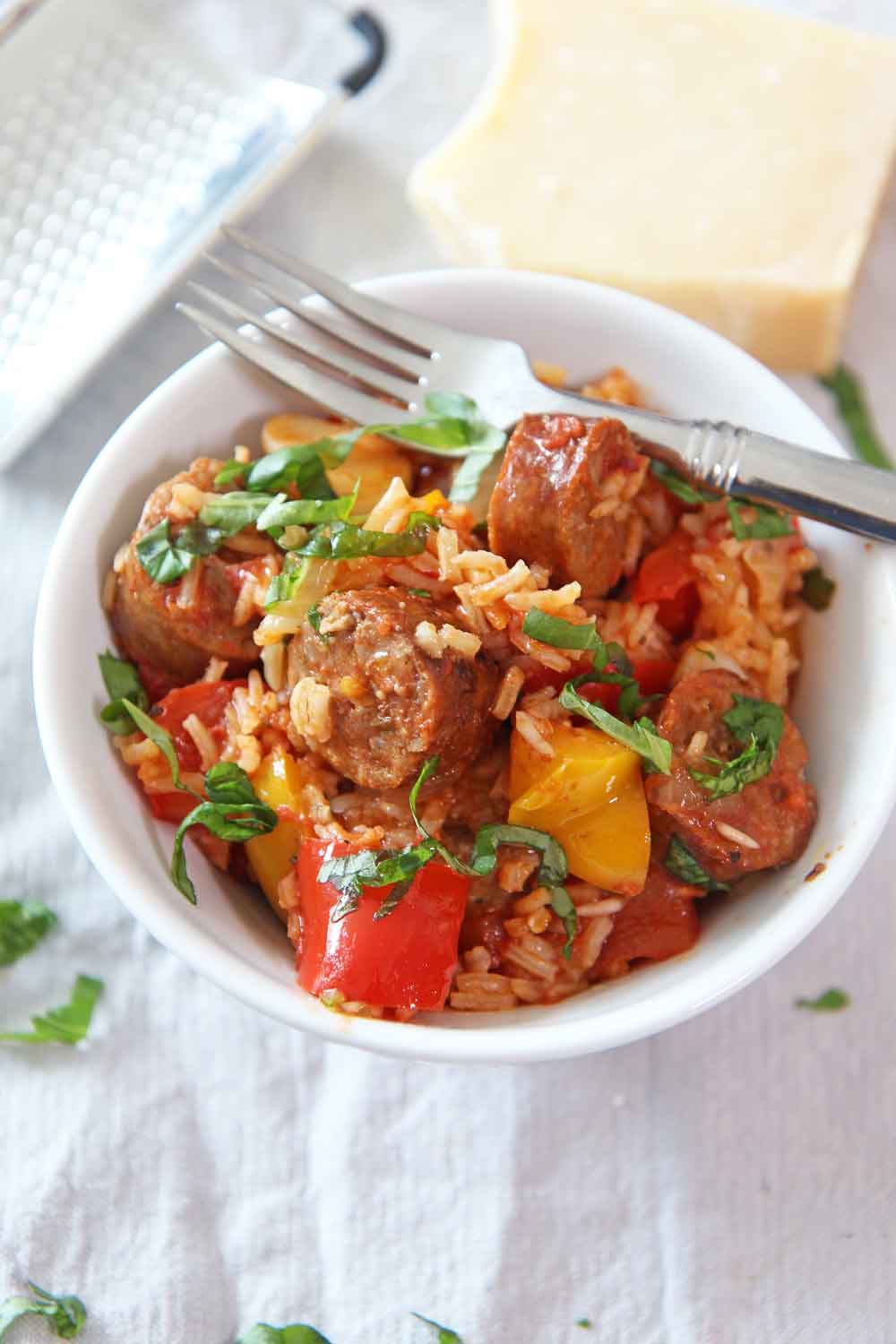 One great thing about growing up in NJ is the awesome mom and pop Italian restaurants. If your from Jersey we call it a sub or hero and one of my favorites is a sausage and pepper sub! When I moved to Connecticut to go to college at Quinnipiac they called it a grinder. I remember ordering my first sub with my new roommates and looking at the paper menu (it was the 90's you had to call to order food lol) and seeing a grinder section. I though they must grind up the meat lol! Anyway, sausage and peppers on a roll is always comfort food heaven to reward you for working hard. Now because getting dinner on the table fast is important I wanted to find a way to have my favorite sub for dinner with leftovers. I combined the technique from my
rice and beans recipe
to make a sweet and spicy one pot rice dish. I hope you love this recipe and what do you call your sausage and pepper sandwich?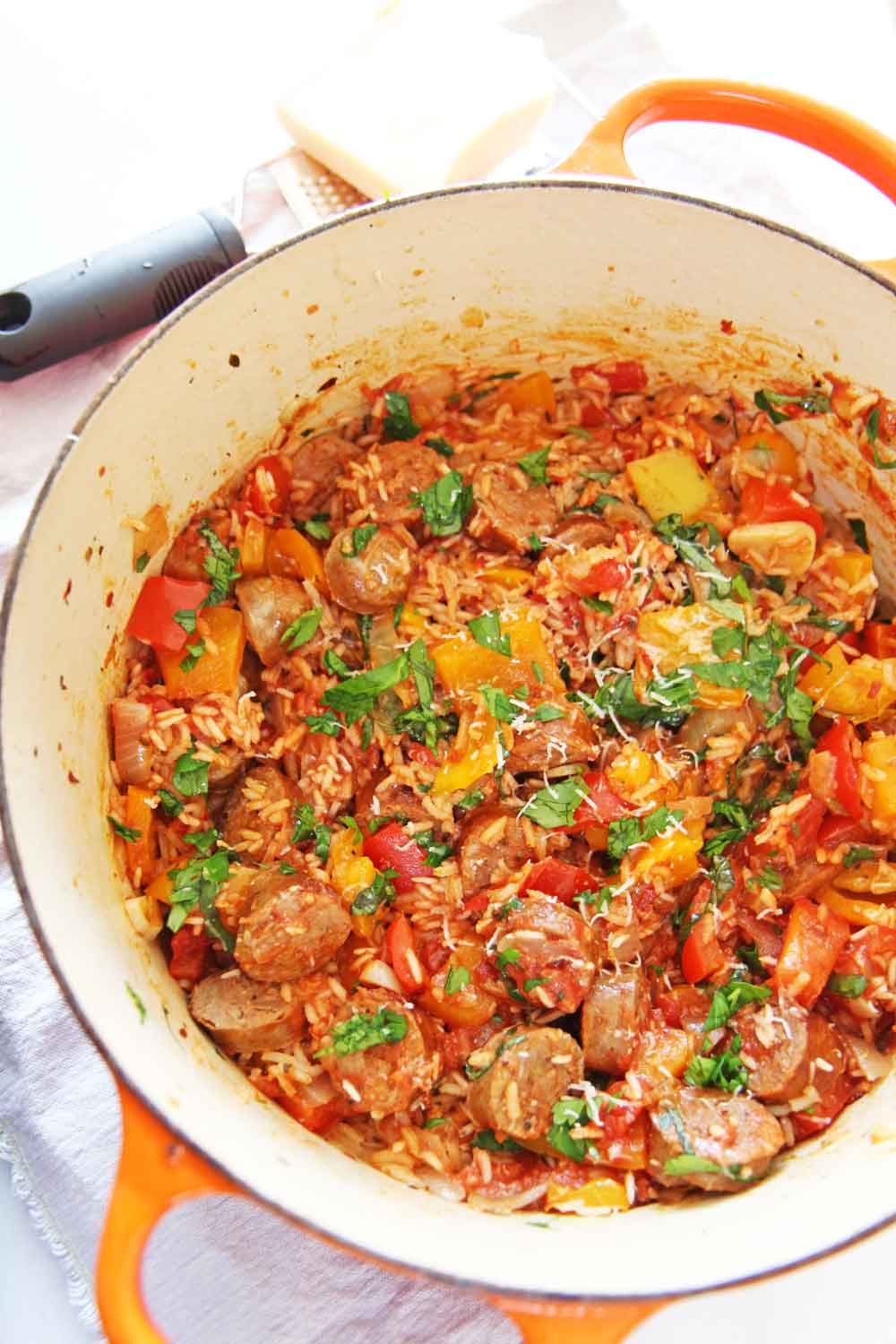 My mission with Chop Happy is to create easy recipe for busy people with a dash of gratitude! Since we all have to be in the kitchen at some point in our day lets use that time to zen out and gain more gratitude.
This is the book from the video above. It is filled with amazing quotes and sayings to add sunshine to your life!  The perfect book to read to learn more about finding calmness, your dreams and making your wishes a reality is
Allways Be Yourself Unless You Can Be A Unicorn!
Read some pages while the house fills with sausage joy. Hope this helps you find joy in a crazy day and I am so grateful for you!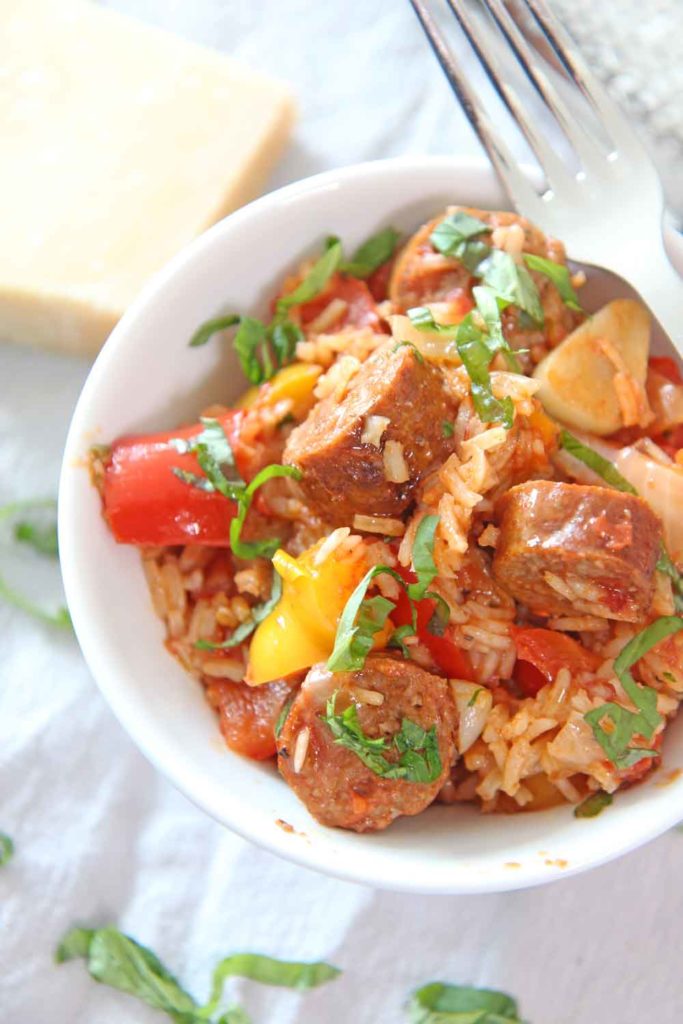 Recipe Hack / Cooking Tips:
Flavorful Rice: I always use chicken broth instead of water to cook my rice. This is a way to get extra flavor in the rice before even doing something! I also do this to boil potatoes for potato salad or mashed potatoes! 
Parmesan Rind: Save your parmesan rind! I add it to soups, stews, and sauces that simmer for 20 minutes or longer. It releases a deep rich earthy salty background flavor that makes your food extra yum.
Gratitude While Stirring: Use the kitchen as a place for self care. As you stir or chop say what you are grateful for. I do this all the time so that cooking can be a time to recharge.
Watch How To Sausage and Pepper Rice (plus pepper hack):
How to Make Sausage and Pepper Rice
Ingredients
3 tablespoons olive oil
1/2 pound sweet Italian sausage links
1/2 pound spicy Italian sausage links
1 onion (chopped)
3 bell peppers (chopped)
4 cloves garlic (sliced)
1 teaspoon dried oregano
1 teaspoon garlic powder
1/4 teaspoon red pepper flakes
1 teaspoon salt and pepper
1 cup jasmine rice
1 1/2 cup chicken broth
1 can crushed tomatoes
1 chunk parm rind (optional)
10 basil leaves (chopped)
1 tablespoon red wine vinegar
1/4 cup parm cheese (grated)
Instructions
First, add oil to a medium high pot and place sausage links in the pot. Spread out so the sausage browns and not steams. Cook for 3 minutes per side, take the sausage links out of pot and cut in coin like chunks (reserve to the side).

Next, add onions, peppers, garlic powder, oregano, red pepper flakes, and salt/pepper to the pot. Stir and let cook 2 minutes.

Now, add garlic and put sausage back into the pot. Stir 30 seconds to cook the garlic.

Next, add the broth, canned tomatoes and bring to boil and reduce to simmer. Cover and cook 20 minutes or until rice cooked.

Finally, stir in basil, red wine vinegar, and parm cheese. Enjoy!
Other Easy Recipes:
Any question comment below or email! I love helping change the recipe!
(Visited 518 times, 1 visits today)
Subscribe for tasty, free recipes!