This is a fun way to celebrate Hanukkah with your holiday cookie cutters!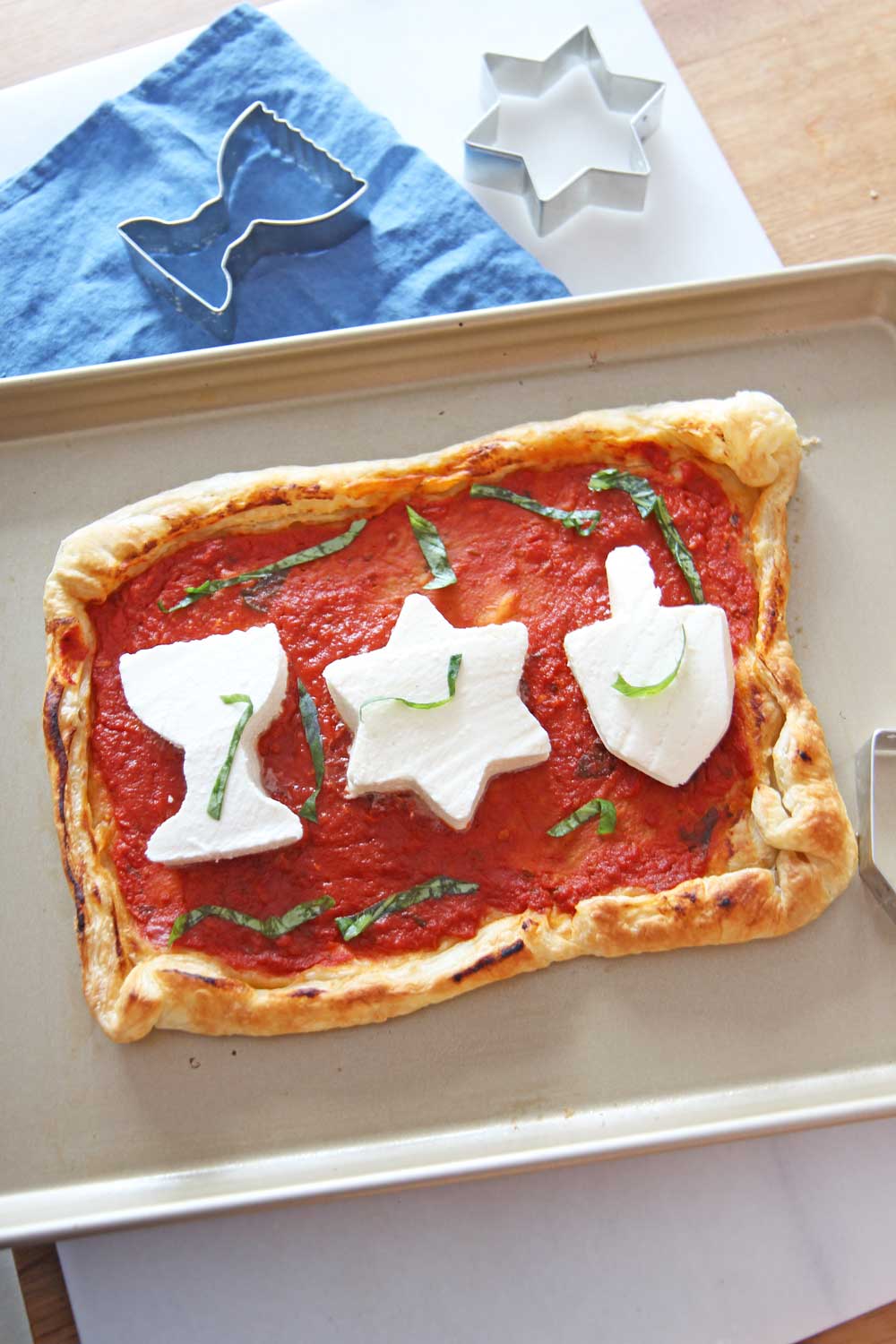 This is dedicated to my Hanukkah when I was a kid growing up in NJ. My mom always made the holidays special! We would decorate, eat her famous
brisket
and
potato latkes
, and do fun Hanukah activities. This is a great way to use your Hanukkah cookie cutters to make pizza. I use the cookie cutter to cut out festive shapes with mozzarella and top it on cooked puff pastry. This is culinary arts and craft you can eat. I love the story of Hannukah because its shows what is possible in the impossible! Thet only had enough oil to burn one night but the oil lasted 8 days! This is a great metaphor for life now. Sometimes we think our possibilities are limited but miracles happen. You can dream as far as you can and expect the happy unexpected! Hope you have an amazing Hanukkah and I am so grateful for you!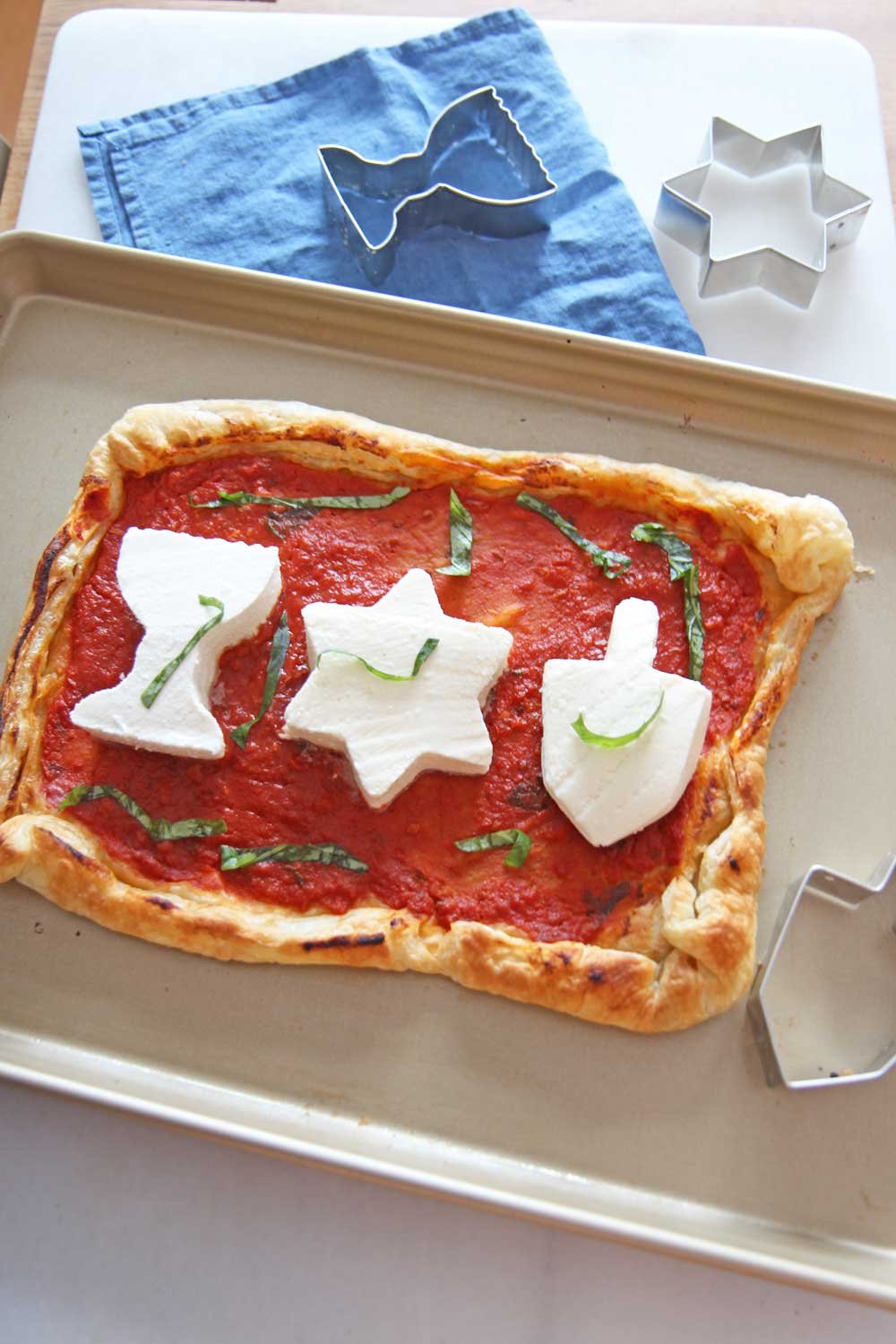 Gratitude Tip While You Cook:
My mission with Chop Happy is to create easy recipe for busy people with a dash of gratitude! Since we all have to be in the kitchen at some point in our day lets use that time to zen out and gain more gratitude.
For the time the turkey cooks visualize your dreams as if it is already here. Working on you does not have to be a long drawn out process. It can be as simple as a couple of pages of a motivational book. The perfect book to read to learn more about finding calmness, your dreams and making your wishes a reality is
The Secret!
Recipe Hack / Cooking Tips:
Make Sure Puff Pastry is Cold: Puff pastry is over 200 layers of butter. I would put pastry in fridge 20-30 minutes before putting in the oven. When the butter is cold it steams in the oven pushing the pastry. This gives it its signtaure puffy airy texture! It is culinary magic
Buy Your Marinara: I have fun recipes for homemade marinara but oil a busy work week there are allot of amazing jarred marinara. This saves time and extra dishes to watch! 
Gratitude While Stirring: Use the kitchen as a place for self care. As you stir or chop say what you are grateful for. I do this all the time so that cooking can be a time to recharge.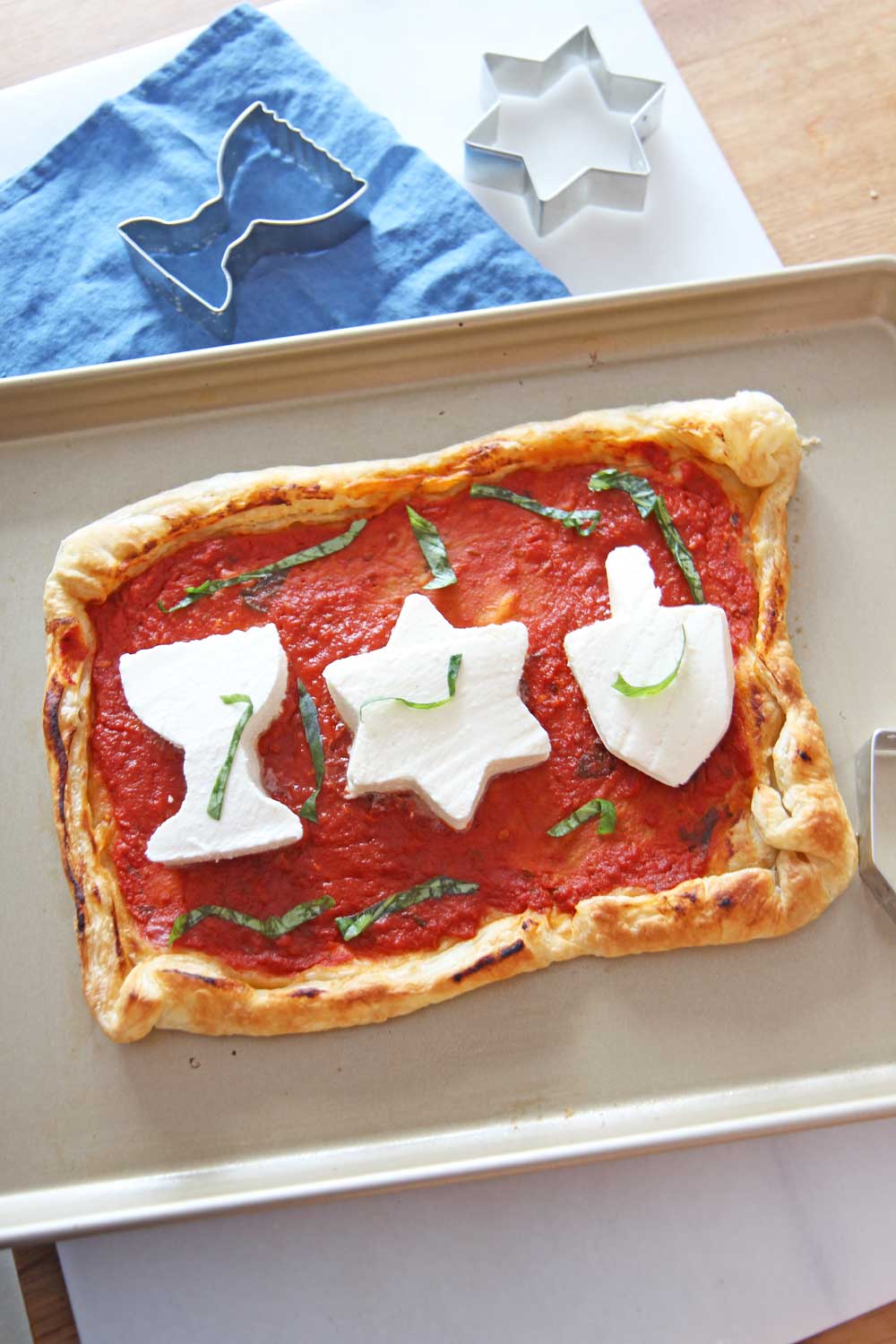 Watch How To Make This Hanukkah Pizza:
Hanukkah Puff Pastry Pizza
Ingredients
1 sheet puff pastry
1/2 cup jarred marinara
1 ball mozzerella (cut into thick slices)
10 basil leaves (chopped)
olive oil spray
Instructions
Preheat the oven to 400 degrees and spray the sheet pan with olive oil spray.

First, using your Hannukah cookie cutters, cut out the Hanukkah shapes in the mozzerella slices. Set aside for later use.

Next, place the puff pastry on the sheet pan and roll out to 2 inches more on all sides (see the video above). TIP: Use a glass to roll out puff pastry if you do not have a rolling pin.

Now, place sheet pan in the fridge for 30 minutes or overnight so the puff pastry is cold when goes in the oven. Note: Puff pastry is layers of butter. When the butter hots the hot oven its steams and pushes up the layers of pastry to make a light fluffy texture.

Next, take the sheet pan out of the fridge and crimp the edges to create a 1 inch boarder. Also, using a fork prick the inside area of puff pastry so the middle does not rise (only the edges rise to create picture frame look).

Now, pour the marinara in the center and spread out. Put in the oven for 20 minutes on the middle rack. Check at 15 so puff pastry does not burn.

Finally, let puff pastry cool, add the mozzerella Hanukkah shapes in a row to the puff pastry, and sprinkle with basil!

Happy Hannukah and Grateful for you!
Other Easy Recipes:
Any question comment below or email! I love helping change the recipe!
(Visited 330 times, 1 visits today)
Subscribe for tasty, free recipes!