This is a super herbaceous and easy shrimp and broccoli salad with a fun hack!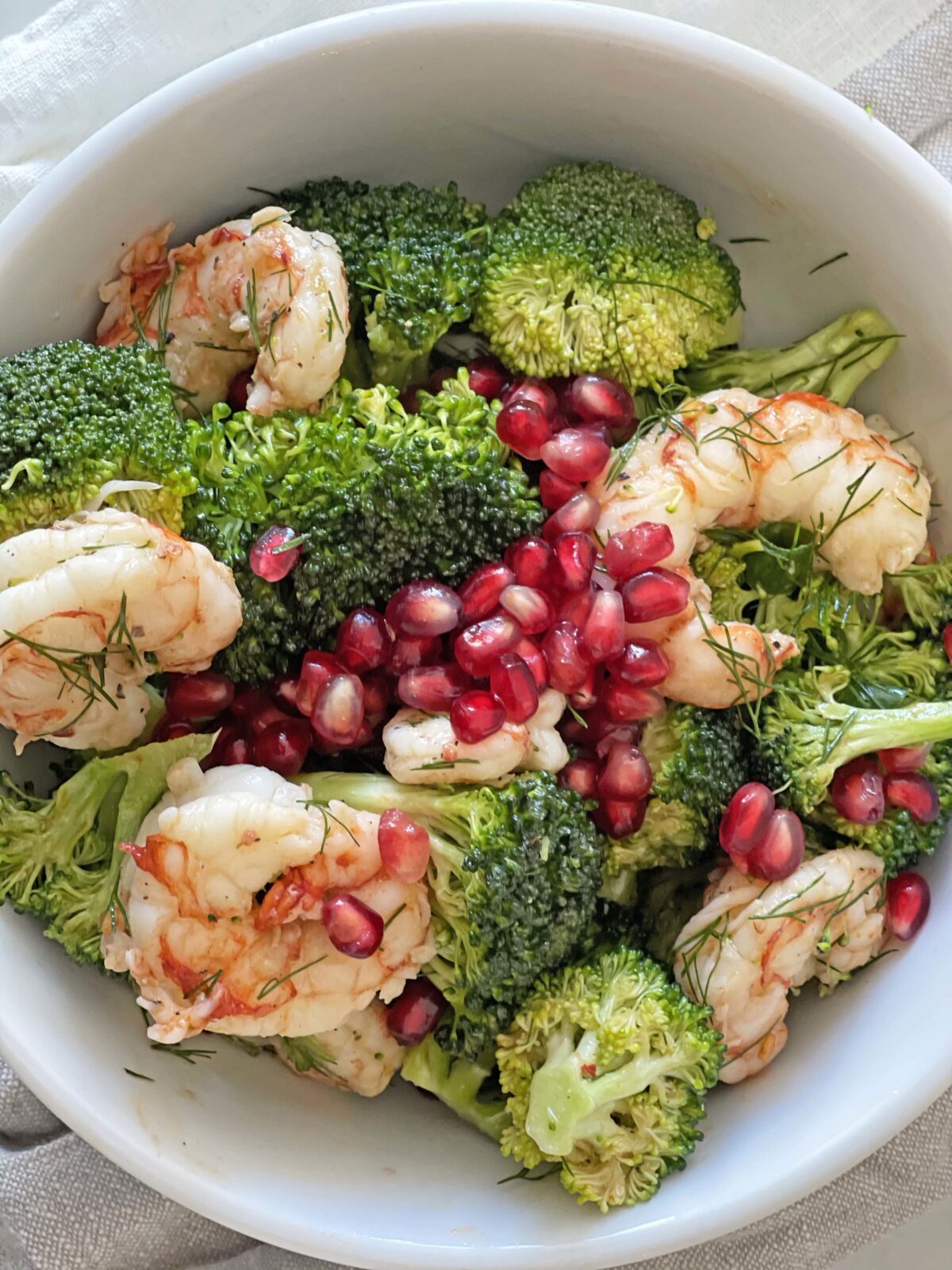 Broccoli is a veggie bouquet that you give your family when you make it for dinner. For Tom you also have to include a protein so in his bouquet is shrimp lol. It might surprise you know how much I love
salad
!!! One of my favorite things to eat is from when I went to school in Connecticut at
Quinnipiac
, a
Claires Corner Copia
salad with extra extra croutons. So making this is pure joy! Also, in true Chop Happy style it is super simple. Everything goes in a bowl with tangy dijon dressing and you mix it up for an easy dinner! In fact this get better every day in the fridge. Also, I even save some steps by not coking the broccoli, doing a defrost shrimp hack, and sometime I even use store bought dressing! Hope you love this recipe and I am always grateful for you! Happy Cooking!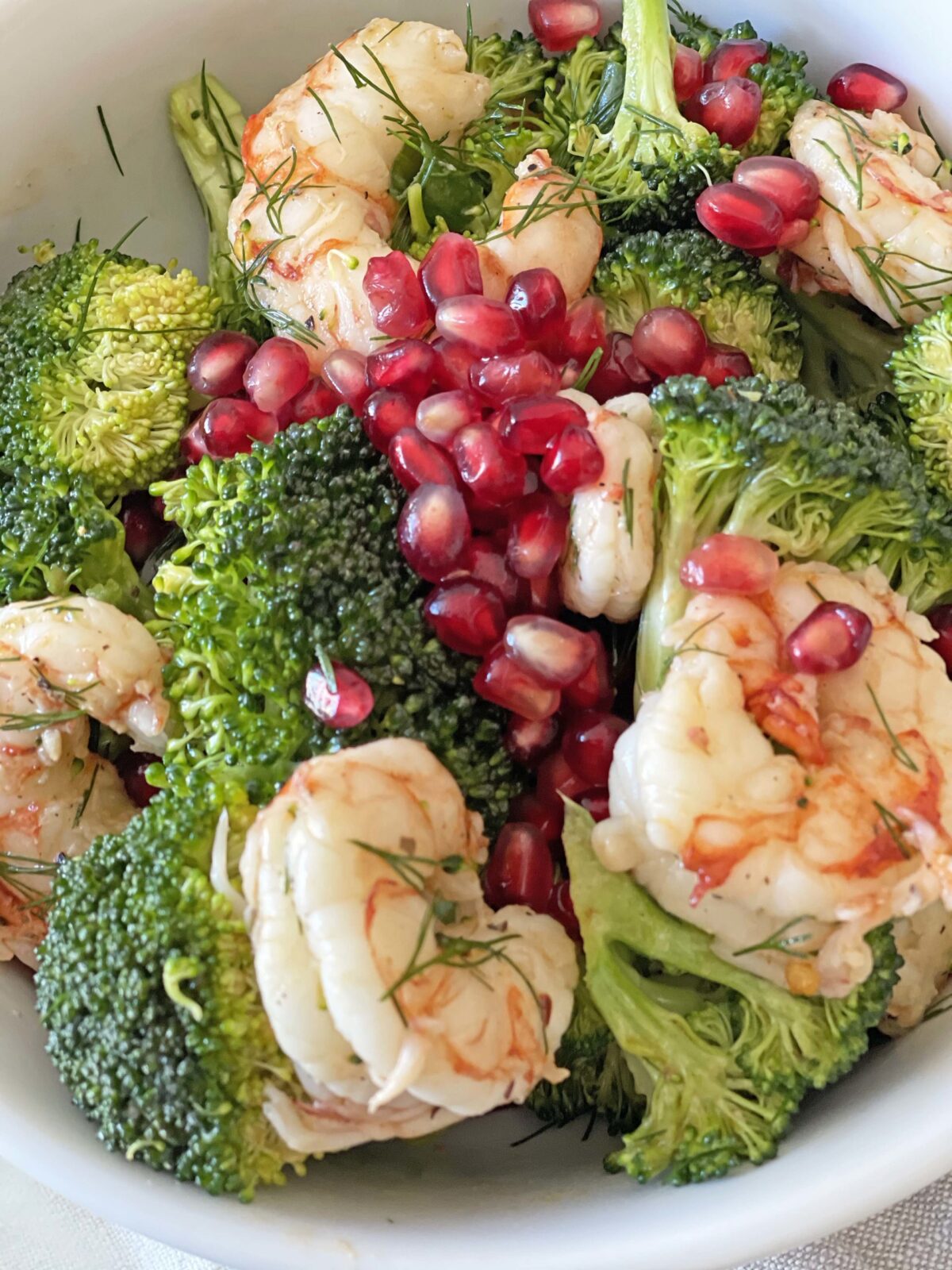 Gratitude Tip While You Cook:
My mission with Chop Happy is to create easy recipe for busy people with a dash of
gratitude
! Since we all have to be in the kitchen at some point in our day lets use that time to zen out and gain more gratitude.
For the time the shrimp cooks visualize your dreams as if it is already here. Working on you does not have to be a long drawn out process. It can be as simple as a couple of pages of a motivational book. The perfect book to read to learn more about finding calmness, your dreams and making your wishes a reality is
The Secret!
Time Saving Dinner Hacks / Cooking Tips:
Nothing Wrong With Store Bought: When I am in a rush and it is a super busy week I buy store bought dressing for sure. Pick one you like and put it in the fridge! 
Perfect Cooked Shrimp: Place Shrimp on a sheet pan with olive oil salt and pepper. Spread out so it does not shrimp and cook on middle rack 10 minutes at 400 degrees. Perfect for Shrimp Salad, Shrimp Panzanella, or Summer Shrimp Grilled Cheese! 
Gratitude While Stirring: Use the kitchen as a place for self care. As you stir or chop say what you are grateful for. I do this all the time so that cooking can be a time to recharge.
Watch How To Make Shrimp and Broccoli Salad (approx 1 minute video):
Easy Shrimp and Broccoli Salad
Ingredients
1 Head of Broccoli (florets)
1/2 cup pomegranates
1 handful dill (chopped)
4 scallions (chopped)
1 teaspoon salt and pepper
1 teaspoon garlic powder
Shrimp Ingredients:
2 pounds shrimp
3 tablespoons extra virgin olive oil
1 teaspoon salt and pepper
1 teaspoon garlic powder
Dressing ingredients:
1 tablespoon Dijon mustard
2 teaspoons apple cider vinegar
1 lemon (juice)
1 teaspoon salt and pepper
1/2 teaspoon red pepper flakes
1 teaspoon garlic powder
1/2 cup extra virgin olive oil
Instructions
First, mix all the shrimp imgredients and place on sheet pan and spread the shrimp out so they roast not steam. Cook on the middle rack for 10 minutes.

Next, wisk all the dressing ingredients in a bowl and then add the shrimp, broccoli, dill, pomegrantes, and scallions on top of the dressing.

Now, sprinkle the veggies with salt, pepper and garlic powder then mix with dressing to combine.

Finally, leave in fridge overnight for flavors to marry and enjoy!
Other Easy Recipes:
(Visited 368 times, 1 visits today)
Subscribe for tasty, free recipes!