This is a super easy way to get perfect roasted garlic and bonus garlic olive oil!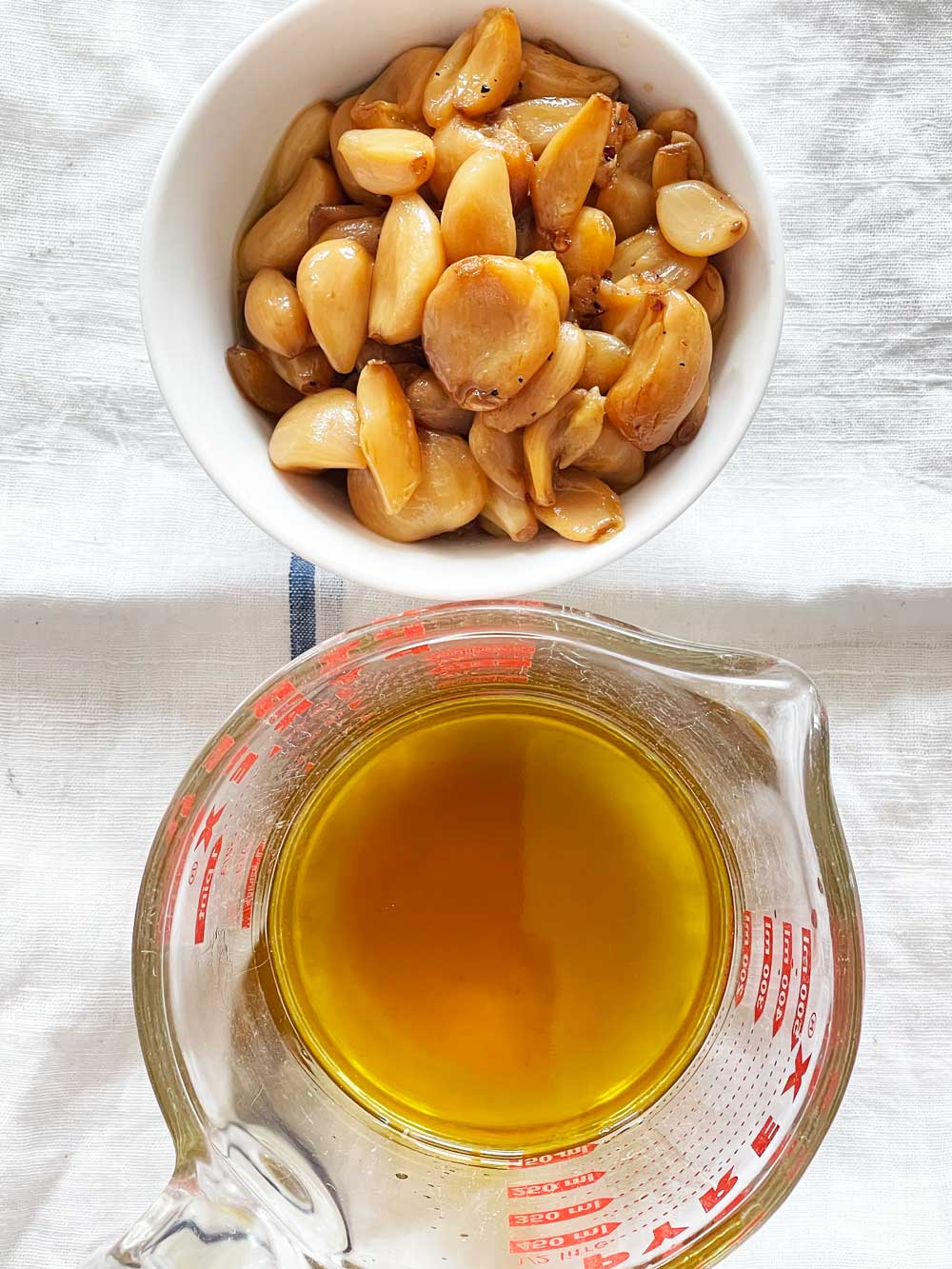 When a recipe asks for 1 clove of garlic I translate that into 20 cloves lol! First of all, 
Rolls-Royce
of garlic is definitely roasted garlic. It is super simple to make
the traditional way
but in a slow cooker you can make tons of it and also end up with garlic oil too! I love taking the roasted garlic and shemearing it all over crusty bread, using it instead of regular garlic in
traditional garlic bread
. My favorite part of this recipe is you set it and forget it because its in a slow cooker. The house smells soooo good. This recipe went viral on
TikTok
and now I am obsessed with it!  What is your favorite garlic recipe? Hope you love this recipe and I am always grateful for you! Happy Cooking!
Gratitude Tip While You Cook:
My mission with Chop Happy is to create easy recipe for busy people with a dash of
gratitude
! Since we all have to be in the kitchen at some point in our day lets use that time to zen out and gain more gratitude.
For the time the garlic cooks visualize your dreams as if it is already here. Working on you does not have to be a long drawn out process. It can be as simple as a couple of pages of a motivational book. The perfect book to read to learn more about finding calmness, your dreams and making your wishes a reality is
The Secret!
Time Saving Dinner Hacks / Cooking Tips:
Nothing Wrong With help from the Store: I totally buy the bags of peeled garlic so less work. That time not peeling you can read an inspirational book! 
Gratitude While Stirring: Use the kitchen as a place for self care. As you stir or chop say what you are grateful for. I do this all the time so that cooking can be a time to recharge.
Watch How To Roast Garlic in the Slow Cooker  (approx 1 minute video):
How to Make Roasted Garlic in a Slow Cooker
Ingredients
2 cups garlic cloves (2 bags peeled garlic)
1 cup extra virgin olive oil (or enough to cover the garlic cloves)
1 teaspoon salt/pepper
1/2 teaspoon red pepper flakes
Instructions
First, place all the ingredients in a slow cooker and mix to combine.

Next, turn slow cooker on high for 5 hours.

Now, scoop out garlic and pour oil in jar to use as garlic oil.

Finally, if want to store for later seperate into 3 ziplock bags and freeze up to 6 month.
Other Easy Recipes:
(Visited 533 times, 1 visits today)
Subscribe for tasty, free recipes!