French onion soup is layers of sweet heart comfort food love flavors. Its actually super simple and like risotto you can zen out and stir the onions as a form of cooking meditation.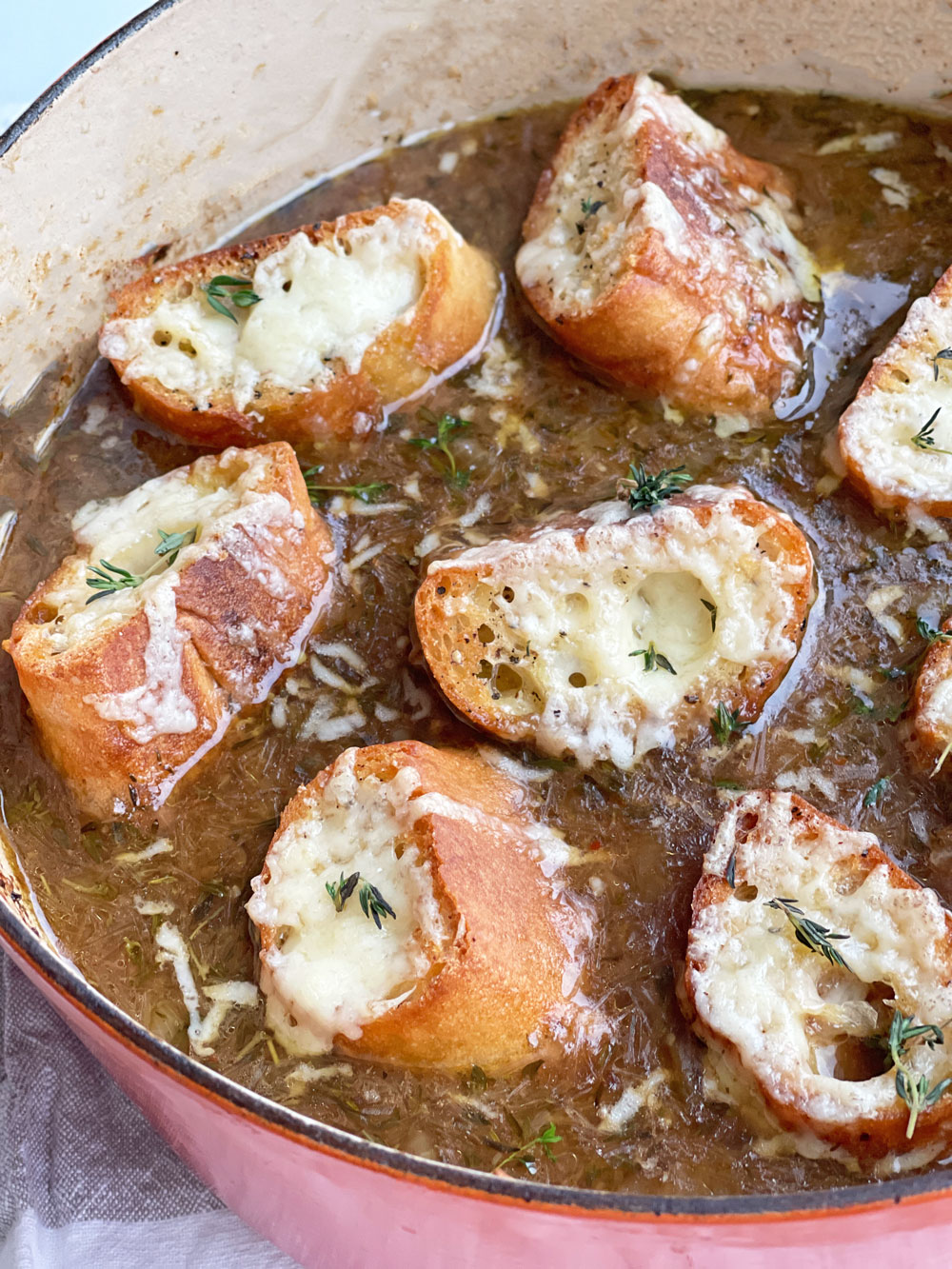 Tips to Perfect Caramelized Onions:
1. Slice the onions thin. The thinner the onions the less time it takes to caramelize.
2. Even if you fill the pot with onions at the end it will be a small layer at the bottom. So cut as much as you can of onions so you get lots of onions in your soup.
3. Season, season, and season! Big pinch of salt, lots of pepper, and lots of fresh thyme makes the sweet onion have a great tang. After the onions brown taste again to see if needs more salt or pepper. This is the star of your soup and will flavor your broth.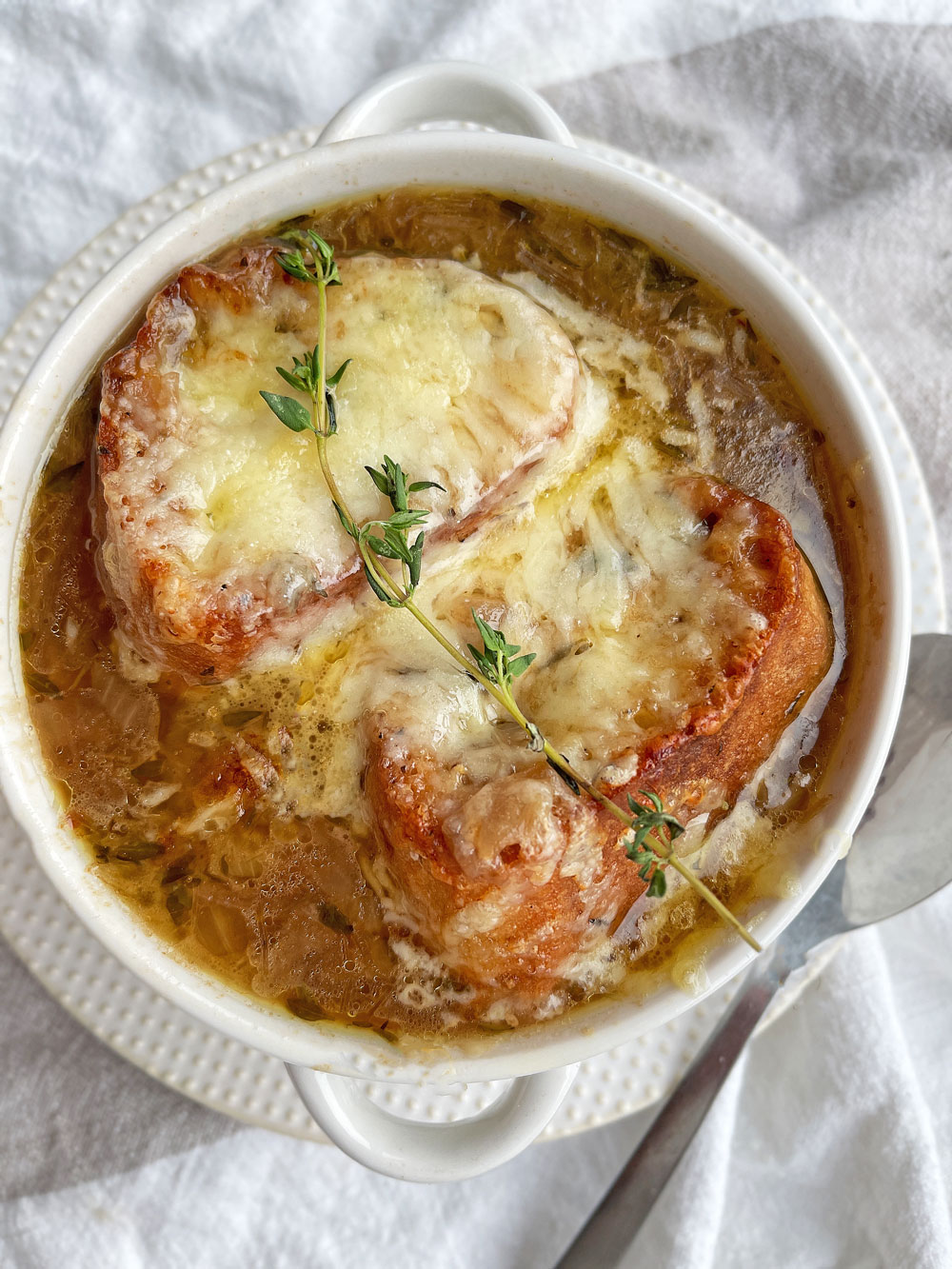 My mom would tell me how much my dad loved French Onion Soup. If it was on the menu he would order it! When he finally got to go to Paris he ate this soup for breakfast, lunch, and dinner. So this recipe is dedicated to him. He gave me my grateful attitude and every time I have this soup I am so grateful for all he taught me.
While the soup cooks do something for you that makes you grateful! Read a book, watch TV, or just stare at the ceiling. Even if its just a minute that is still time you devote to you! Happy Cooking!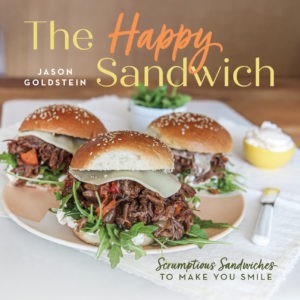 How to Make French Onion Soup
Ingredients
3 pounds onions
1 tablespoon fresh thyme (chopped)
2 teaspoons salt
2 teaspoons pepper
4 tablespoons butter (divided)
1 tablespoon flour
3 tablespoons extra virgin olive oil
3 cloves garlic (chopped)
1/4 teaspoon red pepper flakes
1/2 cup red wine
12 cups beef broth
2 tablespoons red wine vinegar
1 teaspoon soy sauce
2 cups gruyere cheese (grated)
1/2 baguette (sliced and toasted with oil salt and pepper)
Instructions
First, place butter, olive oil, onions, thyme, salt, and pepper in a pot on medium heat.

Now, stir occasionally as the onions cook down. The onions will fill your pot in the beginning and as it caramilizes will be just a layer at bottom of the pot. This takes 40 minutes.

Also, add 2 tablespoons butter and flour and cook 2 minutes.

Next, add the garlic and saute for 1 minute. Taste the onions to see if needs more seasoning add to taste (I usually add 1 teaspoon salt and a couple turns of pepper mill).

Now, add wine and reduced by 1/2. Only takes 2-3 minutes.

Next, add the beef broth, red wine, and soy sauce. Raise the heat to boil and then reduce to simmer for 30 minutes.

Now, while the soup cooks add gruyeere cheese to the sliced baugettes and toast until melted. Set aside till soup is done.

Finally, taste the soup for seasoning. I place cheesy bread floating in the soup pot. This makes it less work but you can pour soup into small bowls, add bread, add cheese and melt each in oven too!
Easy Recipes With Very Little Clean Up:
Any question comment below or email! I love helping change the recipe!
(Visited 201 times, 1 visits today)
Subscribe for tasty, free recipes!