This is an easy potato Parmesan dinner that is saucy and cheesy!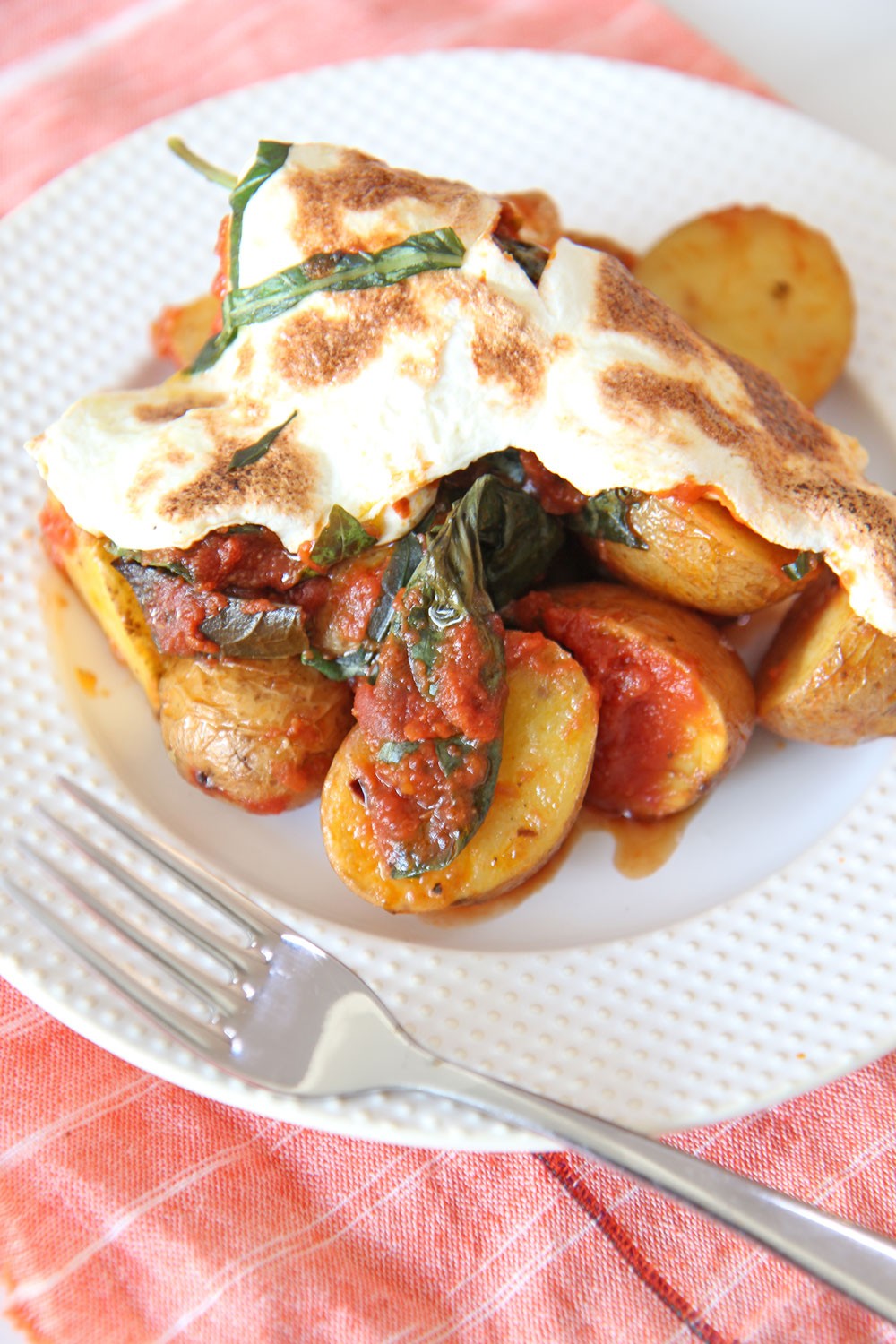 This is dedicated to Thursdays growing up in NJ! Mama Goldstein is a healthy cook (except Holidays)! So one time a week she allowed me anything I wanted to eat. Usually, I would choose something to eat with the last name Parmesan.
Meatball Parmesan
,
eggplant parmesan,
or
chicken Parm
. Later in life I realized that these weeknight indulgent meals were a lesson in themselves. Don't wait till the weekend to celebrate life. Eating something mid week gave me something to look forward to other then Friday-Sunday! This is an amazing tradition with available lesson. We need to treat ourselves every once in a while. Do something fun on a Tuesday. Eat something indulgent on Thursday. Finally, use the kitchen as a time to self reflect on what went right today! Happy cooking and hope you love this Potato Parmesan recipe. Its sooo cheesy, saucy, and decadent.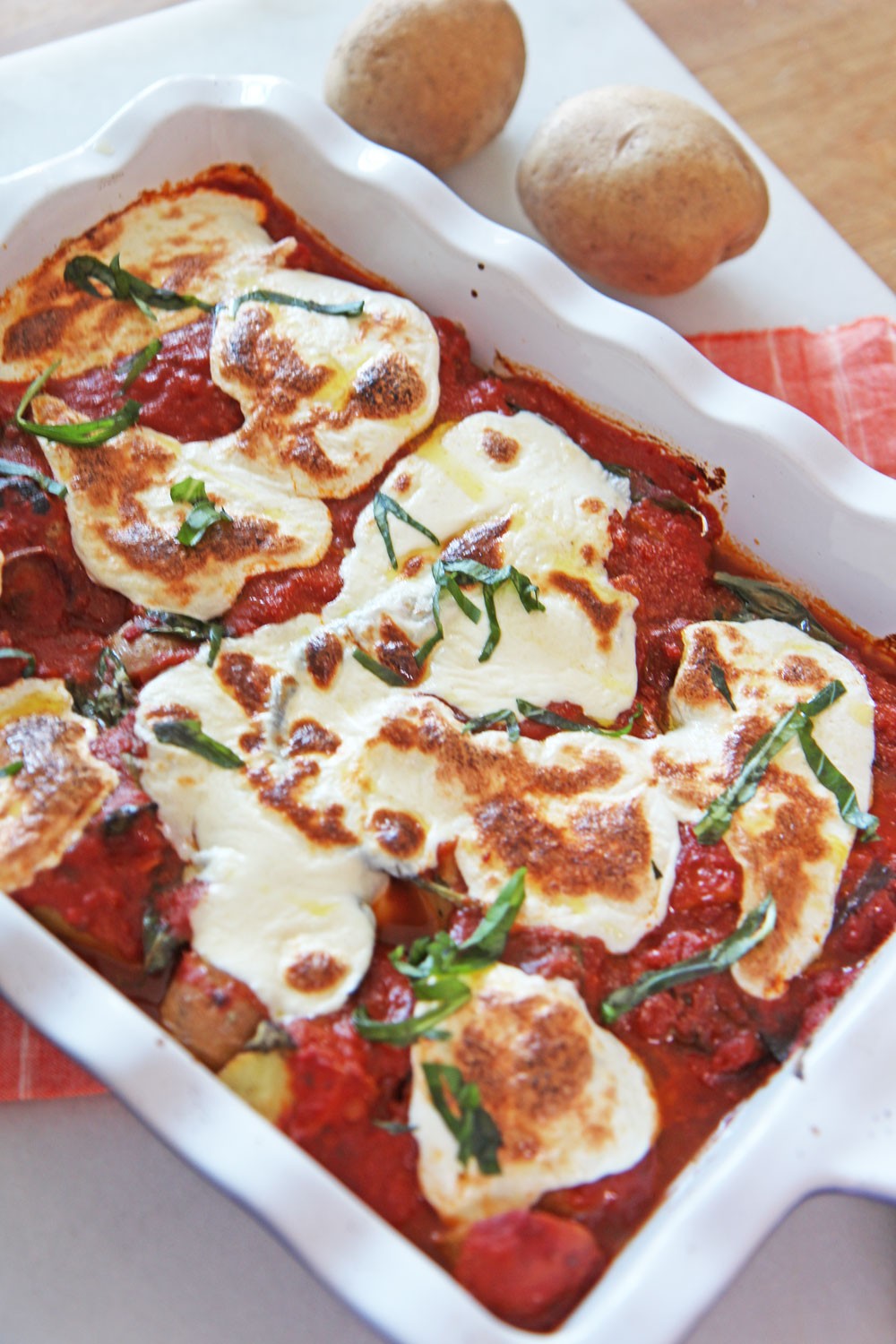 Gratitude Tip While You Cook:
My mission with Chop Happy is to create easy recipe for busy people with a dash of gratitude! Since we all have to be in the kitchen at some point in our day lets use that time to zen out and gain more gratitude.
For the time the turkey cooks visualize your dreams as if it is already here. Working on you does not have to be a long drawn out process. It can be as simple as a couple of pages of a motivational book. The perfect book to read to learn more about finding calmness, your dreams and making your wishes a reality is
The Secret!
Recipe Hack / Cooking Tips:
Roast Veggies Not Steam: Make sure you spread your veggies out on a sheet pan so it does not steam in the oven. The space gives the heat enough time to get heat around the potatoes. 
Buy Your Marinara: I have fun recipes for homemade marinara but oil a busy work week there are allot of amazing jarred marinara. This saves time and extra dishes to watch!
Gratitude While Stirring: Use the kitchen as a place for self care. As you stir or chop say what you are grateful for. I do this all the time so that cooking can be a time to recharge.
Watch How To Make This Potato Parmesan Recipe:
Potato Parmesan Recipe
Ingredients
3 pounds Yukon gold potatoes (cut in half)
3 tablespoons extra virgin olive oil
1 teaspoon salt
1 teaspoon pepper
1 teaspoon garlic powder
1 teaspoon dried oregano
1/4 teaspoon red pepper flakes
10 leaves basil
1 jar marinara
5 slices mozzarella (or 1 cup shredded mozzarella)
1 tablespoon parmesan (grated)
Instructions
First, mix the potatoes, olive oil, salt, pepper, garlic powder, oregano, and red pepper flakes on a sheet pan. Spread out the potatoes so they roast and not steam.

Next, roast the potatoes at 400 degrees for 25 minutes on the middle rack.

Now, add the potatoes to lasagna dish, top with basil, pour marinara ontop, and top with parm and mozzarella cheese.

Next, add to a 500 degree oven on top rack for 2-5 minutes until the cheeze melts. Check to make sure you do not brun the cheese.

Finally, dizzle a teaspoon of olive oil on top and more basil. Cheers to recipes that celebrate you!
Other Easy Recipes:
Any question comment below or email! I love helping change the recipe!
(Visited 319 times, 1 visits today)
Subscribe for tasty, free recipes!