This is a nutty and sweet farro salad for any celebration dinner or weeknight meal.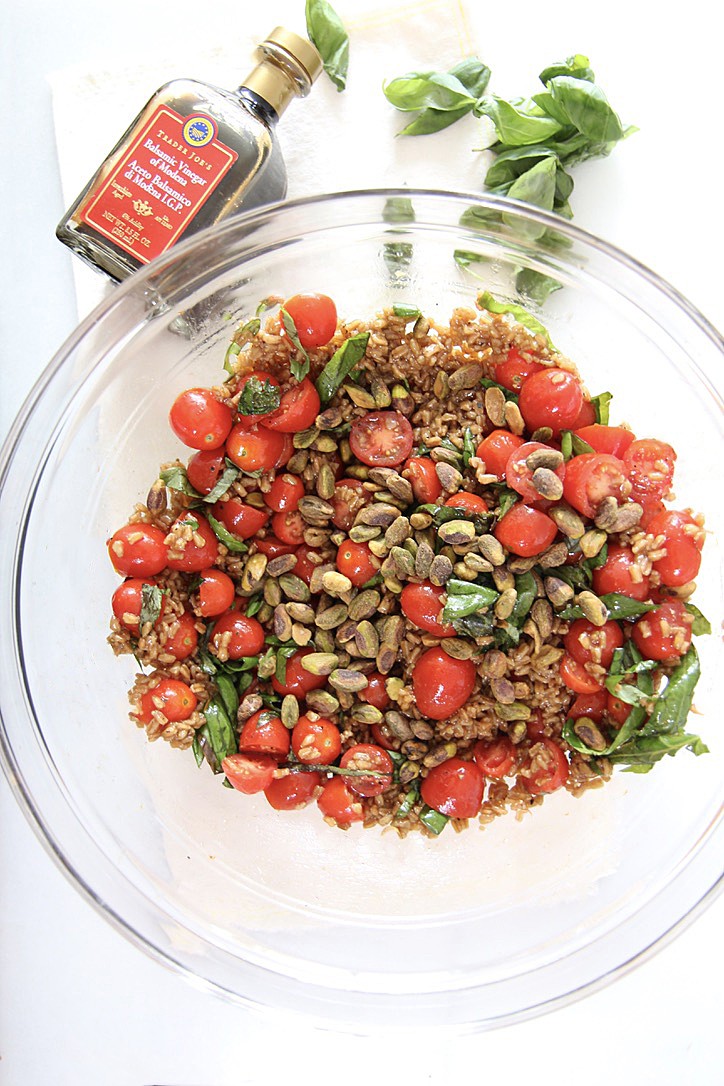 When you are looking for something hearty, nutty, and perfect weeknight dinner this farro salad is perfect! My friend made a farro salad for us during one of our "family dinners!" Our friends get together and I make a main like
Prime Rib Roast
or my famous
Lasagna
and then everyone else cooks sides and appetizers. Its so much fun and its like a Sunday dinner to tell your friends they are awesome! So last family night we had my friend made an amazing farro salad and it inspired me to buy farro and make this recipe! I had tomatoes and basil in the fridge so this became a new recipe! I literally made this for me and Tom and we ate its all week! Hope this makes dinner easy and makes you smile! 
Steps to Great Vinaigrette:
1. Use lots of citrus! Freshly squeeze lemon or lime into the base of  a vinaigrette. The acid add brightness and balance. I always start with 1 lemon and then if need more tang add another half.
3. Season with more salt and pepper then you think! Keep adding small amounts and tasting until it tastes great to you! Salt is a flavor enhancer and makes food go from good to great!
Happy Cooking and hope this makes your dinner easier!
Hope you love this recipe and I am always grateful for you! Happy Cooking!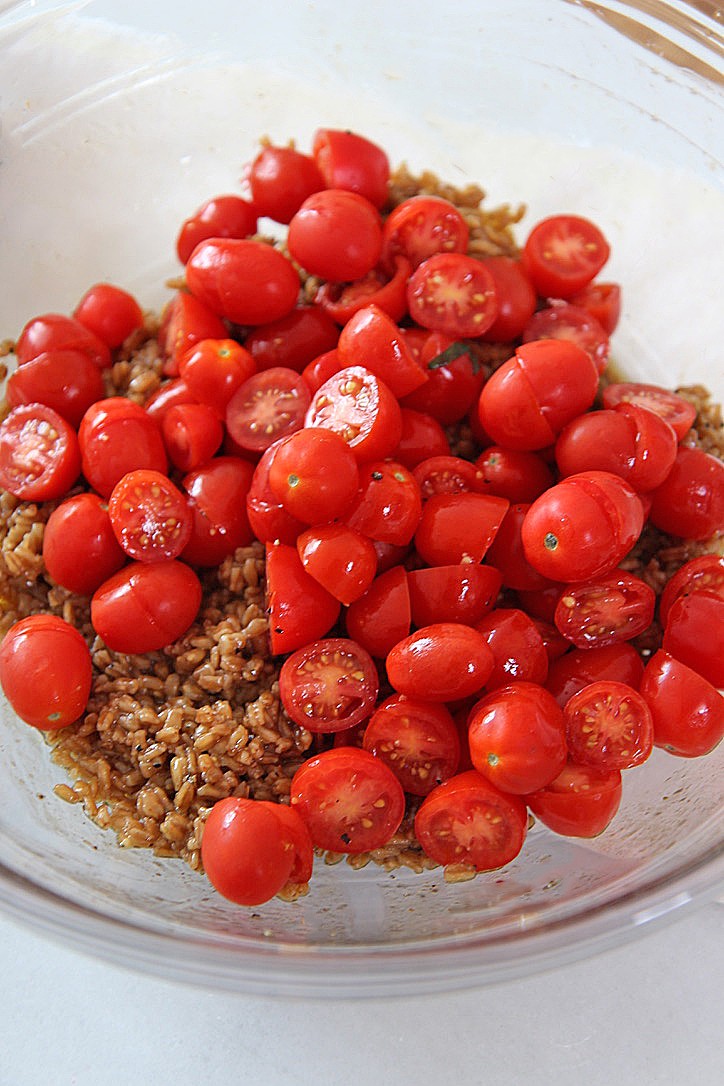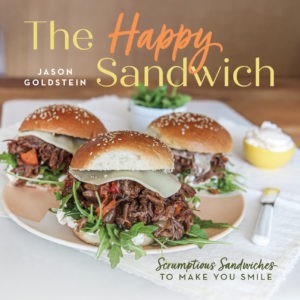 Gratitude Tip While You Cook:
My mission with Chop Happy is to create easy recipe for busy people with a dash of
gratitude
! Since we all have to be in the kitchen at some point in our day lets use that time to zen out and gain more gratitude.
For the time the farro cooks visualize your dreams as if it is already here. Working on you does not have to be a long drawn out process. It can be as simple as a couple of pages of a motivational book. The perfect book to read to learn more about finding calmness, your dreams and making your wishes a reality is
The Secret!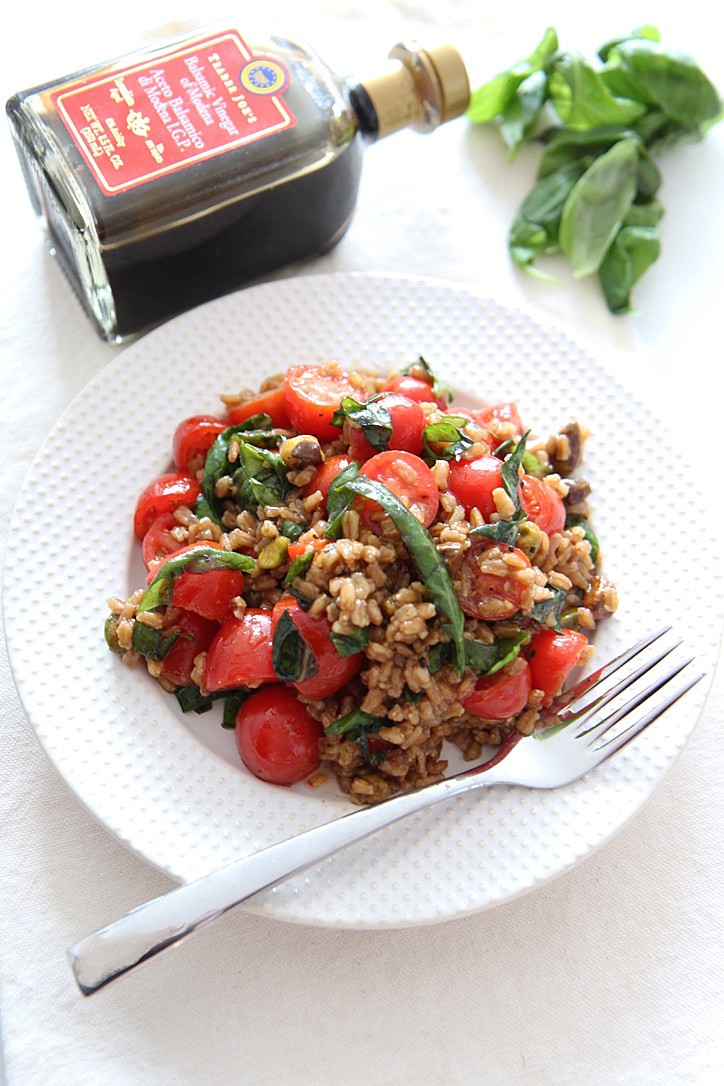 Time Saving Dinner Hacks / Cooking Tips:
Freeze Your Leftovers For An Easy Dinner On A Busy Day: Farro can be frozen for 6 months Just wrap in saran wrap and then into tinfoil. I love pulling out dinner months later when don't have time to cook.
Gratitude While Stirring: Use the kitchen as a place for self care. As you stir or chop say what you are grateful for. I do this all the time so that cooking can be a time to recharge.
Watch How To Make This Farro Salad:
Tomato Basil Farro Salad with Balsamic Vinaigrette
Ingredients
2 cups farro
5 cups water (or veggie broth)
2 teaspoons apple cider vinegar
1 teaspoon salt
1 teaspoon pepper
1 pint cherry tomatoes (cut in half)
10-12 basil leaves (chopped)
1 handful roasted salted pistachios
Balsamic Vinaigrette
1/4 cup balsamic vinegar
1 teaspoon salt
1 teaspoon pepper
1 teaspoon oregano
1 teaspoon garlic powder
1/4 teaspoon red pepper flakes
1 teaspoon honey
1/2 cup extra virgin olive oil
Instructions
First, place the farro, salt, pepper, and water in a pot and bring to a light boil. Cook uncovered for 25 minutes or until cooked through.

Next, while the farro cooks make the vinaigrette by whisking all the vinaigrette ingredients in a bowl.

Now, when farro is done drain the excess liquid and place the hot farro in with the vinaigrette. Set aside to let farro absorb the dressing for 15 minutes.

Next, add the tomato, basil and pistachios to the farro and enjoy all week!
Great Healthy Articles:
(Visited 223 times, 1 visits today)
Subscribe for tasty, free recipes!